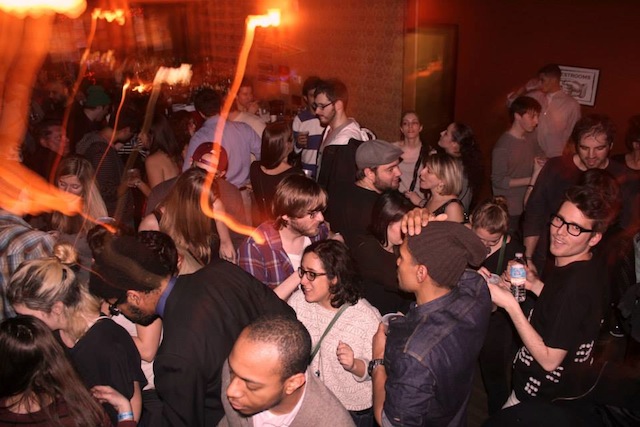 By rapidly gentrifying Brooklyn standards, the fact that all-ages music venue Death by Audio survived seven years in Williamsburg is kind of a miracle. But the expansion of VICE is coming at the cost of this DIY space, which is playing its final shows every night this week through Saturday. The lineup is secret each night, but that hasn't stopped lines forming around the block. Meanwhile TV on the Radio, which has been silent for the past three years, is back with a brand-new album and two sold-out shows at the Music Hall of Williamsburg. If you buy their album at Rough Trade today, you could earn a wristband that will gain you entry into an in-store performance tonight.
Or you could stay put–it's cold out! Wait and go out on Thursday, when Funny Story returns to Brooklyn Brewery with Tom Shillue and special guests like Eddie Brill, a booker for Letterman for many years. You could also stay in and subscribe to our Funny Story Live podcast on iTunes, and listen with a cup of hot cider in hand. Warm up even more on Saturday night when DJs take turns playing the best songs of 2014 and 2004 in a Head On dance party. The occasion marks the launch of a brand-new site, YDH2S, that lists only NYC dance parties so you can find a place to shake it every night of the week.
And since we're a week out from Thanksgiving (can you believe it!) it's also time to get your charitable self into gear. Cranksgiving should do the trick–you bike around the city picking up food from stores that will help feed the hungry.
Here are seven more recipes for feeling good this week:
Thursday, Nov. 20: Food and beer pairings are nothing new, but chocolate and beer pairings don't come along every day. Luckily for us, beloved Brooklyn upstart Other Half Brewing Company is collaborating with Raaka Chocolate (which recently opened a new factory in Red Hook) for a chocolate and beer pairing on Thursday from 5-10pm. The totally free event will feature eight bars of Raaka's virgin chocolates paired with Other Half's astoundingly good lineup of brews in the brewery's tasting room at 195 Centre Street in Carroll Gardens. And just in case you can't make it, remember, Other Half and Raaka both offer tastings of their many wares (albeit separately) throughout the week. Visit their websites to learn more.—N.R.
Friday, Nov. 21: It's getting nasty cold outside, but you can warm up to the sunny, psychedelic sounds of Thee Oh Sees playing tonight at Warsaw in Greenpoint. They're a raucous bunch of fuzz-guitar and reverb loving weirdos from San Francisco (where else?) who can sing beautiful falsetto harmonies but might also pull a knife on you at any moment. Hippies, they are not. Fun fact: one of their songs was featured in an episode of Breaking Bad, during the scene where Gus gave the Mexican cartel boss and his hitmen poisoned tequila at their pool party. Thee Oh Sees were a perfect choice for musical accompaniment. Tickets $20.—A.J.
Saturday, Nov. 22: If you're not already in shape for holiday party season, the Holiday Spirits Bazaar will bring your tolerance up to speed, with unlimited punch and cocktails spread throughout the two floors of the Invisible Dog Art Center. As you explore the space, swaying a bit more with every drink, you'll encounter the Winter Whiskey Tavern and Sparkling Spirited Parlor, along with a pop-up shop filled with fixings for the home bartender. You can feel good about your excessive drinking, too–a portion of proceeds benefits the Children's Aid Society, and you're also encouraged to bring a new, unwrapped toy for Toys for Tots or non-perishable food items for Food Bank NYC.—N.D.
Sunday, Nov. 23: With temperatures taking a nosedive this week, we can officially say that soup season is in full swing. And just in time, local blog Greenpointers is hosting their 3rd Annual Soup Bowl Fundraiser to warm us all right up. This Sunday from 3-5pm, head to EAT (124 Meserole Avenue) to pick up a ceramic bowl handmade by local artists from shops like Object & Totem and  Selene Likes Mugs, filled with soup from The Splendid Spoon and served alongside free beer from Brooklyn Brewery. All you have to do is reserve a $25 soup bowl here and then grab your new bowl (handed out on a first come, first serve basis) on Sunday afternoon. Meanwhile, 100% of the proceeds from the event will benefit the Greenpoint Food Pantry and Soup Kitchen, which means that warm feeling you get inside will last long after you finish your soup.—N.R.
Monday, Nov. 24: Tonight the fantastic indie band The Pains of Being Pure at Heart headline a show at Glasslands in Williamsburg, exactly one week after they played Hammerstein Ballroom as the opening act for The New Pornographers. If you didn't a chance to see them last week, or if you just hate going into Manhattan, now is your chance. They're sure to play a longer set as the headliner, and Glasslands is certainly a more intimate venue than the Hammerstein (and like its neighbor Death By Audio, is also closing soon). Tickets are cheaper too, a bargain all around. The Pains are touring in support of their new album Days of Abandon, a strong collection of textured guitars and synths, and showcasing a pleasingly deliberate and measured approach to pop songcraft. —A.J.
Tuesday, Nov. 25: 
What do an FBI agent, a health and science journalist, and the creator of "pollution tourism" have in common? They'll all be at Union Hall on Tuesday to discuss the potentially impending mayhem that could wipe out humanity once and for all. From ebola to Chernobyl to weapons of mass destruction, these speakers will dish on all manners apocalyptic. It's the lucky thirteenth in a series of lectures hosted by the
Empiricist League,
which brings together scientists and creative types for open dialogue about scientific theories. Past talks have covered topics as diverse as the biological source of morality, the future of sex, the rise of the "Super Brain," time travel, and human evolution. Doors open at 7:30pm and the first speaker goes on at 8pm,. If you can't snag an
$8 ticket in advance
, it's not the end of the world–they'll also be available day of the show for $10.
–L.R.
Wednesday, Nov. 26:
 What better way to prep your gut for Turkey Day than with a big old belly laugh from the hosts of
Barely Making It
, a weekly comedy series crash-landing at Muchmore's in Williamsburg? Put together by Adrian Davidson, who writes and performs in People's Improv Theater TV, and Meghan O'Malley, co-host of The Emily and Meghan Show (a weekly YouTube series delving into the intricacies of cat-and-dog buddy flick 
Milo & Otis
 with up-and-coming comedians), Barely Making It is a feast for the comedic senses with games, fun, and a prize giveaway, and best of all, it's free. Show starts at 7pm.
–L.R.
Tips this week by Nicole Davis, Alexander Jordan, Nikita Richardson and Lindsey Rhoades