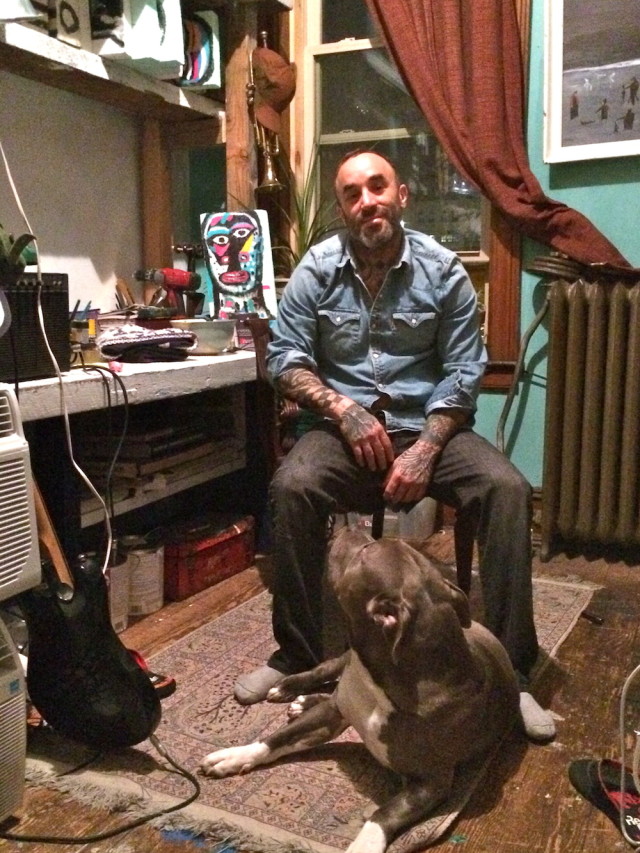 Artist-filmmaker Ross Brodar and his pup 
[sponsored_by action_blurb="Sponsored By" name="Fillmore Real Estate" url="http://www.fillmore.com/eng" logo="http://brokelyn.com/wp-content/uploads/2014/11/fillmore-real-estate-brooklyn-new-york.jpg" byline="Fillmore Real Estate has grown to become New York City's largest privately owned and operated real estate company." attribution_action_blurb="Created By" attribution_name="BlankSlate" attribution_url="http://www.blankslate.com/"][/sponsored_by]
Fillmore Real Estate presents #BKOriginal, a series about businesses and personalities that capture the true spirit of Brooklyn. Showcase your #BKOriginal photos for a chance to win prizes at BKOriginal.com.
Stepping into artist-filmmaker Ross Brodar's combination studio/apartment in Sunset Park, you'd be forgiven for thinking you've stumbled upon a secret museum. Decorated with canvases by the outsider artist, as well as his collection of African tribal masks, the building was once a 19th-century longshoremen's hall. Its history shows in ornate woodwork on the walls and a cherubic fresco on the living-room ceiling. There's even a trapdoor in the bedroom floor where dockworkers would stash their contraband.
Like his living space, Brodar goes way back in Brooklyn. He's called the borough home since 1989, living everywhere from Williamsburg to Carroll Gardens to Red Hook, in the heady days before gentrification. He settled in Sunset Park 14 years ago. "I've always lived in fringe neighborhoods," he says. "It's kind of the same old story–the artists come, they make the place really cool, everyone else comes and then…" He mimics the noise of a tiny explosion. 
Brodar is currently putting the finishing touches on Dark Visions, a documentary film he's been working on for the past eight years about Gambino crime family hit man-turned-artist Dominick Montiglio. The pair first met at a gallery show, where Brodar was taken with Montiglio's backstory. A year later, Montiglio was living in Brodar's apartment.
"He had about four teeth in his head, plus a drinking problem and a smoking problem. But he was a genius painter. I was helping him out, and we decided to start making a film. He had this crazy, colorful life," Brodar says. He's in the process of re-cutting the film to include rawer moments that weren't in the original version. "We kind of got lost for a while. But then I finally realized, as any artist does, that you just can't give a damn what anybody else thinks, and just make your thing the way you want it," he says of the process.
As a painter, Brodar's primitive-inspired art can be seen around his neighborhood—in murals outside his apartment and on the corner of Third Avenue and 38th Street. Brodar and his dog, Benny, are also part of a campaign to get trashcans put in the neighborhood to encourage dog owners to clean up after their pets. "I want to help make Sunset Park into the next waterfront community and see it grow and be better," Brodar explains.
Up next, Brodar plans to launch a Kickstarter campaign to support his next movie project, this one a scripted film about a veteran suffering from PTSD who returns from the Middle East with a dog in tow. He plans to donate a quarter of the proceeds from his film to veterans' charities, and another quarter to animal-rights causes. 
See more of Brodar's work at rossbrodar.com.