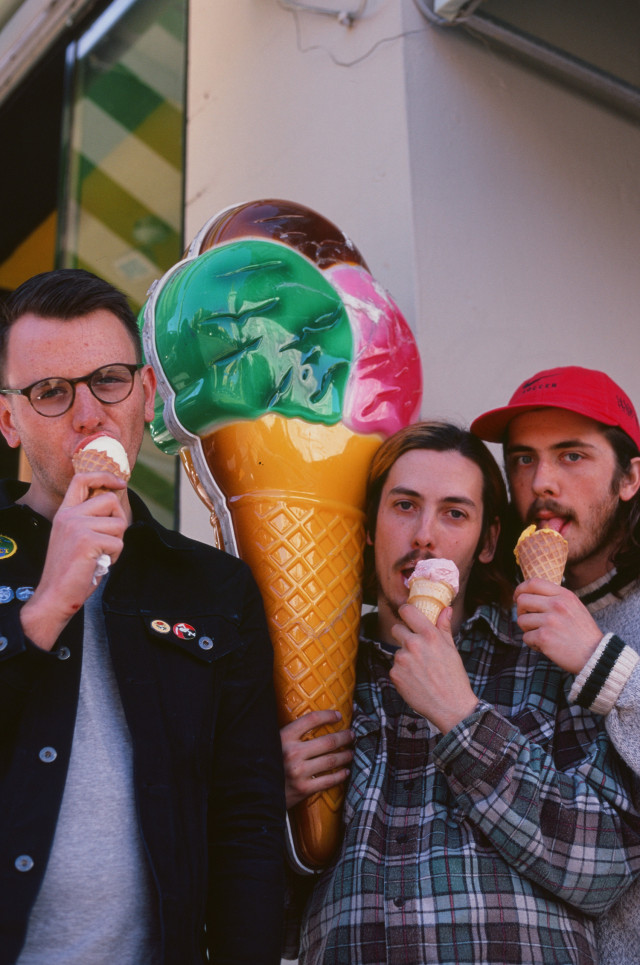 Let's get this out of the way before you read further: Yes, Strange Wilds is reminiscent of Nirvana. Certainly, the bands share more than just a sound–they're both trios from Washington state. But once you listen to Strange Wilds' debut album Subjective Concepts, released this past summer on Sub Pop (also Nirvana's former label), you can hear certain sonic qualities that reveal the band has its own identity as well. When I spoke with Steven Serna, the band's singer and guitarist about how he felt about the many Nirvana comparisons in the press, he explained that it all depends on how the wording.
"There had been a few things where it's like, 'Uh, that's not really fair to say,'" he told me over the phone, "We sound like Nirvana, obviously. We all liked them. There's a lot of bands around the Northwest that have that sound. We just added our own touch to everything. Most bands that are around today usually have some thing they're influenced by that is their starting point."
Subjective Concepts may be the most loudest rock record I've heard in recent memory, and New York City audiences will experience that when the Olympia, Washington band, consisting of Serna, bassist Sean Blomgren, and drummer Allen Trainer, will play CMJ as part of its North American tour. "I've been there [New York] a few times before," says Serna, "but it's our first time [as a band] all the way out to the East Coast. We're really excited."
While the band's no bullshit, no nonsense grunge is so dominant upon first listen, Serna mentions other factors that forged the band's sound. "We have very eclectic tastes. The main focus when we started this band was, 'Let's start a band that sounds like Nirvana, sounds grunge-y.' There's a lot of shoegaze — My Bloody Valentine — that kind of stuff. Just a lot of everything we listened to. It comes from the punk hardcore scene– that's where we all grew up in, that's how we met each other."
Strange Wilds' debut was recorded late last year as far as the basic tracks only took a few days outside of of overdubs and mixing. And just like the impassioned music, the lyrics to the songs are a maelstrom of dark emotions that are both enigmatic and raw, which begs the question of whether they're based from personal experience, imagination or both. "It's hard to describe my own lyrics," says Serna. "There's a lot of different things going on in there. I guess the general theme is there's a lot of going on in the world that just suck. Hopefully that'll change at some point."
"Pronoia," a furiously punishing rocker, is the first song off Subjective Concepts. "The title is the opposite of paranoia itself," says Sean. "You think everyone is out to get you, you're paranoid. But pronoia means that you think everyone is out to help you, which is kind of weirder than being paranoid, because it could mean types of things, like narcissism…it's an interesting concept to me."
The band will tour through November with hopes of playing beyond North America. As we concluded our concluded our conversation, I brought up the question if the Strange Wilds live experience is just as loud, if not louder, as the record, Serna says with a laugh, "Yeah, you should probably bring earplugs."
Strange Wilds will perform all over Brooklyn this week: Thursday at the Knitting Factory (CMJ) at 8pm; Friday at Union Pool (CMJ) at 8pm; and Saturday at Aviv at 6pm. The band's latest album, Subjective Concepts (Sub Pop) is out now.