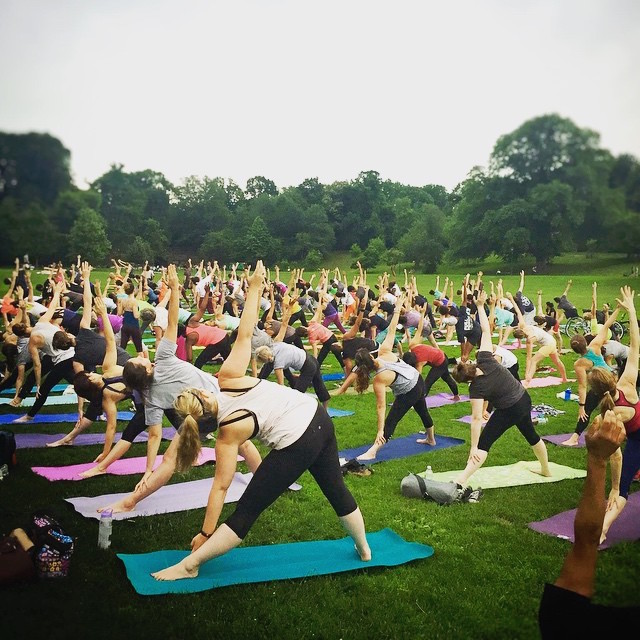 Rabbit, rabbit, everyone! Somehow it's already June, and that means things are really about to ramp up around here in terms of being packed to the hilt with fun things to keep you occupied. I was one of the people who stuck around town last weekend, and after a fantastic three days of bike riding, day drinking and dining, two trips to the Rockaways that included fish tacos from this joint and the inexplicably delicious pina colada from this one, and a Mets game at home that was predictably grim but fun nonetheless, I was totally reminded of how amazing summer in the city can be, and I got really pumped thinking about what's to come for the next few months.
One of my favorite things about the long, sunny days of summer is the opportunity they present to explore new neighborhoods on my bike or on foot or as part of our very own Brooklyn Based Immersions, which make it very easy to support local shops, bars, and restaurants while also getting great deals and having lots of fun along the way. This Saturday, we are bringing our dog and pony show to Long Island City, which means that we have scouted out some awesome spots there that will be giving discounts, free beers, and lunch to anyone with a packet of "walking around money"–tickets that you can purchase for $25 here.  Remember–the price includes four Brooklyn Brewery beers at various watering holes around LIC, lunch at either Anable Basin Sailing Bar & Grill, Gantry Bar & Kitchen  or L'Inizio Pizza Bar, and at least a dozen deals at nearby shops, including the LIC Flea & Food. Come join us!
Saturday is also the first day of the week-long Brooklyn Independent Film Festival, which runs from June 4 through June 12 at various venues throughout the borough and includes, among other exciting events, the Brooklyn premiere of Spike Lee's new documentary about protests at the University of Missouri, 2 Fists Up! Check out the schedule of screenings and parties and buy tickets here to help support and promote Brooklyn-born, Brooklyn-based, and Brooklyn-centric films and filmmakers.
But, we're just getting started here, people. There are a lot of other goings on to keep track of this week, and we invite you to get the ball rolling on planning Your Ideal Week by perusing our list of tips below. Get to it and, as always, feel free to drop us a line if you have any suggestions for events you'd like to see highlighted in future Ideal Week posts.

Thursday, June 2 PROSPECT PARK yoga, 7pm, free with RSVP ↠
Friday, June 3 GOWANUS, Is This Love at Rooftop Films, 8:30pm, $15 tickets ↠
Saturday, June 4, LONG ISLAND CITY The Total LIC Immersion, noon, $25 tickets ↠ • BROOKLYN HEIGHTS StoryTour, 3:30pm, $20 tickets ↠ • INDUSTRY CITY Freedom Party, 6pm, $20 tickets ↠

Sunday, June 5 PROSPECT PARK, Magic Hour rollerskating, 4pm, $14 admission ↠ • GOWANUS Crawfish Boil at Three's Brewing, $30 tickets↠
Monday, June 6 GOWANUS Night Train with Wyatt Cenac, 8pm, $5 tickets ↠
Tuesday, June 7 BROOKLYN HEIGHTS Hungry Not Homeless, 6:30pm, $5 tickets ↠
Wednesday, June 8 CARROLL PARK The Tempest, 7:30pm, free ↠
Thursday, June 2 What's a more relaxing way to close out a busy work week than a yoga class? An outdoor yoga class in a bucolic setting that is totally free, that's what. Every Thursday night between now and August 25, Bend +Bloom Yoga, lululemon Brooklyn, and the Prospect Park Alliance are inviting yogis of all skill levels to strike your best warrior pose as the sun disappears into Park Slope. All you have to do is RSVP and agree to the waiver here before your first class, grab your own mat and water bottle, and then show up in the Long Meadow at 7pm, ready to focus your breathing and alignment. Namaste!
Friday, June 3 Rooftop Films is back in action for the season, and will return to Gowanus' Old American Can Factory this Friday night with Is This Love?, a special program consisting of eight romantic shorts by American, Swedish, Hungarian, and British directors that explore the ins and outs of  the most complicated human emotion. Although seating on the roof has sold out entirely, there is still space to watch in the ground-level outdoor courtyard if you buy a $15 ticket now. The evening will kick off with live music by the band Cut Worms at 8:30pm, the screening will start at 9pm, and Stella Artois is sponsoring an after party that begins at 11pm.
Saturday, June 4 Love a good yarn? You're bound to be intrigued by The Brooklyn Electric, a fictional live storytelling experience/walking tour from award-winning short story writer Lucas Loredo. This is Loredo's second StoryTour–the first ran for over a year on and around the High Line–and it centers on a fantastical love story involving Walt Whitman and Jehovah's Witnesses. The show departs at 3:30 pm every Saturday in June from the compass rose in front of 37 Hicks St., lasts 75 minutes, and costs $20. I also just found out that the Brooklyn outpost of Hill Country BBQ hosts no-cover live music most nights–this Saturday you can enjoy your ribs and mac and cheese along with a performance by Austin-based blues and rock outfit Ian Moore & the Lossy Coils starting at 9pm. But if you really want to shake your tailfeather, you'll want to check out The Freedom Party, New York City's longest-running Friday night dance party, in its debut at its new summer home, the Courtyard at Industry City. To kick off what is sure to be a bumpin' summer season, this week's installment is all about 80s and 90s hits, including a special Prince tribute. Doors open at 6pm but the party goes all night long, and tickets cost $20.
Sunday, June 5 Keep the beat going on Sunday at Lakeside Rink in Prospect Park, where legendary hip hop artist Talib Kweli will be providing the coolest roller skating soundtrack ever from 4-8pm. He and Prince Klassen will be spinning at Magic Hour, an awesome roller skating party thrown by Flavorpill and The VS. Event admission plus skate rental is just $14. If you're more interested in getting your grub on, Three's Brewery is hosting its second annual Crawfish Boil in its giant backyard, with food by Gaddy Lane and music all day from DJ Sklover Washington Jr. Each of the three seatings–at 1pm, 3pm or 5pm–includes a box of crawfish, a side, and a pint of beer for the price of a $30 ticket.
Monday, June 6 It's been ages since Your Ideal Week highlighted Night Train, Wyatt Cenac's long-running weekly comedy show, but that's no indication of how wholeheartedly we recommend it. It's just that I wouldn't really be doing my job if I just told you to do the same thing week after week, although I will say that you could certainly do worse than taking it upon yourself to show up at 8pm at Littlefield every Monday night. The ever-changing lineup always appeals, both because it includes people who I already know are great (like Josh Gondelman this week) and less-familiar names that just might be the next big thing. This week, in addition to Gondelman, you can catch Roy Wood Jr., Shahryar Rizvi, Ryan Gurian, and Samantha Ruddy, all for just $5 if you buy a ticket online.
Tuesday, June 7 That it has been observed and remarked upon so often doesn't make the fact that a country as rich as ours can be home to so many who don't have access to enough food any less shocking and disturbing. Learn more about the countless Americans who survive on less money per day than most of us spend on a cup of coffee at Hungry Not Homeless, a presentation at the Brooklyn Historical Society on Tuesday night. Kathryn Edin, who co-authored the book $2.00 a Day: Living on Almost Nothing in America, will join New York City Director of Food Policy Barbara Turk in a discussion about poverty and hunger starting at 6:30pm. Tickets are $5 and are available here.
Wednesday, June 8 The Public Theater's Shakespeare in the Park might get all the attention, but the award-winning Smith Street Stage theater company has been putting on live, free Shakespeare outdoors for seven years now (and you don't have to take a day off of work to spend hours in line with tourists to see it). This season's production, the The Tempest, includes storms, shipwrecks, spirits, sorcery, romance, and some of the Bard's best writing, and runs this Wednesday through June 26, excluding Mondays and Tuesdays, right here in Carroll Park. Performances begin at 7:30pm, are family-friendly, and no ticket is required.