We were somewhere around Maria Hernandez Park when we found the wardrobe. I said something like "This vintage store is still open at midnight…," and suddenly my friends and I were trying on velvet dresses and whirling around racks of clothes as techno music blared out of a large wardrobe in the back. "Where the hell is that music coming from?" someone screamed. I creaked open the door of the oak cabinet; the music assaulted my eardrums with a deep, inviting bass. The strong Nicaraguan rum beverages I drank before lowered any inhibitions I had left. I climbed through the doorway.
On the other side of the wardrobe was a nearly empty room the size of a New York bedroom. Perfectly set up as a place for kidnapping, mob meetings, or runaway Handmaids, the current occupants were using it to dance with a capital D. The light was blue, then pink, then yellow and it was impossible to see anything further than an arm's distance away, but there was a DJ, I know that. My friends climbed in behind me, one of them wearing his new dress. "The zipper is broken but it was only $5," someone marveled. We danced and sweated. We were hooked by the EDM. There was a solid five minutes before we remembered we were on our way somewhere. It was almost 1am and we still had one more stop to complete our trip to Bushwick. Our itinerary had started a little over 10 hours earlier at a civilized seafood brunch, then went deeper into Bushwick away from tourists on graffiti tours to where the activists, witches, and silver painted people go to party, and are probably still madly dancing, even as we speak.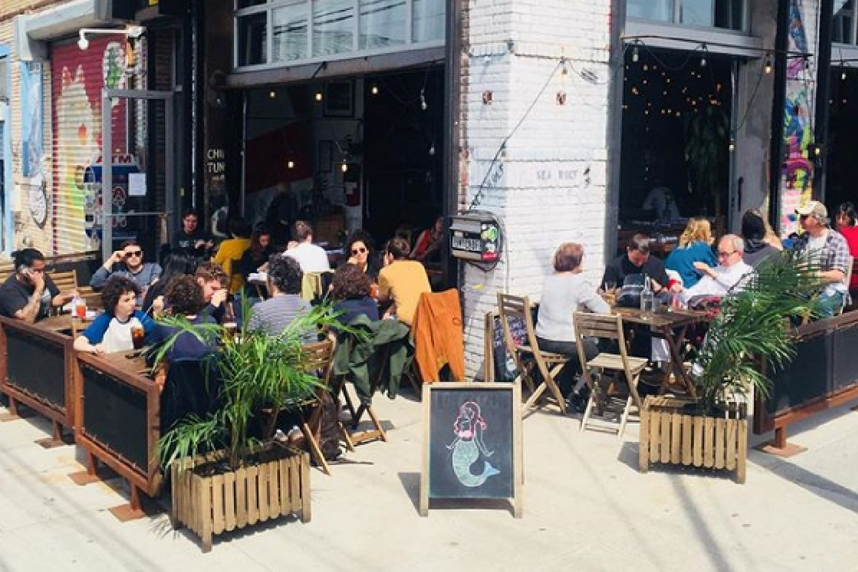 The patio at Sea Wolf is the perfect perch for people watching and soaking up rays. Photo: @seawolfbk
2:30pm: Brunch at Sea Wolf
Can you still call it brunch if you're eating so late in the day? In Bushwick, you bet you can. The rules are relaxed at Sea Wolf; any more so and you'd be in Montauk. This is a kickback, surfs up restaurant that serves up sustainable fresh seafood in a hang-ten setting complete with ship paintings and surfboards collaged on the wall. There are copious amounts of outside seating, and you can sit back, and indulge in land and sea specials: eggs benedict with smoked salmon, New England Cod Cakes or a superior Filet O Fish that has just the right amount of crunch. Or go light with the daily raw bar. Depending on your mood, you may be interested in a brunch drink like The Painkiller, a frozen rum drink with a pineapple slice that everyone on the patio seemed to be drinking. Sea Wolf also has a great vantage point for some of the best people watching. On the day that I was there, I saw a photo shoot for the band Chvrches, a group of tourists being led on a real-life graffiti tour, and a protest made up of a handful of people with a bullhorn yelling, "This is not a graffiti tour." People flock to the neighborhood every weekend to gawk at the sanctioned murals that have been retained by The Bushwick Collective. Although the murals are Instagram-worthy, they have the whiff of a developer hoping to profit off the interest. Contemplate all of this from the sidewalk patio, while getting a sense of the neighborhood. Sea Wolf, 19 Wyckoff St., Bushwick. Take the L to Jefferson
4pm: Vintage Shopping at Collections, Risk Gallery & Boutique, Friends NYC
Bushwick is slowly becoming a mecca for vintage stores in Brooklyn. For instance, the enormous and affordable L Train Vintage has two locations here. After lunch, take an 11-minute stroll down Flushing Avenue to Collections (16 Wilson Ave., Bushwick), a small storefront that specializes in on-trend yet unusual pieces like a Mickey Mouse jean jacket, an embroidered straw bag and a collection of musty muumuus that would be perfect for throwing over your swimsuit at Fort Tilden. If Patricia Field and Betty Boop had a baby, Risk Gallery and Boutique (232 Varet St., Bushwick) would be it. Although they sell loads of glamorous vintage, most of the store could be categorized as "wearable art." Pink, glitter, fake fur and silk bathrobes are mainstays here. It's the type of place you'll walk out of wearing a top hat and tutu without even knowing what happened. Friends NYC (56 Bogart St., Bushwick) is the Urban Outfitters of vintage stores. Here you'll find palatable vintage mixed with new clothes, a rack of 80's vacation sweatshirts, rows of Nikes, and every hue of Hawaiian shirts. Everything you want is here, even before you knew you wanted it.
5pm: See Art at 56 Bogart, Luhring Augustine, Interstate Projects
If you're wondering, all of the artists have moved to Bushwick and beyond, making this neighborhood a hothouse of innovative new art storefronts and slick established gallery spaces that have moved into the neighborhood. There's a collection of interesting galleries near Sea Wolf (Microscope, Koenig & Clinton, Tiger Strikes Asteroid and Transmitter) but to see them all would eat up a lot of your day. So instead The BogArt (56 Bogart St.) is a good place to start. The warehouse building (in the same building as Friends NYC) was converted into loft workspaces, making it an easy destination for checking out a lot of galleries in a short amount of time. Wander through, peeking in the rooms that interest you, but definitely stop through The Border Project Space for the female group exhibit, Intricate Neighbors, that is running through May 27th, 2018. The gallery highlights work from immigrant artists whose work hopes to start a conversation about borders. A hanging garden and an inviting space welcome visitors "to look inside the private space of a person's interior." Luhring Augustine (25 Knickerbocker Ave.) is a Brooklyn outpost of the established Chelsea gallery, with ample space for large-scale pieces and experimental works. This group show, Sculpture, which runs through the end of May, includes tactile masses like a prickly chandelier complete with metal spikes or a standing light wrapped with intricate metal and nails. If you still have stamina, go through an empty courtyard, step lively down a steep staircase to the creepy basement that is Interstate Projects (66 Knickerbocker Ave.). Here is an experimental gallery where you may see mixed media, film or large-scale works on the cutting edge.  
7pm: Pick Your Poison: Kávé Espresso Bar or Brooklyn Cider House
By this time, your dogs will be barking, and you'll want a chair. It will be too early for dinner, and depending on your mood, you might either need to revive with a caffeinated drink or an alcoholic beverage (or both in quick succession). Word on the street (literally, I heard two separate conversations recommending this) is all about the Lavender Latte at Kávé Espresso Bar (119 Knickerbocker Ave.) In this cave-like setting, the chill vibes seep through the space, culminating in the lavender latte that is subtle yet potent—kind of like a New Age speedball that is both relaxing and energizing at the same time. Knocking back one of these will give you stamina for the hours to come. Meanwhile, at Brooklyn Cider House (1100 Flushing Ave), a behemoth brewhouse that looks more Portland than Brooklyn, cider is on the menu. If you eat there, in between courses, you'll have the opportunity to "catch" pints from the enormous oak barrels lined up in the middle of the space. (Brooklyn Based writer Ellen Killoran reviewed the experience in January.) You're just here for drinks, so you may be interested in trying the award-winning "Half Sour" which is refreshing and crisp, and will perk you right up.
8pm: Dinner at General Deb's
Bushwick may be most well known for Roberta's, but the neighborhood has a dynamic food scene and there are so many great options. Fans of Faro, a Michelin-starred rustic restaurant specializing in handmade pasta, will rejoice on the opening of General Deb's (24 Irving Ave.) The owners of Faro went off brand with a Chinese-style restaurant, specializing in Sichuan fare. (Which will soon be plentiful in these parts when Mission Chinese opens next to Elsewhere and its new rooftop.)  The small brick room is cozy without being cramped, and the food comes fast which is great because you're probably hungry by now. Many of the food choices are rich, so share plates if your companions are amenable. The bang bang rabbit appetizer is an aromatic affair that is impossible to eat more than a few bites. Smashed cucumbers are heavy in sesame oil, but give you a satisfying crunch. The inventive drinks are frozen, cold, and a great compliment to the food. As one would expect from the owners of an Italian restaurant, the noodles are magnificent. The Dan Dan Mian were long with chewy bits of pork, a snap of peanut and the spice of chili. This could be deeply satisfying on its own, but the other main courses might be tempting you to coat your stomach. We tried the fish slices in fiery sauce with rice, which was delicious if a little too saucy. Next time, I'll try the La Zi Ji (fried chicken with a thousand chilies) if only to see how spicy it really is. There weren't desserts on the menu on the night we went, but the waitress handed off some fortune cookies. For me, the future looked bright and included dancing off all those calories.
10pm: Drinks at Chicha
Chicha (198 Randolph St.) is a stunning new restaurant-slash-cocktail bar-slash-tropical paradise that opened this month on a remote strip in an abandoned warehouse marked by a neon RUM sign. Here you'll be mesmerized by the Instagram-worthy interiors and haunted by the beauty of your drink. (Read our full review, here.) Even if you thought you'd switch to wine, you will be swayed by the cocktail names alone, such as Surfer on Acid, Agua-Caté–Dral or Blufields Swizzle. May your date be as passionate for you as the bartender is for his Nicaraguan rum cocktails. If nothing on the menu delights, he will find you "just the thing," and hours later you could find yourself still there teetering on the bar stool, texting Nicaraguan friends to swing by. ("Yes, they even have Toña Beer!" you might reply if they ask, which they will.) If you find you need a better ratio of food to beverage, order up some snack-sized Quesillos, tortillas stuffed with cheese and served with cream, onion, vinegar and chile. Try to leave before you forget your credit card.
11pm: Social Justice Dance Parties: Starr Bar, GG's Social Trade
At this point, you might be tempted just to go to the nearest dance club (or right to bed depending on how much rum you drank). You are close to the Jefferson train, but I urge you to try to make it to Mood Ring, even if you have to take a car service. If you can still walk (or stumble), the fresh air will you do you well. On the way, you can stop at not one, but two, activist dance parties. Starr Bar (214 Starr Bar), celebrates and supports movements for social justice. Ten percent of the money that the bar earns goes into their Mayday Space, a community space that hosts classes, workshops, and trainings around various issues and movements. When there's not an event, the DJ plays solid jams and the dance floor has space to boogie. GG's Social Trade & Treasure Club (1339 Dekalb St.) is a vintage shop in front concealing an event space in the back that you must pass through a secret wardrobe to get to. At heart it is a community space, supporting artists and locals who need a place to express themselves. There's no password at the speakeasy, just listen at the wardrobe door for the breakbeat, and enter, ready to dance.
12am: After Party at Mood Ring
If you've made it this far, then the stars have aligned. You've arrived at Mood Ring, the city's first astrology-themed bar. Welcome. The decor at this unique space conjure up drama and are inspired by director Wong Kai-Wai's film, "In the Mood for Love." The vibe here is all love. Red lights awash visitors with a glow, and the Happy Together neon light commands everyone to smile. The back room holds dance parties focusing on inclusivity and the Q.T.P.O.C. community. Tattoos, shaved heads, bike chains, models, crystals, tarot: it's all here. Grab a Taurus cocktail, try out the gender-neutral bathrooms, and find room on the crowded dance floor. This is the kind of place where Luther Vandross jams are playing, beautiful people are slow dancing and, somehow, this all makes sense. It's decidedly the coolest dance party in Brooklyn if not the galaxy.