A Murphy bed is usually the butt of the joke. In silent films, these beds were portrayed as having a mind of their own, deciding when to fold up, bang down or flip around, causing stars to engage in all sorts of humorous antics. In Charlie Chaplin's 1916 Film, One A.M., a man arrives home late at night and struggles to ready his Murphy bed for sleeping. The bed is spring-loaded and attacks: continuing to fold up, spin around, and finally crash down on poor Chaplin when he lies down on the floor. It's a classic scene and still elicits laughter for Chaplin's incredible physical comedy and the unpredictability of his mechanized bed.
Fortunately, the Murphy bed has been thoroughly modernized, and its updated cousins come in sleek designs that slide into place without the mechanism to make them pop up and down on their own. They even have a new name—wall beds—and from high-end Italian designers to off the rack Costco versions, there's now a wall bed for everyone.
Their resurgence follows the Murphy bed's own rise and fall. Its founder, William Murphy, applied for the first patent in 1900 after living in a one-room apartment in San Francisco where the bed took up most of the space, according to The Original Murphy Bed Co., which traces the history of the bed on its website. Wanting more room to entertain, particularly during a time when it was frowned upon for a woman to visit a man's bedroom, he came up with the concept of a folding bed, then improved upon the design by inventing a bed that "pivoted on a door jam of a dressing closet, and then lowered into a sleeping position—some of which are still in use today." The '20s and '30s were the heydey of the Murphy beds, but production was limited during WWII because of the limits on steel. After the war, the GIs were buying single-family houses with low-interest GI loans, so space wasn't such a commodity, and folding beds fell out of style.
Now, as real estate prices soar, wall beds are becoming the rage once again. Resource Furniture saw a 20% jump in year-to-year sales this year, according to the company's Marketing & PR Assistant, Gabriella Pomata. "That figure continues to grow as more and more New Yorkers realize the advantages of transforming furniture over static furniture."
The field of transforming furniture has expanded over the years. Whereas the Murphy Bed just folded down from the wall onto the floor, today's wall beds are capable of transforming from dining room, home office or living room to full guest room in seconds, with no need to even clear the plates off the table. These new beds give flexibility to your space, opening up the possibilities of how you use your living areas.
"In NYC, space comes at an extremely high premium. A wall bed with integrated seating [or a] table can optimize available space and make even the smallest micro-apartment as livable and comfortable as a two- or three-bedroom suite," said Pomata.
Vicki Madden, a Brooklyn Based reader, and her husband, Jim Ebersole, bought an original Murphy bed when they got married in 1998. "We saw a flyer (back in the days of flyers!) for a Murphy bed for sale, an original 1910 Murphy bed installed in a row house in South Slope, cherry wood frame with french doors," said Madden. "[The owner] said this was the last one they were removing and selling. The house originally had three, one on each floor."
Madden's husband is a painter and they wanted to be able to clear space in their Park Slope rental so he could work at home. He is also a carpenter with a specialty in art shipping, so he was able to install it and move it with them to their next apartment in Kensington, though they rarely fold it now that he has a separate art studio. "It is spring-loaded, but that has only been a surprising and sometimes slightly dangerous issue when I am pulling it down," said Madden. "It's a metal frame, quite heavy, and there is a moment — midfold — when the foot of the bed will suddenly swing down. Since we sleep in it every night, and thus rarely fold it, I always forget about that moment and sometimes get smacked." The bed holds a regular mattress, so, according to Madden, it is extremely comfortable. "It's really just a full-sized bed housed in a wooden closet with french doors."
Many of the vintage Murphy beds were actually built directly into the walls, and it's still possible to find them around the city. "I do occasionally see Murphy Beds in apartments, says Elizabeth Johnson, a real estate salesperson, at Compass. "I've mostly seen them in smaller apartments with limited space, such as a studio. The other place where I've seen them is in a spare room used for guests. A few years ago we had an Upper East Side Classic 6 listing where the 'staff room' was used as a guest room and it had a Murphy Bed. Most recently, I saw a Murphy Bed in a studio co-op apartment in Greenwich Village where the owner had lived there since the 1970s or 80s." Johnson's sister, Diana Lind, is coincidentally working on a book about "alternatives to the single-family home," which explores customized furniture for co-living. "Wall beds seem to be part of the co-living and micro-living trend movements," says Johnson.
There's also the sustainability and affordability factors, said Gabriella Pomata. "We are living in an increasingly environmentally conscious culture, and homeowners and renters want the ability to reduce their carbon footprint without sacrificing comfort or quality of life. With transforming furniture, you can have all the same amenities, style and functionality you'd enjoy in a larger home, but within a significantly smaller footprint — and for a fraction of the cost of a larger home!"
Whether as a guest bed, a place for expanding families, or to clear space for your yoga practice, Murphy beds offer an ideal solution for a multi-purpose room—at least until real estate prices go down.
Where to Buy Your Murphy Bed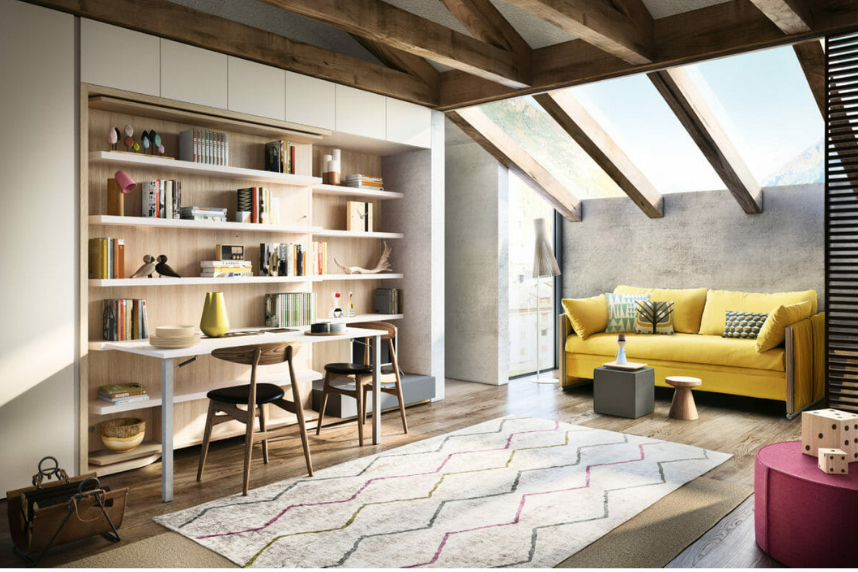 There are so many gorgeous wall bed choices here, with features like integrated sofas, dining tables, writing desks, shelving, and wall cabinetry (which all stay level when you fold them down, so you don't have to move things off the surfaces). The beds come in all different sizes (even bunk beds!) with hundreds of fabric and finish options that would paralyze the average consumer. All of the beds are made by an Italian manufacturer, Clei, and the products go through rigorous stress and safety testing, and the mattresses are made by Magniflex, Italy's largest mattress manufacturer. The mattresses are double sided with a different level of firmness depending on which way you flip them!
Milano Smart Living,
i
nstallation fee starts at $1,100 in NYC, plus the price of the bed, starting at $5,500
Milano's installation is easy. Everything comes in pieces from Italy, which the installer puts together on site in about three to five hours. With these beds you are able to choose between a latex foam or memory gel mattress, to personalize the comfort of the bed. These beds stand out because of the finishes; they use laminate finishes and baked on lacquers for a polished modern look.
California Closet's wall beds come in different options such as the Standard Wall Bed or the Side-Tilt Wall Bed, which looks more like a daybed, and takes up much less space when it is pulled down. The beds are made to seamlessly integrate into the California Closets shelving, office, media centers and wardobe systems.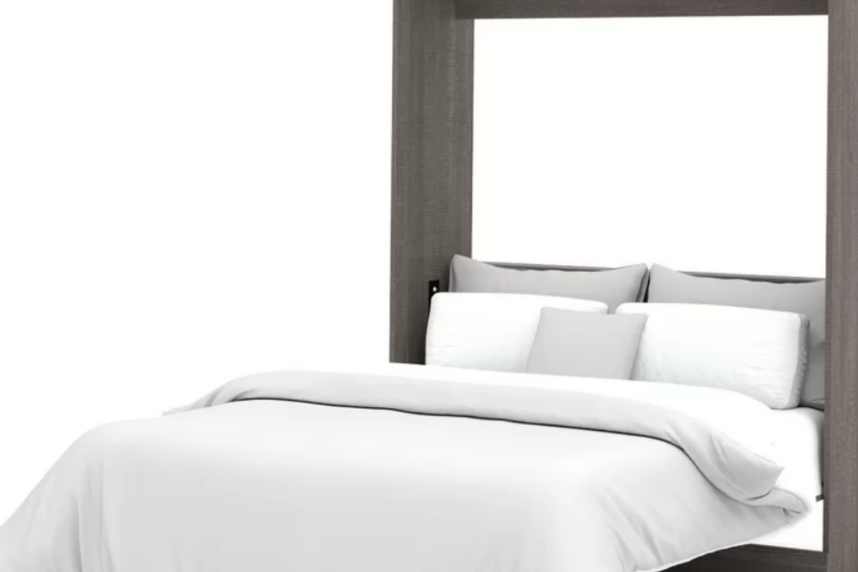 All Modern's wall beds seem like an economical option, and they will be delivered in two days. What's the catch? They don't come with installation, and many of these are not as easy as an Ikea assembly. Tosha from Nashville commented on the Truett model on the site: "The problem we have had with the bed is the assembly, it requires 3 people due to its size and weight. We had to hire a furniture company to help assemble and install it for us. We also had several companies tell us it was too complex of a job for them." If not installed properly, there could be serious injuries. According to Wikipedia, "A 1945 court case in Illinois found that a tenant assumed the risk of injury from a wall bed installed in a rented inn room. In 1982, a drunk man suffocated inside a closed Murphy bed, and two women were entrapped and suffocated by an improperly installed wall bed in 2005. A 2014 lawsuit alleged that a defective Murphy bed led to the death of a Staten Island man." Scared yet?
Costco's wall beds are basically a bed in a box, but a few have connected shelving units. Again, there are mixed reviews about the ease of assembly with these beds. Make sure that you have spoken with a carpenter or handyman beforehand, or that you have time and patience to put these together on your own.