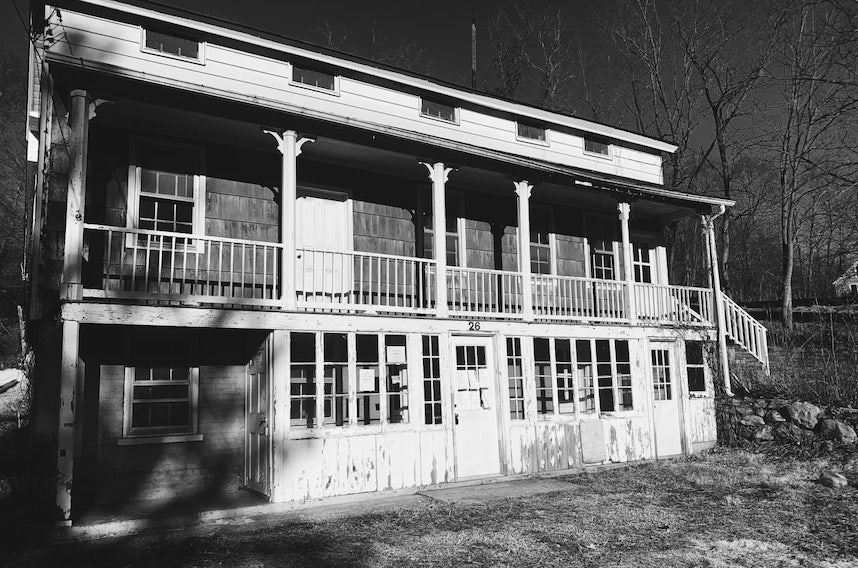 Blue House Hudson Valley is a project I founded to create a learning teaching homestead and artist sanctuary. We sometimes lovingly call it the Art Farm. Situated about an hour north of New York City, the homestead will provide a place to teach people lost arts and survival skills such as growing vegetables in small spaces, canning and preserving, soap making and sustainable design. In addition, the homestead will contain an artist's residence where visiting artists will have 2-3 studio visits from critics, curators and professionals and be encouraged to display their art and talk about their process with the local community. Artists will be selected by a committee of professional artists and people working in creative fields. 
My name is Kimberly Sevilla, owner of Rose Red & Lavender and this project has been a lifelong dream of mine. My mission has a purpose, and will help heal the divide in our communities. 
 The division that has been created in our country is sad and abysmal. I grew up in one of the poorest states in the country, West Virginia, and moved to one of the richest, New York, specifically New York City. Sometimes I get it, sometimes I don't get it but understand the anger and I understand the divide. 
Colonization and the industrial revolution were magical events that helped to shape where we are today. Things were made in factories that people needed money to buy and stuff was shipped from across the ocean that people needed money to buy. So people started working in factories and living in clustered housing to be close to those factories in order to have money to buy things. Often they were so tired from working all day in those factories that they didn't have the energy or the resources to grow their own food, and make their own clothes, as people had been doing since there were people. I don't want to dive too deep into this hole, but it was an engineered system that was designed for the benefit of the factory owners and merchants and not many other folks. That's why the rent is too dang high. 
Which brings me to the Tomato. 
Tomato: the usually large, rounded, edible, pulpy berry of an herb (genus Solanum) of the nightshade family native to South America that is typically red but may be yellow, orange, green, or purplish in color and is eaten raw or cooked as a vegetable. 
In West Virginia, we have a famous tomato called "Mortgage Lifter". The mortgage lifter was cultivated by Radiator Charlie Byles in Logan West Virginia. These magical tomatoes are incredibly sweet and huge and one can easily weigh up to 2 lbs. As the story goes, Radiator Charlie sold enough of his tomatoes to pay off the mortgage on his house.  This is just one of the hundreds of heirloom varieties that have been passed down from person to person, mother to daughter, father to son, and neighbor to neighbor. 
I spent all my summers eating tomatoes like this with simple salt and pepper and maybe a bit of butter or mayonnaise on a slice of homemade bread. Absolute heaven. Juice would drip down your arm when you ate one, and the flavor was sweet, salty, tart and buttery all at the same time. Divine. 
When I moved to New York, I became very, very sad. The Union Square farmers market was in its infancy stage, local farmers and the New York Times hadn't "discovered" the heirloom varieties and the tomatoes in the supermarket were all hard and dang nasty. Hard, mushy, and the flavor of petroleum and poison. To me, they tasted like the pesticide aisle at the local Southern States, seed and feed back home. Yuck. 
Food, as I knew it, the kind that my family always raised in our back garden and what nourished me into a healthy adult was gone and not available to me anymore. 
I had the fortune of being able to borrow a little plot of land on a horse farm in Putnam County and spent every weekend that I could gardening. I tested different techniques for growing food on a small scale and spent a decade studying how personal food is grown in small spaces all around the world.
Finally one day, I got a place of my own in Brooklyn, a place in Williamsburg, with a back garden, that I could call my own. 
My neighbors were an old Italian family. One that had migrated to Brooklyn from the Nola, Italy in the 1960's during the second wave of Italian immigration. Guitano, the elder of the family, was about 5' tall and carried himself like a giant. He wanted nothing to do with me or my "yuppy" ways. 
I had moved in in the fall of 2006 and I got the steady stink eye from him until the spring came and saw me create a garden. Of course, I was doing it all wrong according to him. I preferred the painterly French potager style planting for beauty and he preferred the old man, mini farm, and vegetables in rows style planting for function. He grew his tomato plants so tall that he had to climb a little step ladder to harvest them. Mine were seemingly jungly sprawling plantings grown for purpose and beauty. Then he saw my results, and he saw my pole beans and tomatoes.  I saw his results and saw his tomatoes and pepperoncini and the cultural and language divide melted away. 
Over the years we became friends and he helped bring me into a very tight-knit extended community of grandmothers, grandfathers, aunts, uncles and cousins. That extended network of people was crucial to our survival as a young family and business owners in Williamsburg  (they called it Italian Greenpoint). Guitano had a distrust of outsiders, and liked to keep to old ways, but we always bonded over vegetables. 
We both saved seeds that we cherished, and if a tomato was especially tasty, those were the seeds that I kept. He brought his from Italy decades before, and mine I carried around in a little shoe box brought with me from West Virginia. 
I see these divides in the world between working class, and educated folks, republicans, and democrats, rich and poor, and I really think that we could all get along better if we started growing more tomatoes. 
That is part of the foundation of Rose Red & Lavender and my burning desire to launch Blue House Hudson Valley. Blue House Hudson Valley will serve as a learning and teaching homestead and artists' sanctuary. You can find out more information on our crowd funding site.