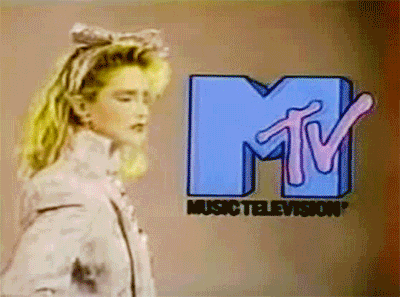 If you haven't found yourself revisiting music videos during the pandemic, now is the perfect time to curate the MTV channel of your dreams.
I became a fan of MTV in the '90s when music videos aired on Alternative Nation, 120 Minutes, Amp, and of course, MTV's Top 20 Video Countdown. I recorded my faves onto VHS tapes (a mix of alternative rock/grunge, pop, R&B, and Eurodance) to pop into the VCR when friends stopped by for a visit. (For those born after these devices became obsolete, the struggle to locate specific content was real and playback quality was poor by today's standards, but we didn't know what we were missing.)
Along with millions of people who were laid off due to the pandemic, I'm constantly looking for ways to stay positive, productive, and to pass the time creatively while job searching. After exhausting my Spotify playlists, I found myself nostalgic for music videos. Missing MTV, I turned to YouTube to build a "channel," essentially a playlist, that I filled with hundreds of videos for songs released in the '70s, '80s, '90s, and '00s. Playlists are not only easy to create, you might find the process to be rewarding and therapeutic. (This writer takes comfort in compiling old commercials, for instance.)
If you've never created a YouTube playlist before, start by searching for your "gateway" video. Click "SAVE" directly under the video and from there you can create a new playlist or save to a playlist you've already created.
I recommend watching videos on a smart TV using the YouTube app, and if you prefer an ad-free experience, you can upgrade to YouTube Premium ($11.99/month) following a one-month trial. As you add videos to your playlist, YouTube will recommend several others you might like based on the artist and genre. Get ready to fall down a rabbit hole in which hours may pass before you realize you should stand up and stretch.
Here are 10 classic videos to get your playlist started. While they sadly won't be followed by a funky MTV animated promo, you can get your retro fix here. Long live music television! 
David Bowie, "Life On Mars?" (2016 Mix)
In 2016, the year David Bowie passed away, director Mick Rock released an edit of his original 1973 promo for "Life on Mars?" Rock states on his website, "I had a little jewel and I wanted to polish it into a state where it was an absolutely perfect gem. Modern technology, which obviously we didn't have when I made the original in 1973, helped. I believe I achieved my goal." 
Queen, "Bohemian Rhapsody," 1975
"Bohemian Rhapsody" has endured many lives. Whether you were introduced to the single upon its release in the '70s, head-banged along with Wayne and Garth in 1992's Wayne's World, or discovered the operatic sounds while watching the 2018 Oscar-nominated biopic starring Rami Malek, congratulations on being exposed to one of the greatest of all time. In 2019, the video surpassed 1 billion views on YouTube, the first released before the '90s to do so.
The Rolling Stones, "Hot Stuff," 1976
Mick Jagger flaunts his frontman status in the trippy promo video for the funky "Hot Stuff," off The Stone's No. 1 album, Black and Blue. The music, as Jagger proclaims, "is mighty, mighty fine," and at 2:00 minutes in he becomes visibly consumed by his daily "dose" and it's mesmerizing to watch.
Journey, "Separate Ways (Worlds Apart)," 1983
It pains me that Beavis and Butt-Head criticized this visual treasure from the '80s, but they do say art is subjective. Steve Perry gives a powerful performance of a man who still has feelings for his ex, and I for one love the drama, the gravity-defying keyboard on the wall, and the fact that at 0:25 seconds in, Perry serves up an entire mood before demonstrating how he made Rolling Stone's list of "100 Greatest Singers of All Time."
Michael Jackson, "Thriller," 1983
In including Michael Jackson on this list, we're not disregarding the accusations against him that the documentary Leaving Neverland brought to light, but rather acknowledging and celebrating his historic contributions to music and his unparalleled artistic talents. MTV was "out to get you" when they announced the world television premiere of Jackson's "Thriller," arguably the most influential music video of all time. The 13-minute short film won MTV Video Music Awards for Viewers Choice, Best Overall Performance, and Best Choreography, but for some reason the zombie dance wasn't enough to win Video of the Year. I'd like to personally ask the academy, "what's the problem?"
Billy Idol, "Eyes Without a Face," 1984
Decades before Billy Idol turned environmentalist with his anti-pollution #BillyNeverIdles campaign, he was an '80s icon and hitmaker. "Eyes Without a Face" (Les yeux sans visage) was his first Top 10 hit in the U.S., peaking at No. 4 on the Billboard Hot 100 chart. The video, which includes Idol mirroring Elvis' signature lip curl, women slapping their buttocks to the music, and an abundance of fog and fire, was nominated for an MTV Video Music Award for Best Cinematography and Best Editing.
a-ha, "Take On Me," 1985
The music video for a-ha's "Take On Me" has over 1 billion views and made history as the first to combine live action with pencil-sketch animation. Animator Michael Patterson said, "Nobody had ever seen anything like it. We watched many people rip it off, year after year." Keyboardist Magne Furuholmen spoke with Rolling Stone about the enormous impact of the video, which won six MTV Video Music Awards, including Best Concept Video, Most Experimental Video, Best Direction in a Video, Best Special Effects in a Video, and Viewer's Choice. "I have no doubt that the video made the song a hit."
Janet Jackson, "Rhythm Nation," 1989
Janet Jackson's call for racial unity to "join voices in protest to social injustice" reminds us that 30 years later we still have work to do. "Things are getting worse, we have to make them better. It's time to give a damn." After George Floyd was killed by police in May, Jackson shared clips from her iconic dance video and the interlude pledge from her Rhythm Nation 1814 album on social media to amplify #BlackLivesMatter. "We are a nation with no geographic boundaries, bound together through our beliefs. We are like-minded individuals, sharing a common vision, pushing toward a world rid of color lines."
The renowned video won an MTV Video Music Award for Best Choreography.
Madonna, "Vogue," 1990
Strike a pose. The black and white video for Madonna's song celebrating vogueing culture is cinematic perfection from beginning to end. The video for the best-selling single of 1990 was nominated for nine MTV Video Music Awards and won Best Direction (David Fincher), Best Editing, and Best Cinematography.
Nine Inch Nails, "Closer," 1994
You already know that "Closer" was one of the most controversial videos to air on MTV in the '90s, but if you're longing for more about the visually stimulating clip, go behind-the-scenes with director Mark Romanek as he shares his creative process and experience working with Trent Reznor. "I pretty much tortured Trent for three or four days on this video. I spun him so long… I believe he vomited… but he never complained once. I think he knew that we were making something that was going to be interesting." The video was nominated for an MTV Video Music Award for Breakthrough Video and Best Art Direction in a Video.