How much flavor can you pack into a 30-minute meal? The elements that make food exciting—finely chopped ginger and lemongrass, dried chili peppers from the Mexican grocery store that need to be soaked before use, slow-simmered sauces, herbs from the Asian market, spices you've never heard of before—are the ones that take planning and prep time. Yet many of us are burning out on meal kits and new recipes. We're dutifully cooking basic dinners, but we're craving spice. We need a culinary fairy godmother who can help us wish away our mealtime woes. Well, guess what, friends? I found 3 of them.
Omsom, Brooklyn Delhi, and Pastiche, are Brooklyn-based, women-led companies producing pantry shortcuts like nothing we've tried before. In the age of sponsored posts, it feels important to mention that this is not an ad. I did get free samples of the products, but I tried them all at home, took my own photos, and transformed 3 chicken-and-rice dinners. (Note: Since you add your own protein to these sauces/spices/starters, all of them can be used for vegetarian or vegan meals.) My kitchen smelled so good that my upstairs neighbor asked what I was cooking. Most of the meals were way too interesting for my boring children, but the prep so simple that I had time to set aside unseasoned rice, chicken, and vegetables for the kids.
Let's make dinner something to look forward to again.
Omsom
The women behind the spice:
Sisters Vanessa and Kim Pham, daughters of Vietnamese refugees, created Omsom to bring fiery, real-deal Asian cuisine into the home kitchen. With the help of beloved NYC-based Asian chefs, they developed pouches of sauces, aromatics, and seasonings that they call "starters." These pantry shortcuts, which work as the foundations for specific dishes, are packed with flavor. The name of the company comes from "om sòm," a Vietnamese phrase that translates to "noisy, rambunctious, riotous."
Products used:
Thai Larb Starter and toasted rice powder from the Omsom Sampler
The pricing:
The sampler costs $29 and (spoiler alert!) I'm buying it for every cook on my holiday gift list. A celebration of fiery Asian flavors, it's packaged in a giant matchbox, artistically designed in bright orange and yellow. The sampler offers 6 pre-packed meal starters (Vietnamese Lemongrass BBQ, Thai Larb, and Filipino Sisig), which can be used in 6 meals for 2-3 eaters, or 3 meals for 4-6 eaters. It even comes with little recipe cards. If you have a favorite starter, Omsom also offers 3-packs for $12, and they're launching more starters soon. I want them all.
How I prepared them:
I followed Omsom's Thai Chicken Larb recipe, made with a short and simple list of ingredients: A pound of ground chicken, scallions, shallots, cilantro, and mint. I served it with sushi rice and lettuce wraps. (Omsom's meal starters work well with a variety of vegetables and protein, and they also offer super easy recipes for Pork Larb or Mushroom Larb.)
The result:
Honestly, this tasted like something out of the Pok Pok cookbook, except it took 20 minutes to prepare, instead of 20 hours. Omsom covers all the sauces, aromatics, and hard-to-find ingredients to achieve that balance of intensely spicy-salty-sweet flavors that shines in the best Thai food. I was shocked by the gigantic flavor that came out of a little seasoning packet and a sleeve of toasted rice powder.
For picky kids:
I had a second pound of ground chicken on hand, and the larb was so easy that I had time to whip up these chicken meatballs from Pinch of Yum, paired with our shared rice and sliced cucumbers. Blam.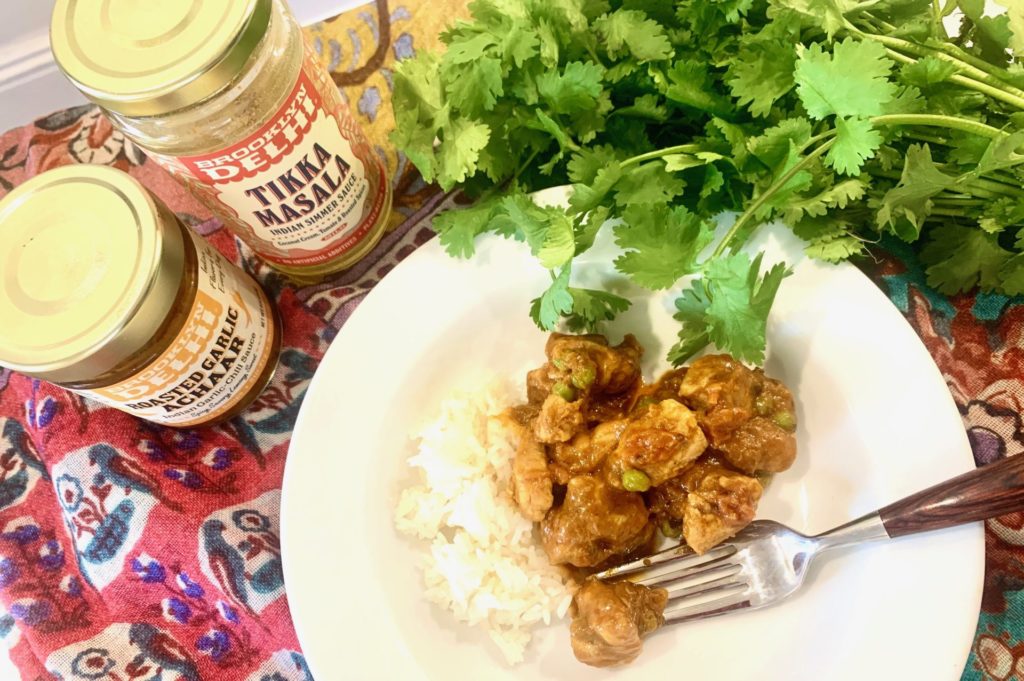 Brooklyn Delhi
The woman behind the spice:
Founder Chitra Agrawal, the author of Vibrant India: Fresh Vegetarian Recipes form Bangalore to Brooklyn, (as well as this Brooklyn Based guide to South Asian restaurants in one of the largest Indian communities in the U.S.) was dissatisfied with the achaars available in America. These flavor-packed condiments, sometimes called "Indian pickles," tended to be over-the-top spicy and really salty. She made her own versions, highlighting the flavors of aromatic spices, vegetables, and fruits, as well as simmer sauces, and Brooklyn Delhi was born.
Products used:
Tikka Masala Indian Simmer Sauce (which is vegan!) and Roasted Garlic Achaar
The pricing:
Each Brooklyn Delhi simmer sauce and achaar is priced at $12 per jar on their site, but you can also get them on FreshDirect for $6.99 per jar. (I'm obsessed and I've already got the Coconut Cashew Korma simmer sauce, Mango Chutney, and Curry Ketchup in my cart for my next order.)
How I prepared them:
I put some rice in my rice cooker, chopped up 2 pounds of chicken thighs (even though the recipe on the jar only called for 1), sauteed them in a pan, and then dumped in the jar of Tikka Masala with half a cup of water. I let it simmer for a little while and then threw in half a bag of frozen peas to heat through. I served the chicken tikka over rice and passed the Roasted Garlic Achaar at the table.
The result:
After a long day, we all deserve something this easy to prepare and also this delicious. The Tikka Masala sauce is made with coconut cream instead of dairy, which seems to make it extra-luscious, but the real must-have item here is the Roasted Garlic Achaar, which brings both heat and depth to the dish. It's hot, sour, lemony, and garlicky, bringing complexity to a no-brainer meal. I can't wait to try a vegan version with a couple of cans of chickpeas or some seitan and roasted butternut squash. In short: Brooklyn Delhi simmer sauces are my new essential pantry staples. From now on, I will always have some achaar in my fridge and jars of simmer sauce in my pantry.
For picky kids:
My kids don't love dark meat, so I chopped up a couple of chicken breasts and cooked them in some olive oil in a separate pan. The kids shared the rice and some plain frozen peas, prepped in the microwave.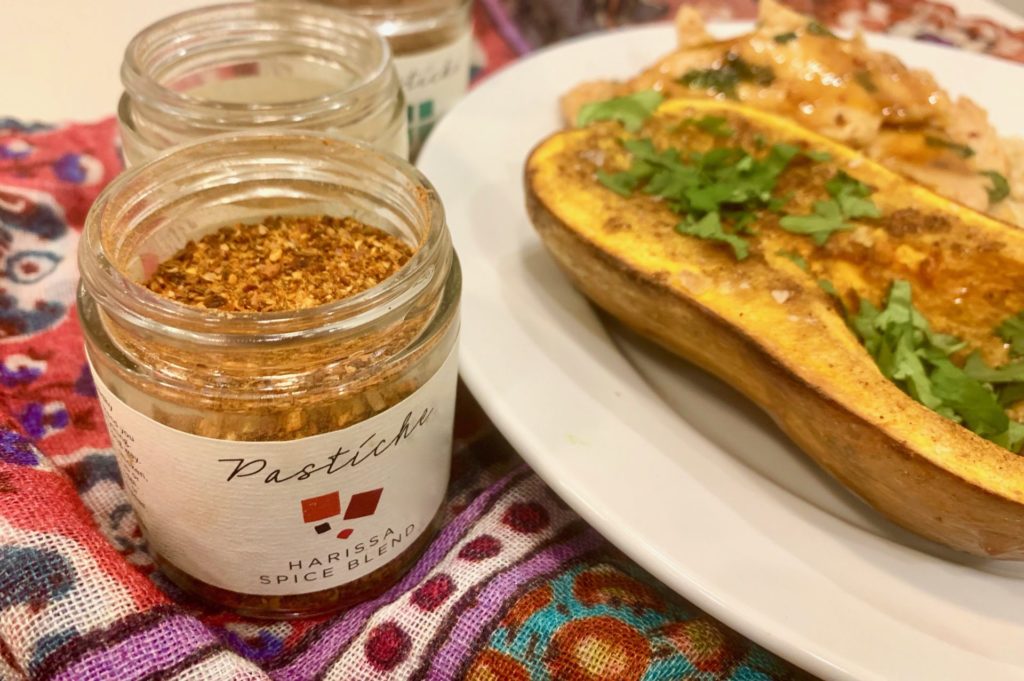 Pastiche Foods
The woman behind the spice:
Romi Hefetz grew up in Israel, but her Pastiche spices lean toward Moroccan flavors. She explained, "Israel is a melting pot of so many cultures, and a major slice of the population traces its roots to the Maghreb, so I grew up eating flavorful Moroccan food regularly. I chose these blends because they were always staples in my kitchen, they are super versatile and can be used in traditional dishes as well as in improvised."
Products used:
Harissa Spice Blend and Tan-Tan Moroccan Spice Blend
The pricing:
Spice blends are available at the Pastiche Foods Etsy shop for $10 each or $45 for all 5.
How I prepared them:
Riffing off a recipe on the Pastiche website, I marinated thin-sliced chicken breasts in a mixture of the Harissa Spice Blend, maple syrup, olive oil, lime juice, chopped fresh cilantro, and salt. I seared them in a pan while steaming some Near East boxed couscous on another burner. (Sorry to all the Moroccan chefs who frown upon this. Mama is tired!) Meanwhile, I slow-roasted some honeynut squash that I drizzled with olive oil and liberally sprinkled with the Tan-Tan blend.
The result:
The Harissa blend infused the chicken with the hot and smoky flavors of chili pepper, salt, paprika, cumin, coriander, garlic, and caraway. The nutmeg, cumin, coriander, allspice, ginger, cayenne pepper and cinnamon in the Tan-Tan blend amped up the earthy sweetness of the honeynut squash (which is basically butternut squash's sweet and nutty little sister). My kitchen was filled was delicious aromas and I didn't even touch my spice rack. Score!

For picky kids:
My children love a plain, thin-sliced, pan-fried chicken breast with a little salt (no pepper, no spice blends, no fun). They can tolerate boxed couscous and had some baby carrots on the side. Everyone cleaned their plates, and cooking dinner felt fun again.