Susan Spungen's "Caramelized Fennel with Citrus and OIives," was also another highlight from Open Kitchen that found a creative use for an entire vegetable. For this recipe she suggested trimming and cutting the fennel a day before so it was ready to cook with, making the recipe even easier to prepare. The fennel gets braised in broth, a technique I hadn't tried before. I loved the surprising mix of caramelized, sweet fennel with the citrus and salty olives. 
The following recipe is from Open Kitchen by Susan Spungen, published by Avery, an imprint of Penguin Publishing Group, a division of Penguin Random House, LLC. Copyright © 2019 by Susan Spungen. Photo © Gentl and Hyers.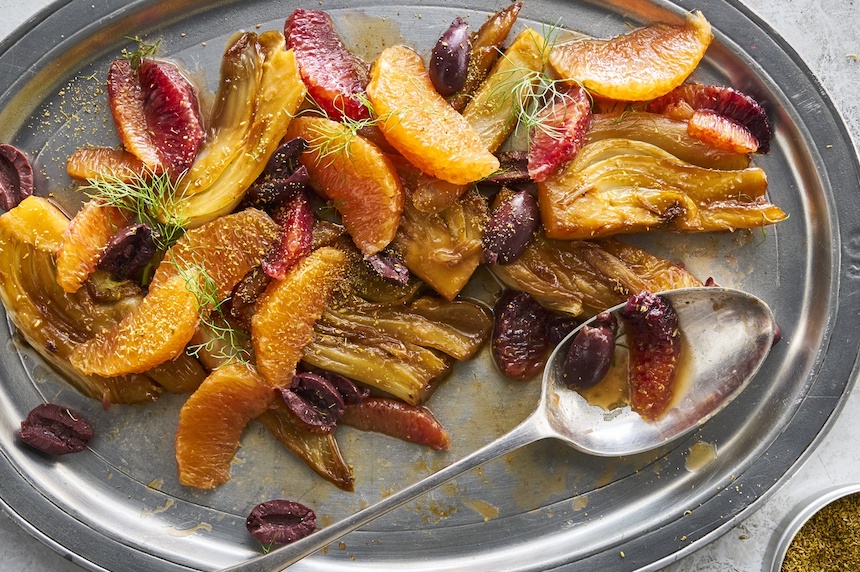 1 Cara Cara orange or pink grapefruit 1 blood orange
1 large or 1½ small fennel bulbs (about 2 pounds), fronds reserved
2 tablespoons unsalted butter 1 tablespoon honey
½ teaspoon salt
1 cup chicken or vegetable stock 12 Kalamata olives, torn in half and
pitted
Freshly ground black pepper Fennel pollen (optional)
1. Use a knife to cut away the peel and pith from the oranges. Cut in between the membranes using a small sharp knife, holding your hand over a bowl to catch all the juices.
2. Cut the fennel into 1-inch-thick wedges. Heat a large skillet over medium-high heat. Add the butter and honey and cook until melted. Add the fennel and salt and cook for 6 to 8 minutes, turn, and cook for 1 minute more, or until browned. Add the stock and reserved citrus juice.
3. Reduce the heat to low and simmer for 15 minutes, or until the liquid is almost evaporated. Add ¼ cup water and simmer, turning occasionally, for another 5 to 7 minutes, until very tender. Transfer to a platter and top with the citrus, olives, reserved fennel fronds, and some pepper and fennel pollen (if using).
TIMING TIP:
This dish comes together quickly, but even trimming and cutting the fennel an hour to a day before and having it ready to cook is helpful.