One recipe from Open Kitchen I would make any night of the week is the "Za'atar Chicken Thighs with Grilled Peach and Crispy Couscous Salad." Since peaches aren't in season I replaced them with dried cranberries which seemed to work just fine. I didn't have couscous either so used farro which held up well to the other ingredients. Za'atar is one of those spices worth investing in and can always be found at Sahadi's, a local market offering delivery and curbside pickup.  
The following recipe is from Open Kitchen by Susan Spungen, published by Avery, an imprint of Penguin Publishing Group, a division of Penguin Random House, LLC. Copyright © 2019 by Susan Spungen. Photo © Gentl and Hyers.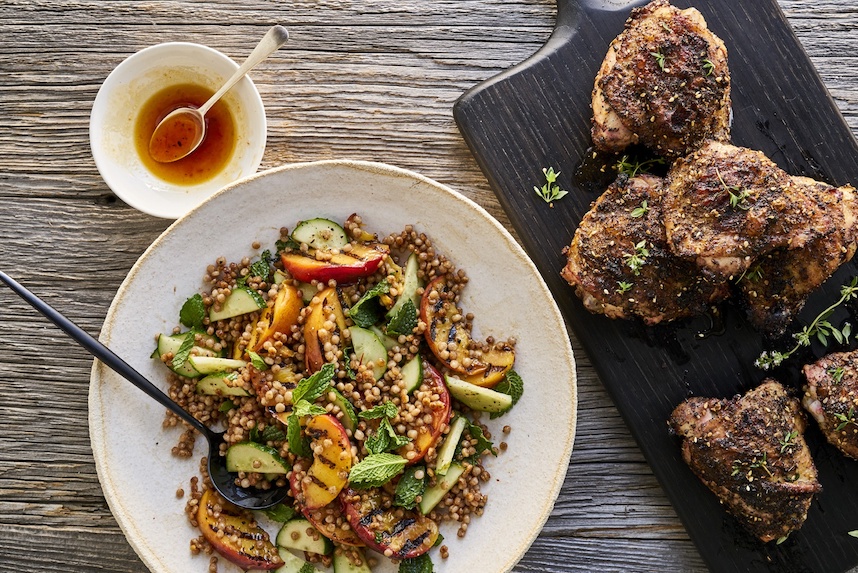 FOR THE CHICKEN:
8 bone-in, skin-on chicken thighs (about 2 pounds)
2 teaspoons salt, plus more as needed Freshly ground black pepper
Juice of 2 lemons
¼ cup olive oil
4 garlic cloves, thinly sliced 1 tablespoon harissa
1 teaspoon very finely chopped preserved lemon or NY Shuk preserved lemon puree, optional
2 tablespoons za'atar
2 tablespoons fresh thyme leaves 2 teaspoons garlic powder
FOR THE SALAD:
¾ cup Israeli (pearl) couscous, preferably whole-wheat
1 cup water
¼ cup extra-virgin olive oil
2 tablespoons fresh lemon juice
1 teaspoon harissa, or more to taste 1 teaspoon honey
Salt and freshly ground black pepper 2 ripe but firm peaches, cut into
8 wedges each
1 Kirby or Persian cucumber, cut in half lengthwise and thinly sliced (or 1⁄3 hothouse cucumber)
½ cup fresh mint leaves, some torn and some left whole, plus more for garnish
1. To marinate the chicken: Season the chicken with the salt and plenty of pepper. Combine the lemon juice, oil, garlic, harissa, and preserved lemon (if using) in a small bowl. Put the chicken in a resealable plastic bag (or a bowl if you prefer not to use a bag) and pour the marinade over it. Make sure the chicken is well coated on all sides. Refrigerate for at least 30 minutes or up to 24 hours, turning occasionally.
2. To make the couscous: Combine the couscous and water in a small saucepan. Bring to a boil over medium-high heat, reduce the heat to low, cover, and simmer for 10 to 12 minutes, or until all the water is absorbed. Remove from the heat, and spread out on a dinner plate to cool. Heat a large (12-inch) skillet over high heat. Add 1 tablespoon of the oil and the couscous. Season lightly with salt. Cook, stirring at first, and then cooking undisturbed, pressing down lightly with a spatula, until browned and crunchy on one side only, about 5 minutes. Transfer to a mixing bowl.
3. To make the dressing: In a small bowl, whisk together the lemon juice, harissa, and honey and season with salt and pepper. Slowly whisk in 2 tablespoons of the remaining oil.
4. To cook the chicken: Remove the chicken from the marinade, letting the excess drip off, and lay out on a baking sheet (I like to line with parchment, which makes it easier to wash for the cooked chicken) and coat with the za'atar, fresh thyme, and garlic powder. Heat a grill to medium heat and, using a perforated grill platter if you have one, cook the chicken thighs for about 10 minutes on the flesh side, until nicely browned, then turn and cook for 5 to 7 minutes on the skin side until the skin is crisp but not burnt. Turn back to the flesh side, turn grill down to the lowest setting, or move to a cooler part of the grill, and cook 6 to 8 more minutes until very tender.
5. While you're cooking the chicken, cook the peaches too. If you don't have a grill platter, place a piece of heavy-duty foil with some holes poked in it on one side of the grill (otherwise, use part of the platter the chicken is cooking on). Flatten it as much as possible using a spatula or tongs. Toss the peaches in the remaining 1 tablespoon oil and spread out on the prepared surface. Grill for 2 to 3 minutes on each side, until lightly browned. Transfer to the mixing bowl and combine with the couscous, cucumber, and mint leaves. Dress with enough of the dressing to moisten everything and season with salt and pepper. Pass any extra dressing on the side.