The second installment from our wedding blogger, easybrider, in which she finds the perfect Brooklyn venue.

We became engaged in October 2010, and then almost immediately went on vacation with my parents. For two blessed weeks, we didn't plan, or worry, or do anything but enjoy each other, fine wine and a slightly depressed Euro. On our return, I started poking around for a venue.
I had heard about The Foundry in Long Island City. It's a converted warehouse with a courtyard and lounge furniture available for use (any other tables, etc. must be rented separately). The raw space is urban-elegant and would provide some great bones for a gorgeous evening. This renovated warehouse is located right next to the Queensboro Bridge. Getting there is easy, but it's an ugly walk from the train.
I'm lucky I didn't fall in love with the Foundry. As I type, Saturdays are completely booked from Spring 2011 through mid-November. When I first saw that schedule, a tiny seed of panic planted its barbs in my chest. My long, relaxed engagement was starting to vaporize.
Before decorations, caterer or booze, a Saturday at the Foundry rents for around $9000. For a smaller party, the different interior and exterior spaces can be rented individually. The maximum number of guests is 200, but they recommend a total of 85 if one is using only the inside spaces. Based on my girlfriends' chatter, $100 per person for a catered meal is a cheap in this city. (As I mentioned in my last post, though, I have no plans to interview caterers individually.) Before decorations, cake, music and who knows what else, we are already looking at a number well over $20,000. That's not a bad number on its own, but having a good band is really important to us. We don't want their portion of the budget eaten up by things we don't care about.
The next place we investigated was LIC's Metropolitan Building. Another converted warehouse, they market the space as shabby-chic. I came up singing in a swing band, so vintage decor really appeals to me.
For $150 a person (in October 2010's pricing) we would get just about everything we would need for a party: all staff, linens, 60-inch tables (ugh), chairs, glassware, plates, cutlery, catering…but no booze. LIC's Vine Wine has amazing wines and a great case discount, so that wasn't a worry. There were even a couple of Saturdays available in September!
We went to see the space in person one late afternoon. The 2nd floor room (which was the appropriate size for our party) seemed to be a on the shabbier end of shabby chic. Just like myself, I am sure it looks better in candles and Christmas lights, but still an air of decay hung over the kitchen and bathrooms. On my way to check out the bath, I could see into the kitchen. It smelled exactly like the basement kitchen of a fancy hotel (which I have had to trek through to sing at weddings–no front door access for the help). It's a strong smell of grease and dirty dishwater, I think, and something that I wouldn't want my guests to experience. Lastly, The Metropolitan Building is situated at a lonely corner of an industrial zone. I have seen some wedding photos in which the newlyweds took advantage of the surroundings in an ironic way. For us the area just seemed it would be a little too edgy for my mid-western relatives.
In spite of the potential drawbacks, reviews on Yelp are almost all positive, photos prove the interiors are gorgeous in the evening, and the price is totally cheap for NYC. $150 each for 120 guests (tax and gratuity included, but not music, booze, cake or flowers) adds up to $18,000.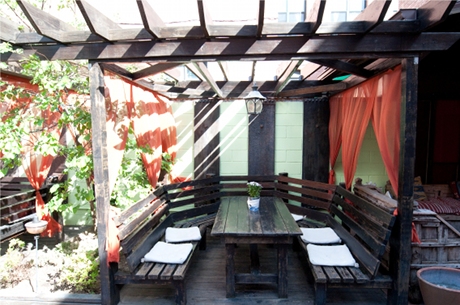 My Moon on North 10th in Williamsburg became the first real option we loved. When planning began, I remembered a leisurely dinner on their patio with a pair of friends. I had been impressed by the gigantic outdoor space and tasty Turkish food. Extra decorations would be strictly optional. Despite a big metal euro-modern sculpture on the wall, the room is gorgeous as-is. Tall brick walls break it up into two entertaining spaces, each with interesting furnishings made of industrial detritus and distressed wood. The terrace features low benches and flowy curtains with a Miami-meets-Middle-East vibe.
On a whim I emailed the event coordinator, and received back a friendly, concise note outlining a surprisingly comprehensive rate package! We would get the get the entire night, the entire restaurant, hors d'oeuvres, full dinner, two tasting dinners, a dedicated bridal dressing area, 3 hours of unlimited premium open bar or 5 hours of regular open bar, DJ booth and equipment for 120 people for $15,000 plus 20% gratuity and tax. That's everything but flowers, cake and entertainment for around $19,500.
The little anxiety bug in my heart was prodded to life again when I asked about availability. By November 2010, the calendar for 2011 autumn Saturdays was nearly full. The third Saturday in October was open, but by then use of the gorgeous patio would be a possible bonus, not a given. If the dates we wanted had been available, we would be getting married at My Moon.
As it stands, I am glad we didn't make the plunge. Immediately after returning from that family vacation, a dear friend dragged me over to a brand spanking new venue around the corner from her house. "It's brand new! It's perfect! You'll love it!"
When I went with her to Brooklyn Winery the first time, I was fresh in my resentment of having to book a venue over a year in advance. I don't think anything would have looked good to me. I liked it, but wasn't blown away. The space seemed to broken up, and the patio was still under construction. After looking at all the other spots in the area, however, something in my gut pulled me back for a second look.
Groom and I walked in one winter evening, and (really!) everything just clicked into place for us. First of all, it's gorgeous. The main wine bar space is paneled in reclaimed barn wood. Long farm tables are lined up along one side, while a zinc bar takes up the other. The bathrooms are brand new–shabby chic, but not shabby at all. The patio is large enough for a ceremony, and can house cocktail tables during the meet-and-greet. A private dining room past the bar is a natural space for a buffet, and has a really striking view of all the wine barrels in the production room. The clincher? Since the Brooklyhn Winery had just opened about three weeks prior, September 2011 was wide open!
Jenesy, the event coordinator, and co-owner Brian were endlessly patient with us and all of our questions. After protracted contract negotiations, we came up with a plan and a price that suited us pretty damn well. As guests walk in, they can drop by the bar for one of several wines or beers. Shortly thereafter, we'll take our vows on the patio, in front of a luscious green wall of vegetation. We'll all trail inside for more drinks, chatting and snacks. One of house caterers is the new-ish sustainable foods take-out counter on Bedford Ave., Radish, who will create a bruscetta bar with 5 or 6 toppings. There will also be five varieties of passed hors d'oeuvres. We aren't sure of the exact menu, but we are definitely serving the delicious beef sliders and BBQ shrimp. There is plenty of room for a large (though not huge) band who will play two long dance sets after the cocktail hour.
Ultimately, we are paying $7500 for the rental of the entire venue for a 5 hour party on an Autumn Saturday (plenty set up time included), $23 per person for the hors d'oeurvres spread, $40 per person for sodas, wine and beer, and about $400 in miscellaneous catering rentals like a coffee service. The total number after tax (on the rentals) and tip (on the food) is a tiny bit over $18,000 for 120 people.
The most important thing I learned through the process is that yes, you can have exactly the perfect wedding of your dreams for exactly what you want to pay exactly where you want to have it and exactly when. Along the way, though, be prepared for your definition of "perfect" to change. Make room for unexpected, fresh inspiration to enter the game…just like when you fell in love!