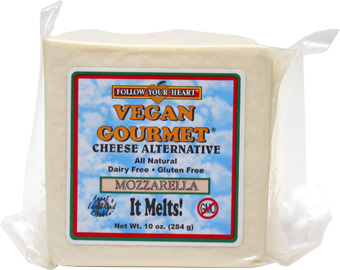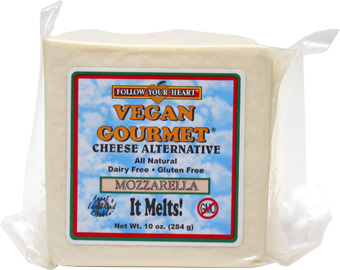 The newly tripled-in-size Downtown corner market Brooklyn Fare has transformed into a corner supermarket with all the requisite specialized food products the expanding Downtown population might require. These include around six varieties of truffle oils, exotic produce including fiddle-head ferns, and small, caulifloweresque figments in orange or purple that look like fractals. The merchandise also includes the full range of Applewood organic meats ("we're ANTI-antibiotics") and every kind of vegetarian faux meat.
In search of a lazy dinner for one recently, I picked up a Tofurkey unsausage-topped pizza with the famous Daiya vegan cheese that's supposed to be different than all those other awful fake cheeses. ("It Melts!"– a sad claim for a "cheese" to have to make, but when it comes to nondairy cheese imitations, it's a relevant one.) I didn't have high expectations to begin with, but this meal was a heavy, underwhelming, and fake waste. It left a metaphorical bad taste along with the wee shreds of this Daiya substance stuck to the roof of my mouth.
When I first moved to Brooklyn as a vegan in ought-one, I was in hog-hugging heaven over all the plant-based food options so readily available. I couldn't get over the fact that you could get soy milk at the bodega. Even better, there was a natural foods market in walking distance (Perelandra in Brooklyn Heights) with every animal-free product I could possibly want! (This was before such items trickled down to the shelves of mainstream supermarkets and suburbia.) Now this, I thought, was civilization. This was one big reason to take on the struggle of living in NYC sans trust fund. More and more of my new neighbors were turning on to this herbivorous way of life, it seemed.
And being vegan in Brooklyn worked well for a long time, until it didn't. My (former vegetarian) bff says only two of her friends are semi-veg anymore. One of those is me, and we're both eating seafood and poultry.
Why do so many lay down this cause, after taking it up with such vigor? I often wondered that as my semi-veg husband and my own vegetarian friends dropped off, one by one, each of them murmuring when they came out as reformed carnivores that burgers are soooo good, and wait til you try them.
For one of my major intervening factors, see: Cheese, the indisputable deliciousness of. Moving to the Deep South for three years threw a massive wrench in my dietary works. A wrench made of butter. There, I ate local eggs and dairy, fish our neighbors caught and shrimp just off the boat. This was better than store-bought products.
But another intervening factor, I believe, is simply age. There will always be some hardcore holdouts, but not all activists remain ardent forever. Anthony Bourdain wrote in Medium Raw about putting away his Dead Boys T-shirt after his daughter was born, because he's through being cool–nihilistic teen punks no longer applied to his 50-something life. My own change feels not like a backslide or something to be ashamed about, but like another way of maturing. I've reevaluated and admitted my old beliefs no longer made sense.
The more I read about food, the less I saw a plant-based diet as the most noble one. I began to see it a well-intentioned but dishonest diet. It's not what the diner really wants. I also believe that for most people following the diet, especially the ones who then unfollow, it's not enough nutritionally. I for one lacked energy and fell into naps too easily. The oft-cited protein/energy concern for herbivores never made sense to me until I tried real chicken again, and a light bulb (of energy) turned on. Veganism is a culture of bloggers protesting too much about how much they're not missing the now-forbidden meals they grew up loving, and "Look at this vegan version I made–it's so sinful!" (There's a loooootta mention of sin when vegans describe food.)
I gave up meat in 1994, so it's not like I couldn't hack it–No one can say I didn't give it the old college and mega-extendo post-college try. It just no longer felt like the right thing to do.
I had to acknowledge that as much as I love certain vegetable dishes, I was spending way too much time trying to make plant matter act like meat, dairy, and eggs. Mind you, this is not a phenomenon that ever happens in reverse.
With fish and poultry (and red meat, no doubt) you can make something simple quickly, you don't have to marinade it for an hour, then fry it for 40 minutes, then add various spices and sauce to make a tofu sodium bomb. These real foods are lovely and they sustain you. Once I accepted the nearly universal truth that humans eat animals, and that's how we got our big brains (brains which sometimes make you think you should eat pretend substitutes instead of the food you really want), I made new rules from there. Whenever possible: organic, free range, sustainably raised, anti-antibiotics. No mystery meat. It's not with every meal, and I still know mean ways to prepare vegetables–just sometimes they appear along with other things besides vegetables on the plate. More and more of my new neighbors are turning on to this conscientious omnivorous way of life, it seems.
When you switch from cooking veggie chili to turkey chili, I've discovered the resulting dish is no longer a million-bean colon-taxing overload, but a more complex and enjoyable meal. Omnivorous cooking is less about "How do we make up for the missing elements?" and more about "What elements would make this even better?" For either version of the dish, the supplies can be purchased four flights downstairs from my apartment at Brooklyn Fare. But with a little animal protein in my diet, I have more energy to climb back up those flights once again.