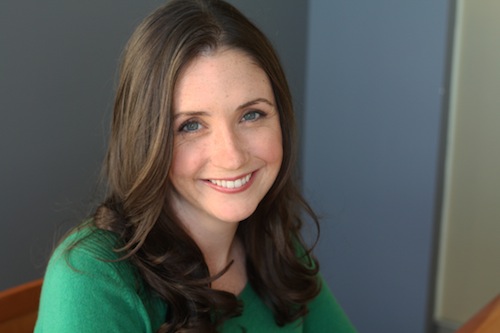 In marketing J. Courtney Sullivan's book Maine as a beach read, the folks at Knopf were not terribly subtle. Its publication date (today) had makers of summer reading lists in mind, and the wistful cover photo of a woman stretched out on the sand, staring into the distance, is a visual wink that you, too, could be transported to a pristine beach with a copy of Maine. In truth, the place Sullivan takes us is much more turbulent—a beach house on the Maine coast shared by the totally dysfunctional Kellehers, who stopped summering there as a family long ago, only to be brought back for a few fireworks-filled weeks in June and July.
Sullivan, who lives in Brooklyn Heights and reads from her new book tonight at BookCourt, focused on female friends in her best-selling debut novel Commencement. In Maine she delves into the complexities of mothers, daughters, sisters and sister-in-laws, dividing the book into chapters devoted to each character's point of view. Between the four Kelleher women, and the addiction, denial, and Irish-Catholic guilt spread out among them, you'll likely find traces of your own fraught relations–that piece of work who also happens to be your sister, mom or grandmother.

The beauty of the book lies in these alternating perspectives. Sullivan has created rich characters we can empathize with, so just as you become convinced of one woman's lunacy, you soften when you hear her story. And while it does take time for them to get to Maine and face off, as the Times noted in its mostly-glowing review on Sunday, the anticipation of their trips is also what makes their meeting so riveting.
The Kellehers' summer home amidst the pine trees and salt air comes to life in part because Sullivan has vivid memories of Maine to draw from. She grew up outside Boston, and her family often took the 90-minute drive to Southern Maine for a week on the beach or a lobster dinner. Now she mainly summers "in my sweltering Brooklyn apartment," but we asked her to name her favorite places in Maine and New England, for summer vacation inspiration and like Maine itself, a little escapism:
1. When I was growing up outside of Boston, I'd beg my father to take me to Louisa May Alcott's Orchard House in Concord, Massachusetts at least one weekend a month. I was an only child until the age of nine, so I was obsessed with the March sisters and Little Women. I got such a thrill from seeing where Alcott and her real life sisters had lived. All around the house, there are drawings on the walls and furniture, which were done by May Alcott, the inspiration for Amy March. Concord is a magical place, and an inspiring one for writers. Just down the road is The Old Manse, which Nathaniel Hawthorne rented from Ralph Waldo Emerson's family for a time. In the yard, there's a vegetable garden that Thoreau planted for him as a wedding gift.
2. In my family, one of the first signs of spring is a day trip to Ogunquit, Maine. We always stop for dinner at Barnacle Billy's, a great seafood restaurant right on the water. On longer trips, we'll go to Billy's for chowder and rum punch three or four nights in a row, but when we feel like something a little more decadent, we go to 98 Provence, an incredible restaurant that transports you straight to a French country kitchen, with fireplaces and wood beams and some of the best food I've ever tasted.
3. In Blue Hill, Maine, there's a great little bookshop called Red Gap Used Books. Jonathan Lethem founded it with two friends in 2009. The store carries rare antiquarian books, and many of the volumes are pulled from Lethem's personal collections and scouting missions.
4. I moved to New York in 2003, and ever since, my mother, my younger sister, and I have made an annual tradition of spending a weekend in Mystic, Connecticut—halfway between Brooklyn and Boston. One year, we stumbled upon the Florence Griswold Museum in nearby Old Lyme. Florence Griswold ran a boarding house out of her childhood home. It evolved into an artists' colony starting in 1903, when Childe Hassam came to stay. Many others followed, and they often paid Griswold with paintings, all of which hang on the museum's walls today, right next door to the original boarding house. There's something so great about seeing the paintings in the very spot where they were created.
5. Last summer, while I was working on Maine, I spent a month at a friend's house on Nantucket. (Yes, my life is hard.) When I needed a break from the computer screen, I headed to Cisco Brewers, a great spot tucked away from the busy, more tourist-y parts of the island. The outdoor setting is beautiful, the homemade beer is delicious, the people are laid back, the live music is great, and everyone brings their dogs. What could be better?
J. Courtney Sullivan's release party for Maine is tonight at 7pm at BookCourt, 163 Court St. in Cobble Hill.