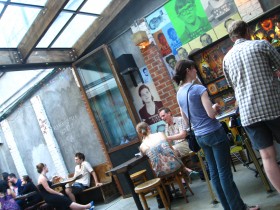 Our roving, Brooklyn Brewery-fueled block party returns Saturday, July 16 on a stretch of Brooklyn known for its stellar bars: 4th Ave. From noon to 6pm, Cherry Tree, Pacific Standard, The Rock Shop and Mission Dolores will be pouring complimentary cups of Brooklyn Lager, Pennant Ale, Summer Ale, and Brooklyner Weisse, and restaurants and cafes will be offering specials. You'll find $2 tacos (chicken, pork or potato) at Oaxaca, a beer brunch at Sheep Station (with complimentary bottles of Local 1 for each table!), a dollar off slices at South Brooklyn Pizza, 10% off your Ethiopian fare at Ghenet and many specials at Root Hill: a dollar off their 16 oz. red wine sangria, a dollar off their kombucha on tap & 10% off their freshly baked items.

The bars and cafes aren't the only standouts along this industrial borderland between Gowanus and the Slope. A handful of arts and music venues followed the Brooklyn Lyceum's lead and made themselves a home here, like The Rock Shop, which is celebrating its first year on July 16th with Urge Overkill downstairs at 8pm, and a DJ upstairs during the immersion.
And at Littlefield, our friends at the skint will be throwing a Bastille Day Bash from 2 to 6pm that you should totally crash on your beer and food crawl. The bar will be pouring $3 Brooklyn Lagers and Summer Ales all day and gratis gin cocktails from 2 to 3pm to sip among the French mayhem, including eight-piece French band The Hot Sardines, bawdy burlesque, hot mimes, and an Edith Piaf-channeling chanteuse.
The cover is $2, or just $1 if you're a card-carrying member of The Total 4th Avenue Immersion. To pick up a free card that entitles you to all the complimentary brews and deals, you'll need to arrive by noon at Oaxaca (250 4th Ave.) or Cherry Tree (65 4th Ave.) on July 16. There will only be 500 cards available–250 at each pick up point–so get yours early, or get a friend to retrieve one for you. We'll announce when they run out on Twitter and Facebook, along with the winners of Brooklyn Brewery booty throughout the day.
RSVP or email us for details on last-minute participants and details, and save the date for the last immersion of the summer, August 20, when we'll be hitting Vanderbilt Ave!