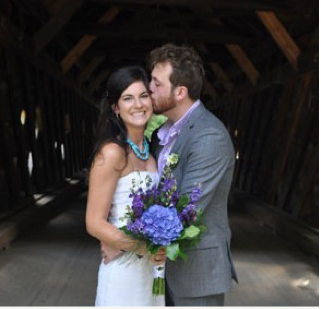 Lauren Griffin and Jacob Loiko may have known each other since kindergarten, but they aren't your typical high school sweethearts.
"The first time we met we were playing Teenage Mutant Ninja Turtles in kindergarten," says Lauren. "Jake was a turtle with sweet nun-chuck skills, I served up construction paper pizzas–Ninja Turtles' favorite food. We were constantly in the same class throughout grade school, but went our separate ways in high school. Jake had pink hair, I was a band geek. It wasn't until we both dropped out of college and moved home for the winter that we started hanging out. We were working at the local ski resort, I was selling tickets. I heard a familiar voice over the intercom, and it happened to be Jake, working the basket room. He invited me to a party that night, and the rest is history."
Today, the pair live in Ridgewood, Queens, and Lauren, 27, manages Champion Coffee in Greenpoint, and is the nanny for a 9-year-old. Jake, 28, works as set constructor and prop builder for TwoSeven Inc. in Bushwick. They moved to New York about five years ago after stints in Florida and in Westchester, working as a nanny and manny.
"We're from Vermont and there was never any question whether we'd get married there," says Lauren. Their August 20th wedding, held in Perkinsville, Vermont, relied on help from friends and family, from the location scouting to the first dance to the food. "The night Jake proposed we were having dinner with my best friend and her parents at their house. Describing what we wanted for a venue–a private house rental big enough to sleep a ton of people, a barn for dancing and a huge lawn–my friend's parents suggested a house on their road. The next day we went to investigate and fell completely in love with the place. The second I saw it I couldn't picture us getting married anywhere else."
The duo's friends, including chef Millicent Souris and Kelly Geary staffed the kitchen, turning out summer salads and a gorgeous lemon cake. Tom Mylan, brother-in-law and butcher, worked an enormous smoker borrowed from family friends, serving up Carolina-style pulled pork and half chickens. A local ice cream truck, painted like a cow–it was a Vermont wedding, after all–supplemented the cake for the dessert course.
Dennis Hagan, one of the family friends who suggested the venue, married Lauren and Jake, and his wife, Susan Hagan was in charge of the couple's first dance. "Our first song was This Must Be the Place by the Talking Heads," Lauren explains. "Susan is an amazing choreographer and choreographed a dance for us incorporating the bridesmaids as doo-wop back up dancers."
Jake's parents put a huge amount of work into fixing up the house before the wedding and other friends and family contributed decorating expertise, floral design, photography and booze-buying expertise.
Lauren and Jake both agreed that having a wedding that relied on so much creative energy from their favorite people made the day incredibly special, but that there were a few hiccups that went along with their self-designed festivities. "Figuring out a place to get rid of the 700 pounds of trash after was somewhat of a challenge," Lauren notes.
For now, they're back to work in Brooklyn, but Lauren and Jake are getting ready to go on a honeymoon next month, driving the Pacific Coast Highway from Los Angeles to San Francisco in October.
"As for married life? Lauren sums it up saying, "I don't feel different, we've been living together for six years, but saying 'my husband' is fun."