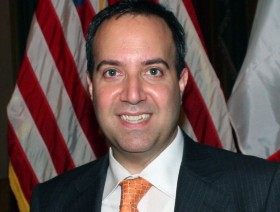 Buzz surrounding Carlo Scissura's potential bid for Brooklyn Borough President began last summer, when Marty Markowitz, the current borough president, announced that he would support his then chief of staff, should Scissura run for the office. That buzz grew louder in September, when Scissura stepped down as chief of staff to take a senior adviser position in the Markowitz administration, a move that allows him to build up his campaign coffers without worrying about the fundraising limitations placed on city officials.  He will officially announce his candidacy when the 2013 election draws closer, but in recent weeks he has publicly acknowledged that he intends to run.

Now that the news is out, and the spotlight is shifting toward Markowitz's former second-in-command, the real question is, can Scissura step out of his boss's formidable shadow to become the new face of Brooklyn?
As a seasoned community activist who spent more than a decade sitting on several civic and school boards (including the Community Education Council and Charter Review Commission) prior to joining Markowitz's office in 2008, Scissura has been making his way up the ranks of city politics for years. Markowitz won a third term for borough prez in 2010, riding the coattails of Mayor Mike Bloomberg's term-limit extension, and cannot run again, so it makes sense that he would name someone from his administration as a choice for successor.
However, the boss's blessing could easily become a curse, depending on how well Scissura establishes his own identity. Markowitz appropriated a bombastic role as the the biggest personality in Brooklyn over the past decade, his fame rising alongside the borough's. Scissura says he's fully aware that stepping out of such a large shadow is no small task.

"Whoever follows Marty does have big shoes to fill," he conceded. "But at the end of the day, we are different people. I am not Marty. I am me, and I will put my own stamp and spin on the position."
And, Markowitz's endorsement is no guarantee. Scissura lost a bid for city council in 2001, and State Senator Eric Adams is expected to enter the 2013 borough president race as well. A former NYPD captain, Adams is widely recognized around Brooklyn, and a favorite at this point.
Local pols though, say it's early enough to be anyone's game, and the field of candidates is still shaking itself out. "Carlo is a dynamic, hard-working Brooklynite who's done an admirable job in Marty's office and will be a viable contender for borough president," said Lincoln Restler, district leader for Brooklyn's 50th Assembly District, and something of a political upstart himself.
Brooklyn-born and raised, Scissura, 41, declined to discuss his platform in detail so early in the campaign process. When asked how he plans to handle issues like bike lanes, he preferred to stay mum on policy plans, speaking instead on a personal level. "I'm a bike rider," Scissura said. "I get it. I also get community involvement. In no matter what we do whether it's bike lanes, whether it's renovating schools, I have always been and will always be a big, big proponent of strong community involvement." He would not comment directly on his position on the Atlantic Yards development. "All projects that will come to me as BP will have my assurance that the community and residents will be participants in the future of Brooklyn," he wrote in an email. "I am going to discuss issues in the coming months and do not at this moment want to address all the things happening in Brooklyn."
Scissura's community advocacy may be his strong suit, especially among Brooklyn's new class of artisans and entrepreneurs. David Liatti, owner of 61 Local, a Cobble Hill tavern with a strong focus on local products from beer to pickles to cheese, told BB that Scissura stepped in when red tape with the Department of Buildings almost stymied his efforts to open the Bergen Street bar.
"He took a particular interest in what we were doing at 61 Local because our mission is to support and promote other small craft businesses in Brooklyn," Liatti wrote in an email. "Carlo recognizes the enormous potential of the borough due, in part, to the collective energy and creativity of the small businesses that have set up shop here." Liatti has become a major Scissura booster, and is hosting a fundraiser for the candidate this Saturday, at 61 Local.
Scissura's passion for public office and for Brooklyn were apparent during a phone interview conducted while he was en route to a Fourth Avenue Task Force meeting on Tuesday night. Time will tell if that enthusiasm translates well on election day, but Scissura said that his passion and experience will best serve Brooklyn from the BP's office. "The borough president is the person who understands the needs of the entire borough, and I think my background really makes me a great fit," he said. "I love the job. I love Brooklyn. I've been closely associated with the office for four years. I've done a lot of the work that a borough president or an elected official does. I've been intimately involved in the budget process, in the community board, in the appointment process, in the borough board process. I've done all of it, so for me, it's the next step."