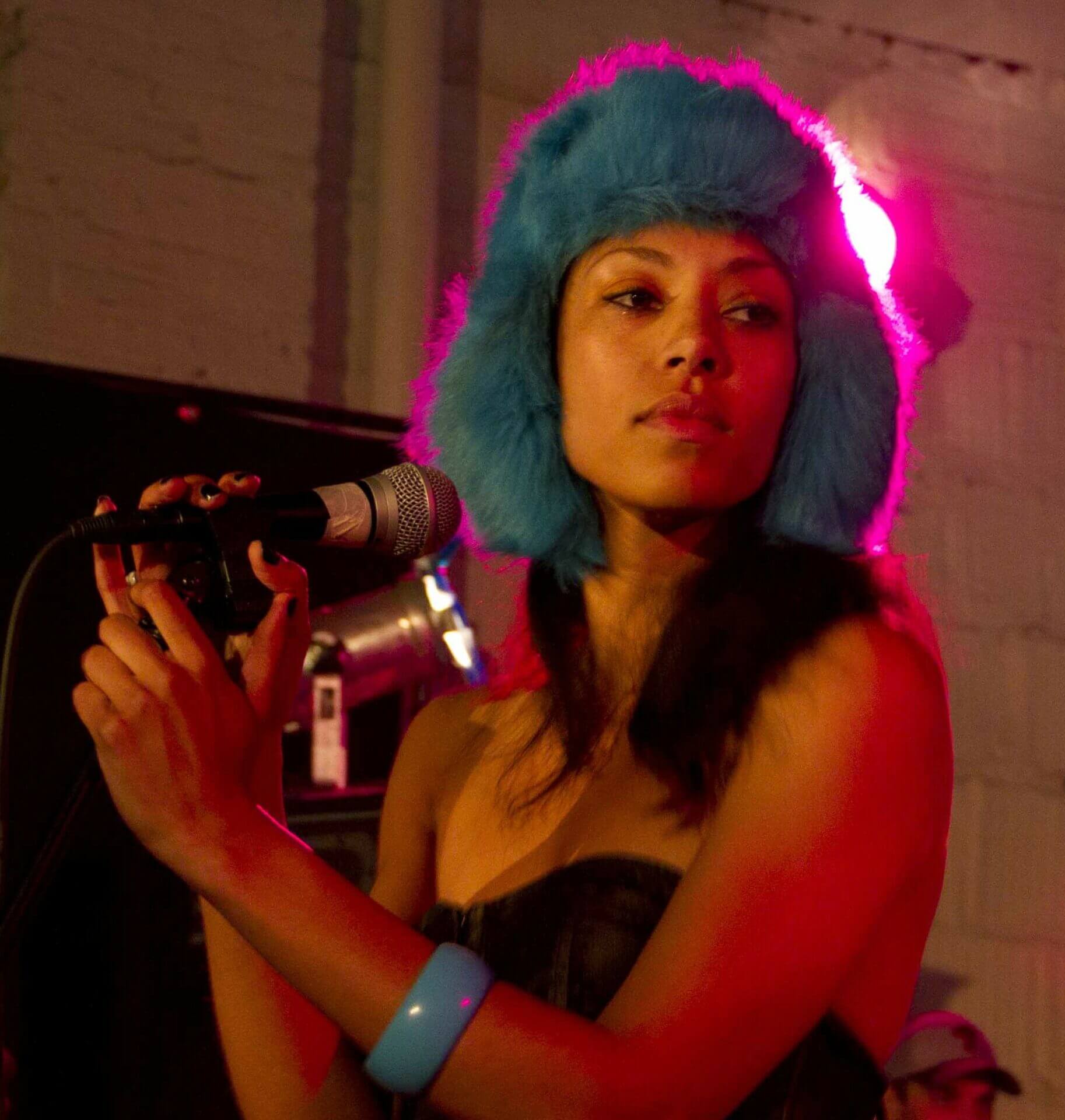 Name: Lea Muses
Age: "Twentysomething…"
Occupation: Artist
Neighborhood: Bed-Stuy
Relationship Status: Single
You might recognize Lea Muses' dance moves and mound of curly hair as one of the silhouetted dancers in those ubiquitous Apple iTunes commercials, or her backside on the cover of Culo by Mazzucco, Raphael Mazzucco's art-book ode to the female derriere. We met Lea many moons ago at a coffice we have in common where she was  building a website as a freelancer. (She's a graphic designer on the side.)  As a once-upon-a-time accessories designer and model, who has now segued into music–we took this photo at an art fair in Gowanus where she was performing—it seems there's always more to Ms. Muses than meets the eye, which is why, when we got the chance, we had to ask her: What'd You Do This Weekend?

FRIDAY: The week before was fashion week. I went out almost every night last week and had way too much sound. I had a sound hangover. By the time Friday came around, I was really just done. On Wednesday or Thursday, I ran into my ex-boyfriend, and so on Friday we were supposed to meet for dinner. I killed time all day expecting this dinner date.
A long time ago, I had a handbag label. I had submitted some samples that had been stolen by a really well-known design company that we all shop at. It's almost been a year later and they've turned up. Now it's raining, and I'm on my way to her showroom to go get them. I was playing nice while she was playing nasty. I get there and she just kind of hands me my things. So my day started out like shit.
A friend of mine just got back from Paris, and I hadn't seen her in six months, since her wedding, so we went for tacos at La Esquina and then went to the MAC store and got our makeup done.
Still no message, and now my iPod's died. I went to charge my iPod and send some emails and ended up editing this q & a I had for a magazine in London in the Apple store. I camped out there for two hours, and still no message. I text my friend Melanie, who was prepping a shoot for Glamour Mexico. I went and watched her prep. (Still no text message from my ex-boyfriend.) So we went to dinner. It was in Little Italy, a Malaysian restaurant, [Nyonya] on Mott & Mulberry. And then I get a text message! He's having drinks in Long Island City, so I go there. He's an athlete who's now retired, and the entire bar was teasing him about how he's never won a Super Bowl. He tells the owner and bartender that I have a new song out, so they download it and play it. It was surreal. I ended up going back to his house and discovering all my bath salts are still in his shower from two years ago when we used to date.
SATURDAY: I did normal stuff–coffee in the morning. I went to Smooch and finished the rest of that q & a. I washed my hair and fell asleep and 9:30 and didn't wake up until 12:30 the next day, fully dressed with my hair wrapped in a towel.
SUNDAY: I stayed in and cooked. I made tri-colored, curly pasta with ginger, garlic and fish, kind of like a stir-fry. I started to have a cocktail at home because I'm celebrating all this stuff that's going on, and the producer that did my song that's on the charts called me. I ended up going to some event and then to rescue his car from JFK. We listened to new music I'm supposed to write to while in the car. I wound up getting home around 4:30 in the morning.

MONDAY: I woke up and went straight to the computer to check the [Beatport] pop chart because my song is climbing, climbing. My song ["Feels So Real," with Todd Terry] went, this weekend, on Friday from No. 20 to Saturday No. 16 and today it was No. 11. I didn't believe it. I put my headphones on a listened to it to make sure I'm not going crazy. I went to band practice and did laundry, which is still in the dryer! I think I'm in shock. Oh, and my roommate wants to move out after 10 days. She says my loft is too claustrophobic.
RATING: It ranks a 3, but I was riding the 5 train. I slept all day Saturday, but there was good stuff that happened. My roommates wants to move out, but my song's climbing the charts. It was kind of a whirlwind.