Grand single-family homes. Verdant parks—including a large skate ramp. Middle Eastern delights abutting authentically Irish pubs. And most importantly, it's all within easy access of the R train.

Bay Ridge has had its share of televised notoriety of late. It's the home stomping grounds of Mad Men's proto-feminist ad exec Peggy Olson and of the upcoming reality program Brooklyn 11223 (which for unknown reasons borrows the zip code of the Gravesend neighborhood). So without further ado, let's begin our quest in the 11209, southwestern-most neighborhood of the county of Kings.
Get off the 77th Street stop on the R-train (you could just ride the remarkable R from Bay Ridge straight to our Astoria Day Trip) to begin your day with a volcanic cuppa of coffee. Not volcanic in terms of temperature or lava-like consistency, that is. Aloha Grinds, located at 76th Street and 3rd Avenue, maintains Hawaiian authenticity on many levels: the coffee is Kona; the road signs festooning the walls are from central Oahu; and the grill options are befitting of any kama'aina's palate. Most importantly, the aloha fare is cheap. Hawaiian breakfast comestibles include Spam, egg and cheese on a bun, $3.55. Those not so inclined toward canned meats can opt for more mainland fare, such as steak and eggs to-go ($7.95), albeit served alongside white rice for some Hawaiian flair. If you're going cofficing, Aloha Grinds also has plenty of outlets for your laptop; 2.5 hours of free wi-fi for your freelance etiquette needs; as well as the Hawaiian plate lunch classic loco moco. The latter involves rice topped with a hamburger topped with an egg topped with gravy.
Burn off your aloha craziness at Owl's Head Park. Located on a peninsula at the corner of 68th Street and Shore Road, the park has everything you've come to expect from city parks: hills, really old trees and spectacular views—in this instance, a sweeping view of the Manhattan and downtown Brooklyn skylines and as well as the Verrazano-Narrows Bridge. The Millennium Skate Park is located in Owl's Head as well, though if you're inclined to do more than watch, you'll need to sign a waiver in advance. For a lower impact experience, head down Shore Road for a picturesque stroll, cruising south past water, grandiose homes, a healthy number of vintage cars and fuzzy green Staten Island. Just don't do it on a cold day, as the winds off of the water at best are like a wind tunnel and at worst, like January in Chicago.

If you're still in a park sort of mood, just down from Owl's Head is the privately founded Narrows Botanical Gardens. Opened in 1995 by residents of the neighborhood, the 4.5-acre park includes several specialized gardens, including a rose garden, an alpine garden and a pond full of lilies. Other highlights include the "fragrant pathway" and the butterfly garden, a key stopover for the showy insects on their migratory routes.
Feeling a bit peckish again? With two classic ice cream parlors in the neighborhood you may want to  start with dessert first. Anopoli on 3rd Avenue between 69th and 70th Streets celebrates its 115th year in business this month (under several different names) but still serves New York Greek diner classics like shakes and sundaes with house-made ice cream, as well as waffles, eggs and sandwiches. Hinsch's, a neighborhood favorite on 5th Avenue between 85th and 86th Streets, was taken over by new owners recently, but their classic egg cream is still worth a visit.
Sate your hunger with some good ol' stodgy pork fare at Polonica. With 21 years under its belt serving up fine Slavic fare on 3rd Avenue between 72nd and 73rd Streets, it knows its market well. Try a bowl of sauerkraut or barley soup or white borscht topped with a dollop of sour cream. If you have room after soup, a solid plate of pierogies or a pork chop should do you in—unless you skip right to the blintzes.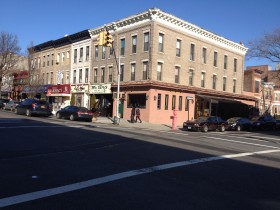 If Eastern European fare is not your thing, Bay Ridge has a thriving Middle Eastern community. Bab-al Yemen, at Bay Ridge Avenue and Fourth Avenue, is, as the Arabic translation of its name suggests, a culinary gateway to the southern Arabian Peninsula country. Push yourself out of your humdrum hummus and falafel comfort zone and try the ancient dish aseef, a colloidal mixture of flour and water perfumed with coriander and cumin. Haneeth, lamb slow-roasted until it's falling off the bone, is another must-try.
At the corner of 73rd and 5th, the Middle Eastern and Mediterranean fusion flavors of Turkey come alive at no-frills restaurant Hazar Turkish Kebab. There's certainly a host of kebabs on offer, waiting on the skewer, such as the piquant minced meat Adana, as well as İskender kebab, döner meat served over pita bread chunks, tomato-butter sauce and yogurt. Arguably less familiar to the casual Turkish food fan is pide, a long, football-shaped bread that resembles a pizza. Consider getting yours topped with kuşbası, small chunks of lamb or sucuk, a lamb sausage so delightfully greasy it fries itself. There's also Mediterranean varieties of fish on hand and vegetarian starters, such as classic stuffed grape leaves, for those looking for a lighter meal. Just don't order falafel while at a Turkish restaurant: it's like getting broccoli in your taco. The chickpea concoction is actually well nigh impossible to find in Turkey.
Do opt for said fried foodstuff, however, at Tanoreen, a constantly bustling Middle Eastern eatery at 76th and 3rd. The falafel sandwich is brilliant; the fluffy hummus nearly melts in your mouth, if that were possible for a dish of ground chickpeas. Tanoreen's lamb fette gives new meaning to tender and its kibbe, the oblong ball of dough with ground lamb inside that's normally an appetizer, is solid enough to stand on its own as an entrée. Try a glass of sweet Lebanese wine to wash down your meal.
You may want to sample a post-priandial hookah, and given the Middle Eastern flavor of the neighborhood, there is fragrant smoke aplenty. A good starting point is Genie Hookah Lounge, located on 71st Street between 3rd and Ridge Avenues. There's fast, seamless service; a moderate level of background noise and plush, comfortable surroundings.
Bay Ridge is also a heavily Irish enclave, home to its own St. Patrick's Day Parade. The 2012 parade takes place on March 25, stepping off at 1pm from the corner of 4th Avenue and Marine. The course usually heads up 5th Avenue and ends at 60th Street and 5th Avenue. On the way there (or anytime), head to Irish pub The Wicked Monk. Serving the Bay Ridge community for some three decades, the walls are covered with authentic Irish regalia imported from the Emerald Isle.
If Guinness isn't your thing, check out The Owl's Head at 74th Street and 5th Avenue, a wine bar named for the park you visited earlier in the day. The cozy spot, which opened late last year, has a variety of well priced wines, including selections from Long Island and Brooklyn Oenology, beers and small bites like crostini, meat and cheese plates and panini, with as many ingredients as possible sourced from Brooklyn vendors. One of the founders, John Avelluto, is a South Brooklyn native; all three of the partners are invested in the Brooklyn arts and culinary landscape.
End your evening at Shore Road Park, at the far southern end of 4th Avenue. The area is peaceful and quiet for introspection—not to mention working bathroom facilities. Stargazers will be hip to know that despite the twinkling Verrazano-Narrows Bridge in the immediate foreground, the sky here gets plenty dark to see more than major constellations. Last summer, on one very low-humidity evening, the Milky Way was visible. Like the rest of Bay Ridge, it was out of this world.