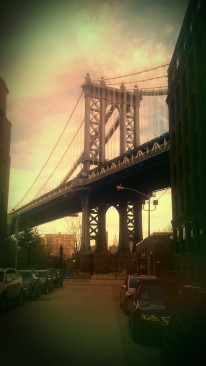 Welcome to the second installment of our column, Hot Date, wherein writer Chelsey Duckworth comes up with a creative, not overly expensive date to go on with her boyfriend "M." Got suggestions? Leave them in the comments.
Every now and then I feel like I fail at really taking advantage of all of the culture this city has to offer. Enter DUMBO, a once a derelict little triangle of land inhabited only by wild dogs (you heard it right), it is now a Mecca for artists and scensters. M and I took a walk down the cobblestone streets in search of culture and a hot date…
We started our pursuit at Rabbit Hole, a small contemporary art gallery that moonlights as a donation-based yoga studio, the home of Brooklyn Creative and a photography studio. Descend the stairs, ring the bell and you will be greeted by a friendly curator. During our visit, a fashion shoot was taking place–tall models, hipster music–we had truly arrived in the art world.
Having had our first glamorous taste of the art scene we headed to 111 Front Street. This building is a collection of 14 galleries. The galleries are all interconnected and usually only host one exhibit at a time–short and sweet–and if you don't like something you can just move on to the gallery next door. It's a great space for art novices (like yours truly). M and I particularly enjoyed New Pyramids for the Capitalist System by Robby Herbst at Dumbo Arts Center.
If you crave more, head down under the Manhattan Bridge to Plymouth and Jay. VII is a gallery founded in 2001 by a group of photojournalists. An amazing exhibit by Jocelyn Bain Hagg documenting one of the last gangs in London is currently on view–this was particularly popular with M. (If you work up an appetite while viewing, Brooklyn Roasting Company is right across the street and offers delicious organic coffee and Dough donuts.)
By this point, M and I were feeling a little art-ed out. PS Books was nearby and full of respite. Get cozy on their couches and listen to jazz while perusing their rare and vintage books. Once you've rested your bones sufficiently, walk to the water and take in the art of the cityscape before you. Dumbo is nestled between Manhattan Bridge and Brooklyn Bridge and the views are pretty spectacular. The park along the water has tons of private pockets just waiting for you to sit and stare at the magic of the Manhattan skyline. Jane's Carousel was recently added to the park, and I'm not going to lie, M and I went for a ride. For $2 each–we were five years old all over again.
Finally, to satisfy your cultural appetite, walk over to reRun (unless you splurge on tickets to a performance St. Ann's Warehouse, which is incredible) and catch an indie movie. You can sip cocktails and nibble on snacks during the film and tickets are just $7–but if you buy $7 worth of concessions you're in for free! The food isn't the greatest, but sitting in the old car seats and watching a Sundance Selection film while cradling artisan beers had us feeling pretty satisfied with our artsy selves.