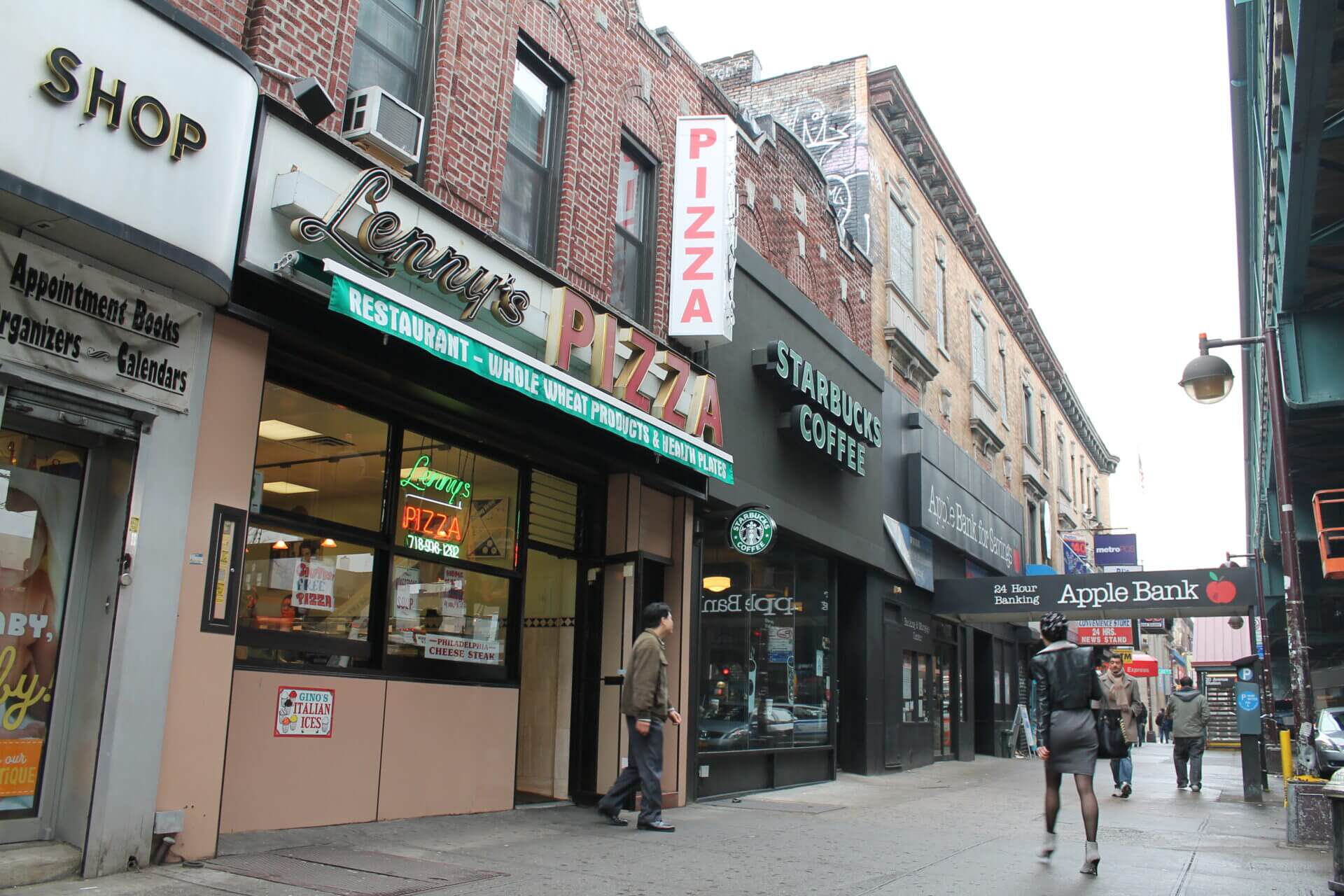 Bath Beach used to be a seaside escape much like today's Jersey Shore–minus the big hair and short shorts–with sprawling hotels and beautiful beaches. Before Robert Moses built the Belt Parkway, those from all over the city could sunbathe along its shores, which touch Gravesend Bay. Today, Bath Beach residents hop on the train a few stops and go to Coney Island, but traces of that beachy history still remain. The subsoil is so soft and sandy that workers were unable to build a subway, so the area is served by elevated trains. Most residents don't have the same cable and Internet access because wires can't be laid underground. When little old ladies and shopkeeps sweep the street, they end up with piles of sand and a salty smell is in the air almost all year round–especially after a summer rain.
This sleepy yet diverse neighborhood is in the southwest corner of Brooklyn, accessible by the D train to 18th Avenue, 20th Avenue or Bay Parkway and the B1, B8, B6 and B64 buses. It's often combined with or confused for Bensonhurst–it was once called called Bensonhurst-by-the-Sea–but it does have distinct borders: The chunk of land between 86th Street and Gravesend Bay, and from 14th Avenue to Bay Parkway. Although Bath Beach was once primarily Italian-American, it's a true mix of cultures these days.
Start your tour at Bay Parkway and 86th Street; the latter is the main shopping drag in the neighborhood, and for most of southern Brooklyn for that matter. If you're looking for a snack, Kebab Kitchen, (2122 86th Street, 718-683-5493), is the perfect place to pick up a cheap and tasty gyro sandwich–your choice of chicken, lamb or beef–or a creamy lentil soup.
If you're looking for something heartier, stop in at Lenny's Pizza (1969 86th Street, 718-946-1292) and get a load of the John Travolta memorabilia, which is worth the trip even if you're not hungry. Lenny's is the pizza place in the opening scene of Saturday Night Fever when Tony Manero goes up to the window and says, "Two, two, lemme get two slices!" then proceeds to put one on top of the other, fold them and eat both at the same time. (By the way, no one does that, not even out of Bath Beach pride.) Lenny's is known for its lasagna pizza, which has ricotta, mozzarella, ground meat and marinara sauce. One slice is a meal in itself.
Have a sweet tooth? Sweet Sensations, better known to most Bath Beachers as Nuts 'N Candy (2079 86th Street, 718-266-8234), has been around for decades, selling loose nuts, dried fruits and of course, candy. It's like some 1950s ideal of a candy shop–as soon as you walk in the store, the smell of sugar surrounds you. It's a special treat during the holidays, when you can get little chocolate Santas, dreidels and just about anything you can imagine. In the summer fresh popcorn and cotton candy are often on special.
Something Else (2051 86th Street, 718-372-1900) has other locations in northern Brooklyn, but the Bath Beach outlet is the original. We found pretty silk tops in bright, fun prints and patterns, colored denim, form-fitting cocktail dresses, leather clutches, big chunky jewelry, designer jeans and of course–velour track suits suits. The salesgirls are always dressed to the nines, but are extremely down-to-earth and helpful. Don't be afraid to ask! There's also a men's section.
Need a pair of shoes? This is the place to be–there are dozens of stores selling everything from Italian leather boots to the latest stilettos on 86th Street. DNA Footwear (2013 86th Street, 718-373-2999), has locations all over the borough, just like its big sister company Something Else, but this Bath Beach spot is also the original. Even if you can't walk in sky-high heels, there's a great selection of flats, and real Uggs for those who are coordinationally challenged.
Nearby, Chris' Polish Restaurant (1866 86th Street, 347-462-3755) has some of the best comfort food around. Think beef stroganoff, mashed potatoes, peirogies, potato pancakes and the best cucumber dill salad this side of the Hudson. They are also serve Polish beers and are available to rent out for small parties.
When you get to 18th Avenue, turn right and check out the New Utrecht Reformed Church at 84th Street. Although this is not technically Bath Beach, there's too much history here to pass up. The flagpole that stands in front of the church, better known as the Liberty Pole, is the oldest in the country, erected in 1783 at the end of the Revolutionary War. The pole has changed a few times since then, but the eagle and weathervane on the top remains the same. The Friends of Historic New Utrecht often hold concerts and events at the church and organize cleanups of the nearby cemetery, where many Revolutionary War soldiers rest in peace.
If you want some fresh air, continue down 18th Avenue and you'll eventually reach Shore Parkway. Take the Bay 16th Street pedestrian overpass to the bike path that hugs the Narrows. You can watch rollerbladers, bikers and joggers do their thing and check out whatever large barges and boats are in the bay. The path also has sweeping views of the Verrazano Bridge (and unfortunately Caesar's Bay Bazaar–a huge big box shopping center). On a clear day, you can see the lighthouse at Sea Gate twinkling away.
When strolling in the sea breeze works up your appetite, head back up to 86th Street and have a bite at Jamie Lynn's Kitchen, (1504 86th Street, 718-232-3327). They have a big menu, with tapas-like snacks and salads. But their chicken salad is like no other, made with pulled chicken, sweet cranberries and just the right amount of mayo. Jamie Lynn, the owner, hosts fun classes, workshops and events for kids and adults. They also have a full bar, with happy hour from 12 p.m. to 7 p.m. every day.
Wash all of that down with some homemade gelato at Mona Lisa Bakery (1476 86th Street, 718-837-9053). They have authentic flavors, like Baci and rose, as well as fruity sorbets, pastries, cakes, salads and panini. During the holidays, the place is jam-packed with foodies looking for struffoli, or crunchy fried honey balls dipped in sprinkles.
End your tour of Bath Beach at Dyker Beach Playground, at 14th Avenue and 86th Street. There are plenty of shady trees, old-school playground equipment, like monkey bars, bocce ball, handball and basketball courts–and maybe most importantly, public restrooms! The park is the go-to spot on sunny afternoons for neighborhood kids and provides great views of Poly Prep, kids playing in the Dyker ballfields and bustling 86th Street. If the salty air hasn't worn you out yet, walk west on 86th Street and continue your evening with some drinks in Bath Beach's close neighbor, Bay Ridge. Ti vediamo!