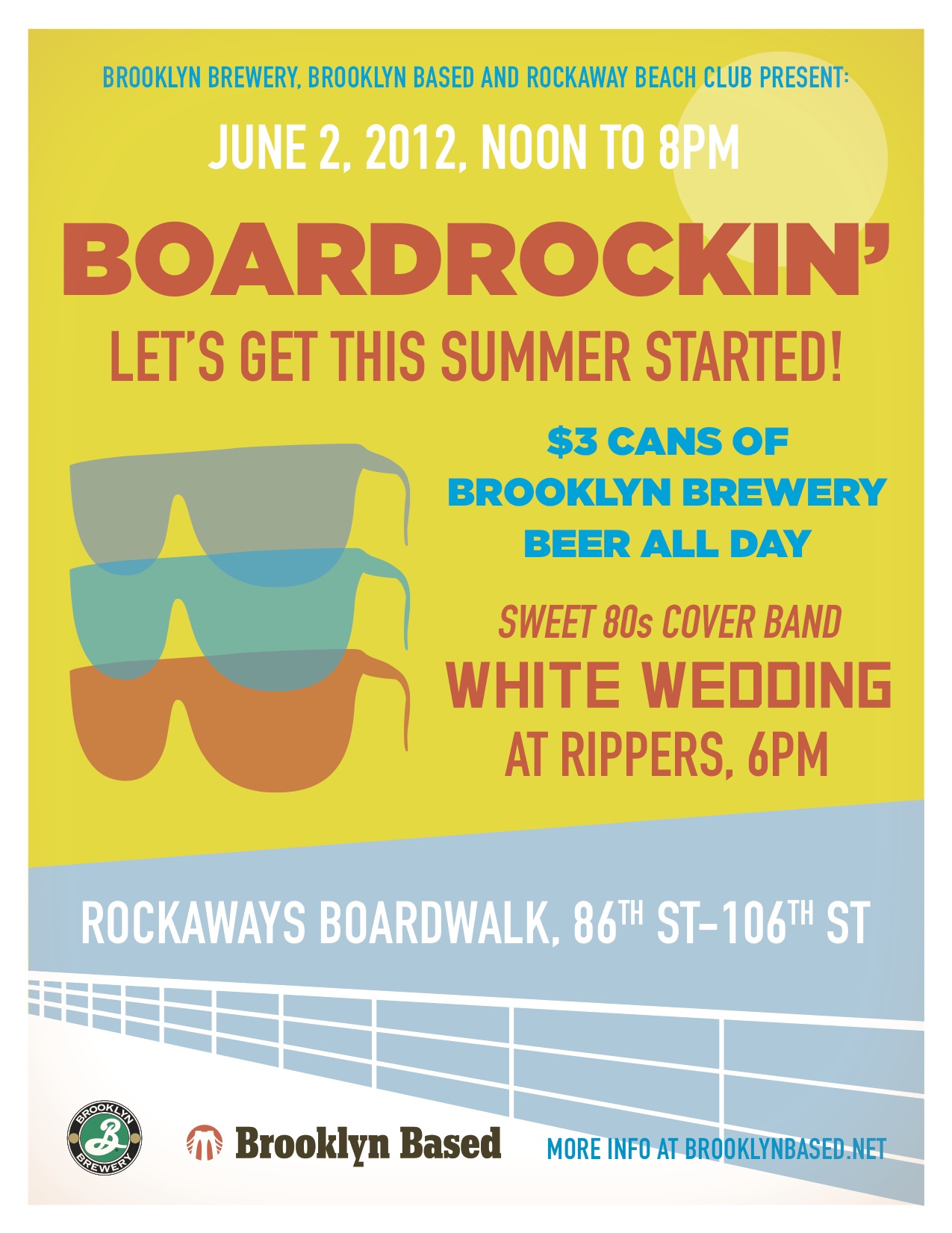 Boardrockin', our super mellow beach party with Brooklyn Brewery and The Rockaway Beach Club, is this Saturday and we've been getting a lot of questions about how to get there and what to expect when you do.
Here's the deal.
The Rockaway Beach Club is a collection of snack bars along the boardwalk at Rockaway Beach, run by restauranteurs and small food businesses, mostly from Brooklyn. At 86th Street there's a burger shack called Rippers that's run by Roberta's and The Meat Hook. You can get a Meat Hook burger, hot dog, fries and other assorted beach food. 96th Street, the biggest stand, includes Motorboat and the Big Banana (run by Jean Adamson of Vinegar Hill House) a fry shack and frozen banana stand, Rockaway Taco, DP Pizza and more. At 106th there's Caracas' arepas and Steve's Ice Cream–which is now also serving Brooklyn Soda Works sodas so you can get a killer root beer or cardamon float. The Rockaway Beach Club website lists all the restaurants out there, and where exactly they are in much more detail.
What you need to know for tomorrow is that the three stands sell booze, and you will be able to get $3 Brooklyn Brewery cans at all of them. White Wedding will play at Rippers at 6pm, and there will be a photobooth set up nearby, all day, for posterity. I'd suggest getting there mid-afternoon, going to Connolly's (a half-block off the boardwalk on 95th Street) for a frozen piña colada in a styrofoam cup, and then setting up shop on the beach somewhere. Take a stroll down the boardwalk, get some beers, and some snacks, then head back to the beach. Repeat liberally, then rock out at six. Leave requests for White Wedding, and RSVP, on the Boardrockin' Facebook page.
How do you get there?
The Rockaway Beach Club has very clear directions for public transportation, bikes and drivers. The short version is that you take the A to Far Rockaway (or take the L or J to Broadway Junction then transfer to the A to Far Rockaway). THEN you get on a shuttle (S, like all NYC shuttle trains), which stops at 90th, 98th, 105th and 116th Streets, two blocks from the boardwalk.
I won't lie, it's a little bit of a trek, but it's supposed to be beautiful on Saturday and you have so many snacks to try, $3 beers, the beach and then White Wedding at 6pm. Make a day of it.