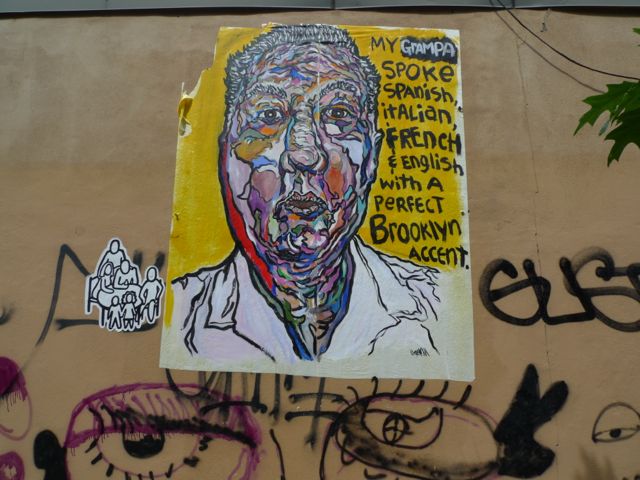 Are you a parent who fancies rogue artists like Banksy, Shepard Fairey, Swoon and David Choe? Well, perhaps taking a guided street art tour with David Meade is right up your alley. David, a former project manager turned tour guide tells us, "I had the idea after I posted a virtual tour on Instagram as @checkback last December. I posted 98 photos in chronological order." Since then he's created a walking tour of wheatpasted walls, stencils, murals, stickers, and traditional graffiti around Williamsburg, which currently meets on Saturdays at 2:30. The location of departure is emailed to you once you RSVP.
On a recent Saturday, my 5-year-old son and I embarked on the tour with cameras in hand ready for two hours of unadulterated street art. David began by pointing out something as simple as a sticker by artist Swampy on a newspaper box, noting that his trademark was writing on the sticky side and adhering them to the inside of the box's windows. How curious. We then proceeded down the block where our guide pointed out two more Swampy characters mirroring each other on adjacent building rooftops. As the tour continued we had the opportunity to gain a better understanding of the art we see everyday just outside our doorsteps. We marveled over large and small works from artists like Bast, UFO, Fumero, C215, the Heroes Project and Raemann.
Street art is a funny thing. Much like a 5-year-old's attention span, the work is fleeting. "Things are constantly getting covered up, or we'll be on a tour and I'll see something new to point out. The tours are never exactly the same," David says about the logistics of running a street art walk. And as for the fleeting 5-year-old, I often found myself telling him to "Hurry up!" as he swung from a scaffolding pole, or "Moooove" while he lingered in front of a work another member of the tour was trying to photograph. Let's just say I took one for the team, because I highly recommend this tour for parents and their art-curious children who are at least 6 years or older. Or if you happen to have a particularly well-behaved infant who likes to nap for hours at a time, go for it, you wouldn't be the first stroller-pushing patrons of the Street Art Walk. Whether you decide to call a sitter and ditch the kids or take the family along, the Street Art Walk is a delightfully gritty way to spend a Saturday afternoon.
Street Art Walk is every Saturday at 2:30, $20 per person, $10 for kids 12 and under. For further details go to streetartwalk.com.