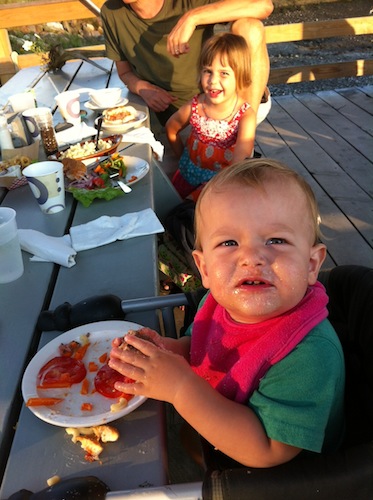 Since starting the interview series Happy Meals, in which I ask a parent to detail their child's eating habits and share their favorite kids meals, I've spoken only to moms I know. The Rev. Sarah Segal McCaslin, in Prospect Heights, is the first to reach out to BB to offer up her tricks, and she has quite a few–including a recipe for Broccoli Pesto. ("You wouldn't believe how mellow the flavor is!" she wrote.) The minister and her jazz musician husband work a lot of nights, so they often plan dinners ahead for their 3-and-a-half-year-old girl Claire and one-year-old boy Henry. Below are her go-to meals and take-out staples. Reach out if you'd like to share your family's food secrets, too.
Is your girl an adventurous or picky eater? How about your son?
Claire and Henry tend to veer wildly between adventurous eating and the all-starch diet. Henry, who just turned one in August, will typically eat anything put in front of him, so long as he is able to shove it into his mouth all by himself. He can hardly tolerate being spoon fed anymore. Feeding yogurt to Hank is an exercise in patience.
Claire won't eat a new food if you ask her to, but if my husband and I simply start eating something, she will often take a surreptitious taste all on her own.
What kinds of foods did you give them from the start?
I purchased a Beaba before Claire was born and avoided jarred baby food for the most part. Some of my favorite combinations, and theirs too, included spinach/pear, mango/sweet potato, kale/apple, broccoli/peas, carrot/apricot and peach/blueberry. I mostly did this because the vegetables and fruit were already in our refrigerator. Oftentimes, I would just blend up leftovers of whatever Donny and I were already eating–lentils, rice, roasted vegetables, etc.
What's a typical breakfast like for them?
Because my husband and I both work evenings, I take extra care with breakfast. I've memorized a recipe for small-batch pancakes that Claire can almost make by herself. Also French toast and omelets. Smoothies in the summertime, and steel-cut oatmeal with maple-glazed walnuts in the fall/winter. When we're running late, though, we eat Van's frozen waffles, yogurt, and Trader Joe's Multigrain O's.
A typical lunch?
Frankly, I have no idea what they eat for lunch. They are usually with the babysitter, and I do my best to leave options for her–quesadillas with shredded cheese and black beans; turkey and cheese sandwiches; carrots and hummus; baskets and baskets of grape tomatoes.
What are your go-to dinners?
On nights when I have 30-45 minutes to prepare dinner, we'll eat baked salmon and roasted sweet potatoes. Or poached chicken breast with sliced tomatoes and fresh bread. My husband and I have been eating a lot of grain-based salads, but the kiddos aren't quite on board yet. I make a salad with sautéed kale, wild rice, toasted pecans, raisins and vinaigrette that is DELICIOUS. Also French lentils with pickled red onions, feta and mint. We put them in easy reach of Claire and Henry, but they prefer food with easily distinguishable ingredients. Strangely, they will eat the ingredients separately, so I allow Claire to graze while I'm prepping. She stands next to me at the counter and eats chopped zucchini before I throw it in the pan; she picks parsley leaves off their stems; grates and eats cheese at the same time. While I wish she would eat more lustily at the table with us, I realize that her exposure to cooking expands her horizons and encourages tasting, testing, and experimenting with new foods. Henry just eats the food that falls on the floor…
What do you keep on hand always (in the freezer or pantry) for last-minute meals?
Canned black beans; Annie's Macaroni and Cheese; Morningstar Farm's vegetarian chicken nuggets; shelled edamame; Trader Joe's multigrain vegetable lasagna; sweet potatoes that were baked on Sunday night for the rest of the week; leftover brown rice; roasted broccoli with garlic; whole wheat pasta; orzo.
How often do you eat out or order in? What are your favorite places for take out or dinners out as a family, and what do you get for her?
We rarely eat out, but we order in once or twice a week. Our current favorite places (we live in Prospect Heights) are Purbird and Zaytoons. Purbird's chicken is not cheap, but it is absolutely delicious. We order a whole bird with mango chutney, and a side dish of mac 'n cheese and creamed spinach. From Zaytoons, it's always the chicken kebab platter with hummus and lentil soup. I love Antonio's Pizza, but that's a special occasion meal (when my husband is out of town and I'm exhausted). We also love Chavela's. Claire and Henry love it ALL.

What's your policy on sweets and junk food?
I love sweets and junk food, but it is NEVER in our house (mostly because I lack will power and will eat it all after the kids go to bed). We don't end the meal with dessert, typically, though summer has meant ice cream and popsicles a couple of times a week. I like to bake, and Claire has been a great helper in the kitchen. Yes, I allow her to eat the batter off the beater (my eggs are from the farmer's market, so it's OK, right?). I don't want to be rigid about sweets and junk food, but I also don't want to make it a habit. I think there's a way to strike a balance so that Claire enjoys the occasional potato chips and cookies, but does not demand them nor miss their absence.
What's your policy on introducing new food or encouraging your children to eat things they're not interested in?
Learn by example. I don't force them to eat new foods, but I make new food widely available and accessible to my kids. I'm not going to force-feed my children, but I'm also not going to allow them to dictate to me their diets according to toddler whims!
Do you have a favorite recipe you'd like to share? Something quick and easy?
I tend to be a spontaneous and instinctual cook, which usually (though not always) works out well. I have fallen in love with Tamar Adler's An Everlasting Meal, and she's helped me use more of my food more wisely.
Spontaneous Broccoli Pesto (the broccoli is surprisingly mild and sweet prepared this way. Seriously!)
Steam or boil one bunch of broccoli until tender (use the whole bunch, stems included)
Toss broccoli in a food processor with a handful of toasted nuts (we tend to use walnuts), or not. Nuts are optional.
Add a handful of grated hard cheese (like Parmesan or Pecorino), or not. Cheese is optional.
Add a clove of garlic, if you feel like it.
Add some steamed kale stems, or kale leaves, if you feel inspired.
Process the pesto with olive oil, salt, and a little water if the pesto seems too thick. Squirt with fresh lemon juice.
Serve with pasta or rice, or inside an omelet, or spread on a toasted baguette, or stir in some chicken broth and call it soup!
Recipe inspired by Tamar Adler
Small-Batch Pancakes
1 ¼ cup flour
3 teaspoons baking powder
¼ teaspoon salt
1 Tablespoon sugar
1 egg
2 Tbs. oil or melted butter
1 cup milk
Dash of vanilla extract.
Mix dry ingredients. Add wet ingredients. Throw in additions (berries, bananas, chocolate chips, etc.)
Makes enough for two toddlers and one adult.
Roasted Haricot Verts
Small pack of harivot verts from Trader Joe's
Handful of grape tomatoes
3-4 garlic cloves (with skin on)
Olive oil
Salt
Pepper
Marcona almonds for garnish
Roast beans, tomatoes and garlic cloves with olive oil, salt and pepper. Toss with marcona almonds and serve warm, cold or at room temperature.