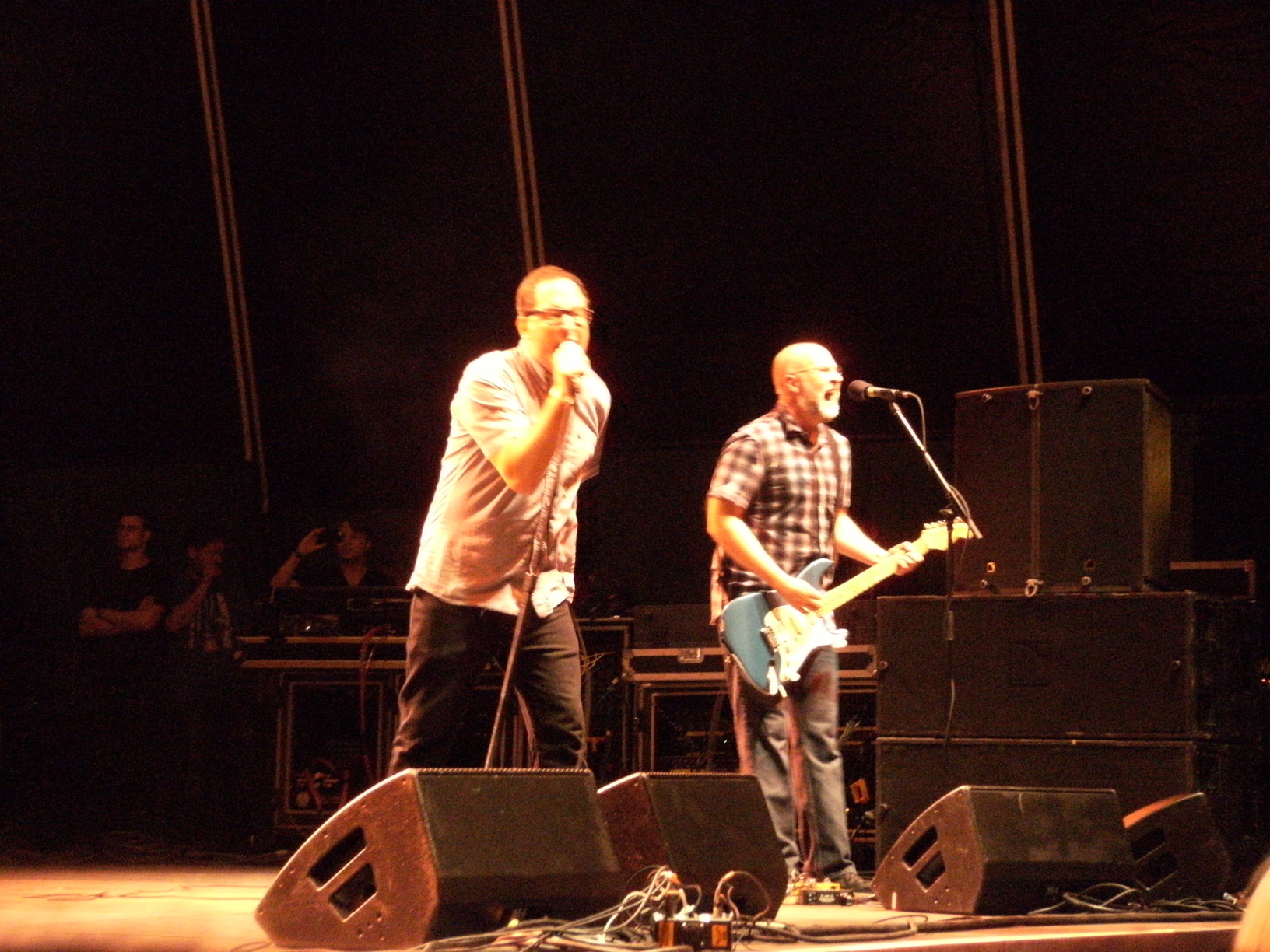 Prior to this past Friday, I hadn't been to Williamsburg in quite a while—partly because of the commute from where I live, and on the weekend nights I work in midtown. But when I heard that Williamsburg Park was holding a free concert headlined by legendary punk rocker Bob Mould–on a night that I had already planned to take as a rare vacation day off–there was no question about what I was going to do. Admittedly, I was only very casually familiar with the music of his previous bands, the legendary Hüsker Dü and Sugar. But having interviewed him for Spinner last year when he was promoting his thoughtful memoir, See a Little Light, I wanted to go see for myself what he was like in a live setting.
Mould did not disappoint at all when he and his band–bassist Jason Narducy and drummer Jon Wurster–hit the stage Friday night. Part of the highlight for this particular show was a performance of Sugar's debut, Copper Blue, in its entirety on the 20th anniversary of its release. (That album was recently reissued on Merge Records with extra bonus tracks along with the EP Beaster.)
On record, Copper Blue sounds energetic with its punk aggression and melodic hooks—but live it was furious, fast-paced and explosive. The performance of the songs from Copper Blue—from "The Act We Act"; through "Changes" and "Helpless"; to the  catchy "If I Can't Change Your Mind"; and finally "Man on the Moon"—went pretty much uninterrupted.
The first half of the concert didn't end there. Mould also performed material from his Hüsker Dü days, and his excellent new album The Silver Age, such as the song "Star Machine." Later in the second half, Mould brought out a special guest, Craig Finn of The Hold Steady, to sing Hüsker Dü's "Something I Learned Today" from the album Zen Arcade. Finally ending the show after another encore was the Hüsker Dü's song "Makes No Sense at All." (For the complete set list, check out BrooklynVegan's post of the same show).
At age of 51, Mould still has his characteristic verve and attitude as far as his singing and guitar playing goes. Narducy fed off of Mould's energetic playing with his contributions on the bass, and so did drummer Wurster. To see a punk rock legend still being able to sound this enthralling—and did I mention that the show was free?—really capped off this writer's rare Friday night off on a positive high.
As for the vibe of Williamsburg Park, it had a sort of minimalist feel unlike other outdoor, greenery spaces that showcase music like Prospect Park or Central Park's Rumsey Playfield. Aside from a typical modern-looking large stage, and the food and beer stands—including The Meat Hook, Bon Chovie and Big Gay Ice Cream–the space looked spare. It kind of reminded me of being either at a rooftop apartment party or out of doors at Long Island City's P.S. 1. If you're someone who could do without the trappings of stuffy venue halls or outside distractions–and just want to experience the music without the frills–Williamsburg Park is chill venue to see shows.