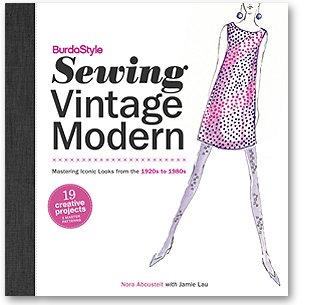 BurdaStyle is the world's largest online sewing community with projects, patterns, news and a blog rolled into one site. In 2011 they published The BurdaStyle Sewing Handbook, and last month they added a second book, BurdaStyle Sewing Vintage Modern: Mastering Iconic Looks from the 1920s to 1980s, to their roster. Filled with 19 vintage-inspired projects using five master patterns, BurdaStyle Sewing Vintage Modern focuses on iconic 20th century fashions for men and women, to perfect at home.
"People no longer just want to be consumers; they want to empower themselves through making and getting behind the process," says Jamie Lau, co-author and lead designer as well as the editorial and e-commerce manager for BurdaStyle. "There are people out there who see clothing for sale that they want but can't afford, so they choose to recreate the look and make the item themselves. Take BurdaStyle member jaderbug, for instance, who used a BurdaStyle Sewing Vintage Modern pattern, the Elizabeth Gathered-Waist Dress, to make her own tulle skirt."

The patterns in the new book are inspired by popular projects on BurdaStyle, and some of the designs are silhouettes that Lau, who teaches at 3rd Ward and Textile Arts Center, has used to make her own favorite pieces of clothing.
While The BurdaStyle Sewing Handbook speaks more to beginners, this new book is for everyone–not only does it take a historical look at clothing design and notable designers over the span of the 20th century, it offers even advanced sewers an opportunity to expand their skills and put their creativity to work.
Jamie Lau gave Brooklyn Based four tips for developing your sewing skills, with or without her new book.
1. Take a class. Some people get really gung ho about sewing and buy a machine immediately before ever using one. Other lucky people get a sewing machine as a gift. My suggestion is to take a basic sewing class first. It's not just about knowing how to sew; it's about knowing machine basics, like winding a bobbin, and figuring out what model you may want to get started on. For most people, using a sewing machine isn't intuitive like a cell phone that you can just pick up and start using. Even one-day intensives will help you see if you really want to start sewing more seriously.
2. Be very patient with yourself. People have high expectations. I started off sewing basic projects that were fairly geometric, such as reversible tote bags. I made so many of them while practicing that I started giving them away as gifts and moved on to other types of projects. I recommend starting out with one thing until you perfect it, then build on it by adding embellishments such as buttons or getting creative with variations like color blocking.
3. Sketch. With clothing, do a basic sketch of what you're thinking before you hit the fabric store. I often run into students who buy really nice fabric for a project, but realize it's not appropriate for the design they want to achieve. Having a sketch with you at the fabric store can serve as a guide. Try B&J Fabrics, Harts Fabric  or Britex Fabrics. With sketching, you can also leave room for spontaneity. Even if you don't draw, it's nice to have a plan to start with so you know how much yardage you'll need and also what sewing notions you may want to pick up.
4. Press as you go. I find that sewing is much more than just actual sewing. A lot of it is the prep work such as cutting out your fabric, or trimming your loose threads, and pressing as you go. I recommend getting into good habits early on.