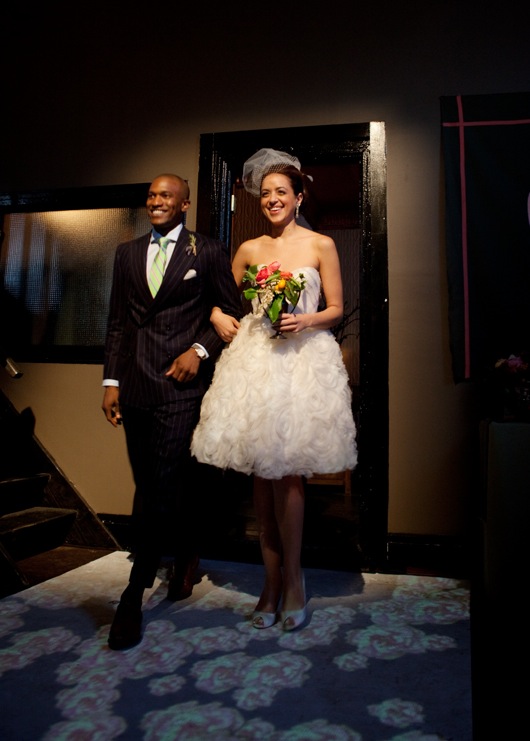 Whether you're newly engaged, or you're taking your time to seal the deal, we've got two great ways to step up your wedding game. The first is this Wednesday night at our Wedding Planning 101 panel with six industry experts who'll deliver tips on everything from what you can expect to spend to creating a celebration that isn't cookie cutter. You'll soak in all the sage advice while sipping wine from Wright & Goebel, sampling light bites from Betty Brooklyn, and finding inspiration from the event and floral design of Kerry Quade. Tickets are $5 in advance and $8 at the door.
Then on Sunday, March 10, our annual Wedding Crashers fair returns to The Green Building from noon to 4pm with over 50 of Brooklyn's best, most awe-inspiring wedding vendors. It's a visual and literal feast, with food trucks, caterers, and sweets galore alongside fantastic photographers, event, invitation, floral, jewelry and dress designers. The $25 advance ticket, which lovers of Brooklyn Based get free when they become an official BB Superfan, includes the after party and food-filled wedding band showcase at The Bell House, where you can hear 10 live bands who perform throughout New York, not just at weddings. One of our officiants at the fair, Reverend Jake, has even offered to marry one adventurous couple at the after party–just say the word if you are interested!
Not about to wed? The fair is still an incredible resource if you're planning another momentous event. Check out the links of our participating vendors below, and get a ticket in advance to meet the people who will make your day.
Bands: MIXTAPE: a cover band for hipsters, The Loyales, The Prenups, Baby Soda Jazz Band, Tribute String Quartet, The Affections, Empire Beats, Red Hook Orchestra, Kinky Spigot and The Welders, Jenny Dee & The Deelinquents
Beer, Wine and Spirits: Brooklyn Brewery, Heights Chateau
Bridal Fashion: CHROMATICgallerie, Michelle New York, The Wedding Dresser
Cake Studios and Confections: COOLHAUS Ice Cream Sandwiches, Elegantly Iced, Nine Cakes, Haute So Sweet, Wafels & Dinges, S'amore 
Caterers, Restaurants, and Food Trucks: Betty Brooklyn, Naturally Delicious, DISH Food and Events, Pies 'n' Thighs, The Raging Skillet, Red Hook Lobster Truck, Frites 'N' Meats, Schnitzel & Things, Brooklyn Oyster Party, Fig and Pig, Saucy by Nature, Van Alst Kitchen
DJs: Sugartown Industries, DJ Ryan Rasheed, Scratch Weddings
Event Designers: Tinsel & Twine, Kerry Quade
Favors: By Brooklyn
Fitness: Quinn Essential Fitness
Floral Designers: Kerry Quade, Rose Red & Lavender, Molly Oliver Flowers, Mimosa Floral Design Studio, Violet and Verde
Hair: The Parlour Brooklyn, Soon Beauty Lab
Invitations: PostScript Brooklyn, Inspired Goodness, Everly Calligraphy, Papél New York
Jewelry: LILOVEVE, Bario-Neal, Nancy Kraskin
Lighting: Stortz Lighting
Limousine: FilmCars, New York Checker
Makeup: NYC Faces Makeup Artistry
Officiants: Reverend Jake and Dominique Bell of Big Juicy Events
Photographers and Videographers: Kristina Hill Photography, Daniel Krieger, Lev Kuperman, Josh Strauss Weddings, Moss + Isaac, McKenzie Miller Films
Registry and Parties: The Brooklyn Kitchen
Rentals: Broadway Party Rentals, Patina Vintage Rentals
Venues: The Green Building, Brooklyn Grange Farm, The Bell House
Wedding Planners: Events by Melissa McNeeley, Tammy Golson Events, Viva Max Weddings, Big Juicy Events