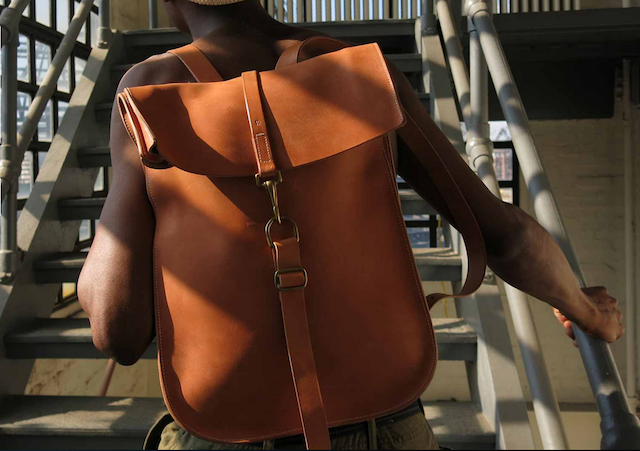 The best part about a handmade bag, besides being an attractive carryall, is the story behind its making. These three designers of coveted leather bags—a Dutch couple who works as a team, a woman who lets no piece of hide go to waste, and a man who learned to stitch from his costume designer girlfriend—all bring their own sensibilities to the trade, in fascinating and gorgeous ways.
Marlow Goods 
When Kate Huling first started Breton, a line of leather goods and garments created from the hides and wool of the sheep, pigs and cows whose meat is served at her and her husband Andrew Tarlow's local restaurants (Roman's, Marlow & Sons, Reynard, Diner and Achilles Heel), opening her own retail space wasn't part of the plan. Instead, like several independent designers these days, she opened an online shop, Marlow Goods, which housed her collection alongside products from other lines with similar, sustainable sensibilities. Her grass-fed fashion line is growing however, and with its expansion comes a new venture—a retail space upstairs from Marlow & Sons that opened in July. Read more»

Kika NY
When Kika Vliegenthart and her partner Sabine Spanjer started their own leather goods company a few years ago, they were hand-cutting and stitching bags together in their Clinton Hill kitchen. Today, the couple, who designs under the label Kika NY, are about to outgrow their third studio in the Brooklyn Navy Yard as their collection of handmade leather and canvas bags, small leather goods, shoes and accessories has finally hit its growth spurt. Read more»
Flux Productions
With their riveted side closures and structured shapes, Flux Productions' bags are easy to recognize amongst the offerings at the Brooklyn Flea in Fort Greene–though their designer, Ryan Greer, says spotting one on the street sometimes requires a double take.
"I don't really recognize them at first," he says. "There's this moment when somebody's had it for a couple of years and the colors have changed and what they carry has changed the shape and you feel like you're part of this collaborative process." Read more»