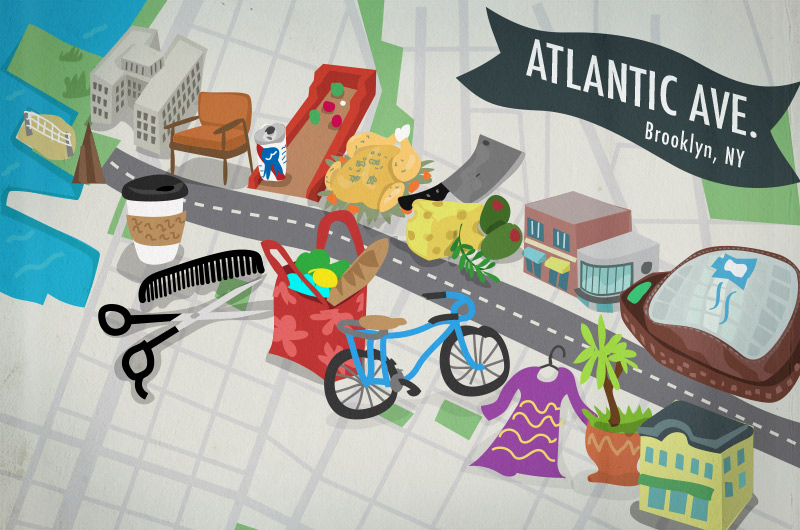 Boerum Hill: Court Street to Hoyt Street
After Court Street, we leave Brooklyn Heights and Cobble Hill and enter Boerum Hill. The neighborhood is named after Simon Boerum, a farmer and politician who served as Kings County Clerk and was a delegate to the Continental Congress. Although this section of Atlantic Avenue between Court Street and Smith Street might not seem to have a lot going on at the surface, there are some unique urban finds and a lot of development coming.
Atlantic Bicycles, a neighborhood staple long before bike lanes and Citi Bikes, has a great yellow billboard on one wall which will probably get covered over by the Atlantic Galleria shopping mall when it's built. Boerum Place ends at Atlantic Avenue, where a glass commercial building is rising next to St. Vincent Services, built in 1906. St. Vincent's was originally founded in 1869 as a refugee home for newsboys, and has expanded to offer a wide range of support services for needy children and their families.
St. Vincent's Services
Then, taking the whole block between Boerum Place and Smith Street is the Brooklyn House of Detention (also mentioned in a Beastie Boys song!), one of the many jails and prisons woven right into the urban fabric in New York City. If you just got out and are hungry, across the street is two8two Bar & Burger, serving beef ground fresh daily by local butcher Los Paisanos.
Brooklyn House of Detention
At the corner of Smith Street, apparel shops Brooklyn Industries and SUPRA herald the incredibly varied businesses on the next transitionary block. A clothing boutique, a science camp, an art gallery, a Halal deli, a private investigation firm and a bail bonds shop coexist side by side. Older buildings are nestled between new condos and empty lots foreshadow new construction to come.
At 337 Atlantic Avenue, Sal Abbate of Lorenzo Woodworks has had an appointment-only store for custom furniture for the last thirty years.
Hoyt Street is full of fun finds, so make sure to turn the corner and explore down the side street. To the north, the first thing you'll see is a view of Love Letter to Brooklyn, a large street art installation by Stephen Powers (a.k.a. ESPO) on a parking garage in Downtown Brooklyn.
Just before State Street is a quirky shoe-themed exhibit on the facade of 75 Hoyt Street. All the works are puns, like "Shoe Tree," "Snow Shoes" and "Foot Print." A cash register is labeled "Jon E. Cash." The works are done by Nat Hendricks, the owner of several buildings on Hoyt Street, including the metal diner that housed the tiny Victory Cafe, closed in 2011. The tiny block still has some culinary options like the Little Sweet Café, with displays of vintage cameras inside, and Bijan's Brooklyn, a cocktail bar and cafe decorated with colorful chairs and wooden tables.
Bijani's
Modern townhouses on Hoyt Street and State Street
To the south, on the opposite corner of Atlantic Avenue, sits the Hoyt Street Garden, created in 1975 by the Hoyt Street Association on land owned by the adjacent Iglesia del Cristo Vivo.
Hoyt Street Garden
Across the street is Mile End Delicatessen built in a former garage serving Jewish fare with a Montreal twist. Next door is the wonderfully smelling GRDN Brooklyn, a boutique garden shop "for the urban gardener."
Mile End Delicatessen
GRDN Brooklyn
[sponsored_by action_blurb="Presented By" name="Douglas Elliman" url="http://www.elliman.com/new-york-city/brooklyn" logo="http://brooklynbased.com/wp-content/uploads/2014/02/DE_logo_1XStack_120x60_Blue+Gray.jpg" attribution_action_blurb="Created By" attribution_name="BlankSlate" attribution_url="http://blankslate.com/advertisers/"]The only way to truly understand Brooklyn is to walk its streets, see its homes, meet its people, and understand its ebb and flow. Never before has looking for a home in Brooklyn been this exciting.
Stop by Elliman's Brooklyn Heights office located at 156 Montague St.[/sponsored_by]