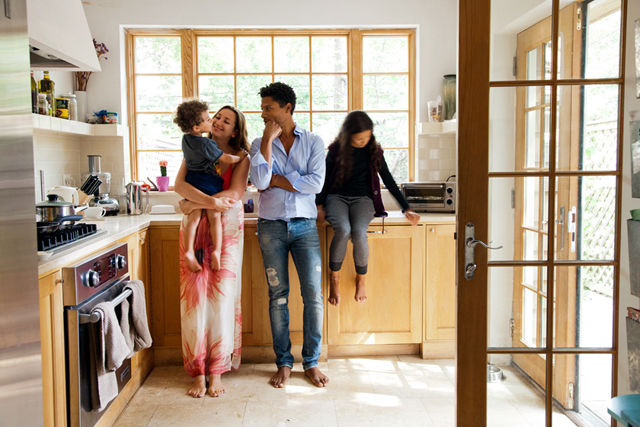 An open window is an open invitation to me. The sight of a built-in bookcase in an old brownstone, or a loud color on the wall of a loft is enough to insert myself into another person's world and imagine myself inhabiting their home. (From a safe distance, of course.) I'm just as nosy about the insides of apartments I don't envy. When a woman on my old block would leave the door to her street-level apartment open, I always enjoyed sneaking a peek at her tiny living room with the flat screen, crib, kitchen table, and sofa all jockeying for space. A window with the curtains peeled back offers only so much fodder for voyeurs. But an open door? Jackpot.
The photography show, "At Home," by Heather Weston, is like walking into a room filled with open doors onto the lives of New Yorkers. Forty seven photographs hang on the walls of the Invisible Dog's Glass House gallery in Cobble Hill, featuring families in their kitchens, living rooms, bedrooms, and dining rooms, where Weston has gathered together mothers, fathers, children and pets to sit for her unique style of portraiture, mostly in Brooklyn, though some were shot in other locales like D.C. and Philadelphia. The pictures were inspired by her own cramped living quarters, and her desire to give herself a creative break from her commercial work. After complaining to her husband about their small apartment, which they share with their daughter, he relayed the situation of a family they knew. "They live in a 350-square-foot apartment with five people," he told his wife. "I was like, what? I have to see this!" said Weston.
This was the genesis for her "At Home" series, which she embarked upon in 2011 with the goal of photographing one family in their home each week for a year. She documented all 52 on a blog, though not all of the photos wound up in the exhibit, which runs through April 12. Three of her photos are current, and reflect the new direction she's taking with the series, focusing simply on portraits of people at home.
There is something deeply satisfying about being able to pore over these portraits, and study families in their natural habitat, like animals at rest. Some appear truly at home, relaxed, and comfortable admitting they are losing the never-ending battle to contain their stuff. Others are living the seemingly impossible dream, inside (almost) immaculate apartments ripped from shelter magazines.
The portraits I was drawn to the most are the ones that resemble my home, which stays clean for about a nanosecond. In one family's kitchen we see unopened bills piling up in the background; in another living room, shoes are "hidden" beneath the couch in plain sight. Not everyone was aware, said Weston, of how wide her wide angle lens was. This is a fortunate thing for the viewer, because these tiny messes make the photos more interesting. It's also comforting to see that not everyone keeps a spotless house.
The range in families is equally intriguing. There are many families of four, but also a foster family, a gay couple and their young crawler, an expectant mother doting on her first-born, a dad left alone at the table post-breakfast, crumbs still scattered on plates. Weston captures many single parents at home with their children, too, and in one case Weston captures a girl at home with her mother, and then with her father, in his much smaller apartment.
Many of the people pictured are not smiling–but lest you infer that they are unhappy with their lives, as I did initially, know that Weston often instructed her families not to smile, an approach that lends a kind of modern, American Gothic quality to some of these portraits, which she describes as "a staged family portrait in a very real environment."
"A lot of folks have commented on the feeling that these everyday families have been photographed in a way that feels artistic yet very familiar," said Weston by email. Unlike people pictured in magazines or art galleries, who may feel unreal, or 'other', these portraits are much more identifiable. "There is quite a range in the families' socio- economic situations," she added, yet "they all have been giving the same weight artistically."
Weston already has her next project in mind–portraits of kids who have two rooms as a result of their parents' divorce. She's interested in capturing them in both spaces, to find out "how they split their time between living in two homes." She also plans to continue the "At Home" series, and is currently fielding a number of requests for commissioned home portraits (email her directly to inquire about pricing).
The Glass House is open Thursday through Saturday from 1-7pm, and Sundays 1-5pm. The best times to visit "At Home" are Fridays and Saturdays, when Weston is present, fielding questions from fascinated visitors. For any kids in tow, Weston has created a list of things to find in her photos, so they can take a visual scavenger hunt while you study her work.