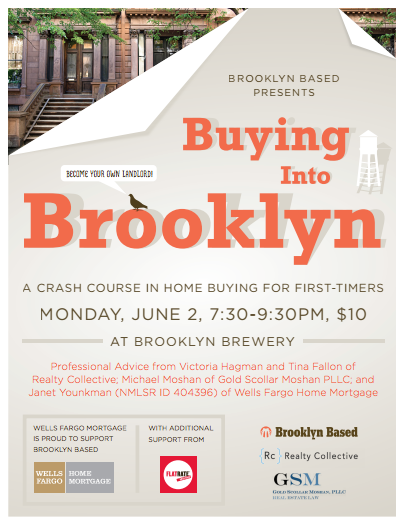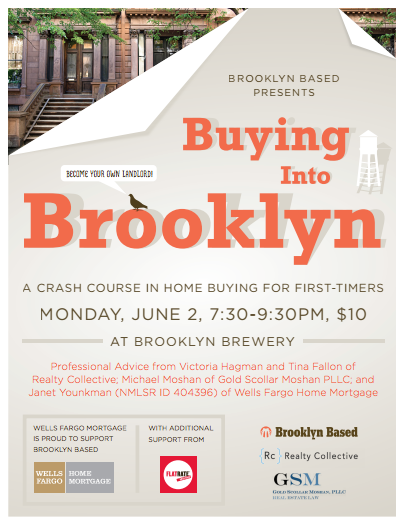 On Monday night, over one hundred Brooklynites poured into Brooklyn Brewery for our latest installment of "Buying into Brooklyn," a crash course on buying a home in our fair borough. One of our sponsors, FlatRate Moving, gave away $500 toward a move to a random winner (Congrats Alex Heim!) and our speakers, Realty Collective founder Victoria Hagman and Realty Collective agent Tina Fallon; real estate attorney and partner Michael Moshan of Gold Scollar Moshan, PLLC, and private mortgage banker Janet Younkman of Wells Fargo, offered a ton of pro tips on buying in New York's incredibly competitive market. One solid takeaway was the fact that if you're putting down less than other potential buyers, say 10%, you should come in with the highest offer. Explains Fallon, "You need to give the sellers a financial justification for taking a risk on you. And you need to show that the risk has a good chance of paying off, by waiving an appraisal contingency, or having a guarantor."
Here are some other salient words of wisdom from last night's speakers.
Michael Moshan, real estate attorney and partner, Gold Scollar Moshan, PLLC:  "Understand before you make your offer your estimated closing costs.  If you're buying a condominium from a developer for example, the closing costs can be significant. On the other hand, if you are buying a coop apartment, less so.  Understanding your closing costs is critical to understanding what purchase price you can afford."
Tina Fallon, real estate agent, Realty Collective: 
"The key to buying in this market is the scout's motto: Be Prepared. This isn't a sprint, it is a marathon. Assemble your team in advance: an agent, attorney and mortgage banker working together to make you the strongest buyer you can be. Even after you feel ready it can still take a dozen offers before you get to contract. An experienced support network can get you over the finish line."
Janet Younkman, private mortgage banker, Wells Fargo:

"Mortgage processing has changed in the past several years, and there has been a lot of negative press about it not being 'common sense.' But if you work with your mortgage banker, you will help your loan be much less painful. Being prepared for the nit-picky underwriting will help relieve the stress when you are going through the process; the right mindset will go a long way in making for a smooth transaction. The appraisal will take two to three weeks to be received back at the bank and it's important to work with your attorney and have a contract and mortgage contingency that will protect you in the event the value is lower than the purchase price." She also recommends reading this helpful article, "The Perfect Loan File," from Forbes.
Thanks again to all who came, and to our supporters, Wells Fargo Home Mortgage and FlatRate Moving.