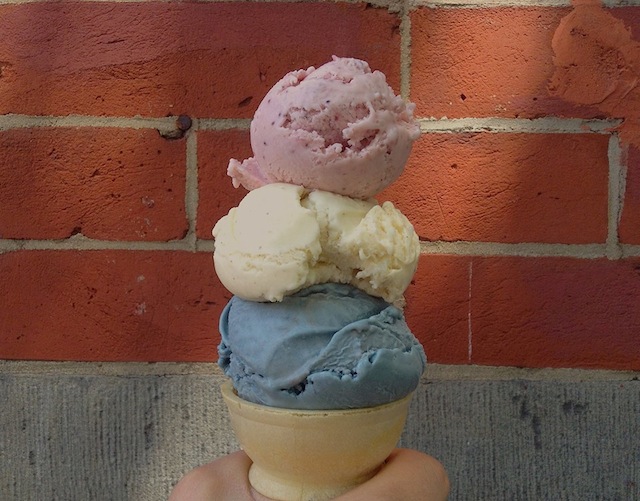 Last night as I went to sleep, visions of ice cream cones danced in my head in anticipation of today, when the new Ample Hills in Gowanus flings open its doors and its tubs of 24 flavors at noon. Like any normal American person, I'd take ice cream over sugar plums, which sound suspiciously like scourge-of-my-childhood prunes, any day. And as for Ample Hills, well, let's just say this is ice cream that I have traveled to Prospect Heights and waited on line for more times than I'd like to admit on the Internet.
I've lived in Gowanus for four years and have watched Third Avenue transform from block after block of auto repair shops to an epicenter of new business activity: in roughly the last year alone the nabe has acquired Whole Foods, the Royal Palms, Dinosaur BBQ, the new Morbid Anatomy Museum, an archery center, and plans for a massive indoor tennis facility and a craft brewery and restaurant. The addition of Ample Hills, though, seems personal—like they factored in the proximity of the world's biggest salted crack caramel fanatic (moi) when they scouted locations for the huge new scoop shop and factory. I will be there very soon, I'm sure, and very frequently thereafter. The zippers on all my jeans should be terrified.
Apparently, July 20 is actually National Ice Cream Day, and the Brooklyn Flea is celebrating as it does every year (really? where have I been?) with an Ice Cream Day Bonanza at both of its locations all weekend long. The Crème de la Crème will feature 12 of the City's top frozen dessert purveyors scooping over 50 flavors in Fort Greene on Saturday and Williamsburg on Sunday. Looking at the list of vendors, I'm sort of horrified to realize that I've had the good fortune of trying ice creams made by almost all of them (many are available in packed pints at the previously mentioned Gowanus Whole Foods).
Don't miss OddFellows for wild combos like Chorizo Caramel Swirl and Manchego Pineapple & Thyme, Phin & Phebe's Banana Whama, Victory Garden's goat milk soft serve, Steve's Nola Iced Coffee & Donuts, and Monsieur Singh's frozen mango lassi.  I haven't been to the LES to sample Morgenstern's Finest yet, but this NYT review definitely put it on my radar, and the menu has five kinds of chocolate ice cream, five vanillas, three caramels, and three coffees to choose from, which is great because I love all those things. Butter & Scotch's fruit pie milkshakes sound divinely delicious, and I'm also intrigued by Cobble Hill newcomer Hay Rosie, which offers interesting flavors like lemon square and Sriracha popcorn. Of course, there are plenty of options for those whose tastes run more vanilla (see what I did there?), and also dairy-free people, most of whom would probably rather eat glass than a sugar cone full of lactose at a crowded outdoor flea market.
Summer's halfway over, guys. The time is now. Whatever you do this week, improve upon it by adding a visit to the Brooklyn Flea Ice Cream Bonanza or one of many local storefronts that are busy serving up scoops of cold, sweet, creamy bliss.