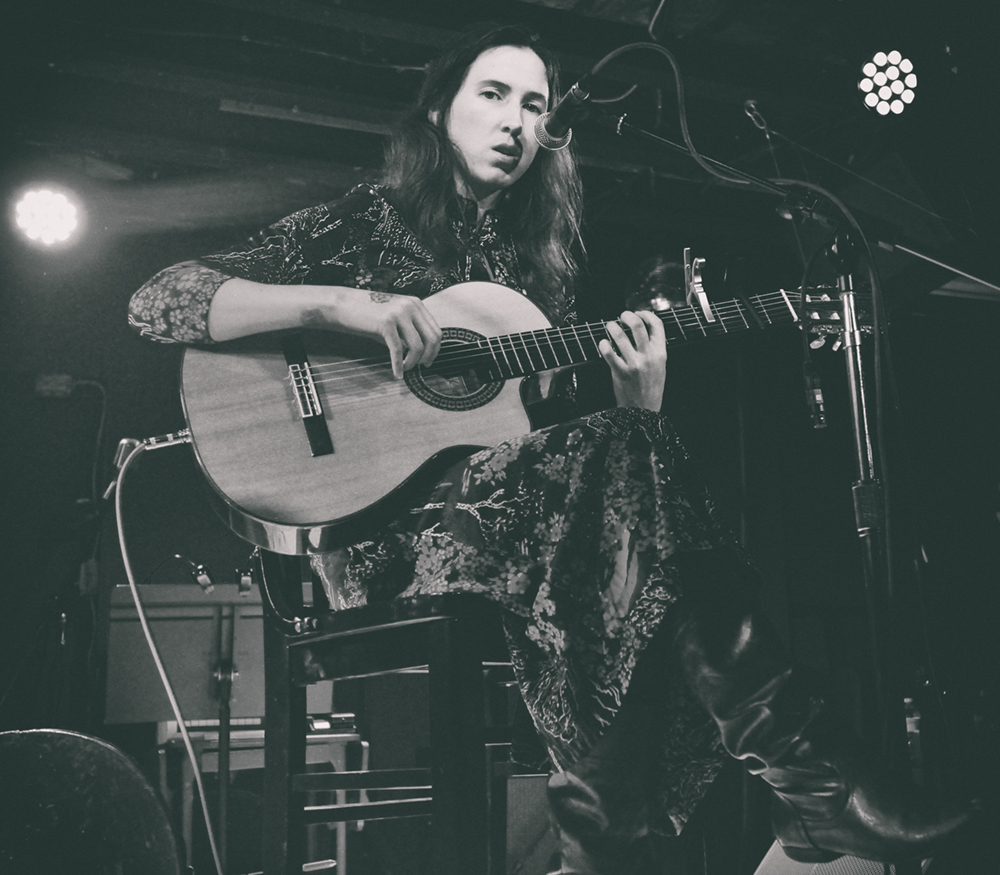 Marian McLaughlin will be performing with bassist Ethan Foote on August 11 at Cake Shop, 152 Ludlow St., New York, 8 pm, $8. For information, visit McLaughlin's Bandcamp page.
When it comes to classical guitar, folk musician Marian McLaughlin's fingers can fly. Perhaps not in the way that Eddie Van Halen shreds on the electric guitar, but there's a similar virtuosity and dexterity in how she fingerpicks her nylon guitar strings. For the Washington, D.C.-based artist, her love for playing fingerstyle (sans pick) goes back to guitar class in high school, nearly 15 years ago.
"It was a very gradual process of playing guitar and learning how to write songs," she says. "It was something that started happening one day and I kept getting into it more and more. So it was very intuitive, just trying to find chords and structures that felt like something that belonged to me."
McLaughlin's intimate, whispery vocals and exquisite musicianship are both in evidence in her new psychedelic folk album Derive, which means "drift" in French. In the liner notes, she describes the title as a "unplanned journey," which is quite appropriate given the sometimes free-form tone of the record, which takes you to unexpected places subconsciously with its poetic and surrealistic lyrics–from the out-of-this-world-sounding "Pluto," through the astronomically-oriented "Arcane Circadian" to the nature-inspired "Neskowin."
"There's definitely a lot of stream consciousness," McLaughlin admits. "The lyrics will come to me out of the blue one day with the melody. That's how often a lot of the songs begin. Often times I'll be walking and start singing something. I don't really know where they stem from, I feel like they come somewhere within my psyche but somewhere else as well. But once I get the bulk of the lyrics, I'll end up doing a little bit of research.
"For instance," she continues, "I have a song, "Heavier Than Air," that's about Otto Lilienthal, this aviation engineer from the 1800s. That stems from this desire of me wishing that I could invent or build things. I started thinking about engineers of the past…I started doing research and constructing a narrative based upon that. It's mix match of stream of consciousness and research."
""Persephone" is one of two long tracks on the record, and it verges between folk and progressive rock. "That was a lot of fun to come up with that song," McLaughlin says. "I remember I was eating a pomegranate and I was thinking about pomegranates and Persephone [the queen of the underworld and the daughter of Zeus]. It's a story that's mostly based off of a cycle of the season, Persephone gets abducted and Demeter [an ancient Greek goddess] stops the harvest. It's an interesting story that goes into corners. I had fun constructing that and coming up with guitar parts, too."
While a majority of songs on Derive consists of narratives, the hauntingly beautiful single "Before You Leave," according to McLaughlin the most autobiographical. "I think that was the first song that I wrote guitar parts and the lyrics that I felt really proud about and came deep within me…it came from a moment when I was feeling a lot anxiety and excitement and I think some of the elements of it can resonate with people, at least that's the connection that I got through that song."
The singer's early exposure to music happened through a high school boyfriend whose mom was a ticket scalper, which allowed McLaughlin to see a wide range of shows. She was an admirer of the music by guitarist Buckethead, who employed a fingerpicking style on an album called Coma. "Later on, when I started writing my own songs–[acts] like Fleet Foxes, Bill Callahan and Joanna Newsom, a lot of those those freak folk musicians–I felt I was like hearing kindred spirits in a sense who were writing songs in unconventional ways or using beautiful harmonies and chords and patterns."
McLaughlin's own music got exposure when she made an appearance on a NPR Music's Tiny Desk Concert co-produced by Bob Boilen, who has followed the singer's career. "I met him a couple of years back and he happened to see me perform a few years ago, he said, 'Oh, keep me posted.' We both happened to live in the same area. He's such a positive person in the music world. We're very fortunate to have him. I told him after the Tiny Desk concert, 'You're like a Bodhisattva', which is a Buddhist term for an enlightened being who wants to enlighten others. I'm so happy for all the support he does for music."
Thanks to that NPR gig, McLaughlin has gotten queries from places like Germany, Portugal and Brazil, which makes her excited about the prospect of playing outside of the States. Meanwhile, she's already working on her next album that is slated for a spring release. "I really want to do this correctly," she says. "It's a process. Some of these songs were written a year ago, some were written a few months ago. It takes a lot of planning and strategy. We're working on making the arrangements a little more developed, we're trying to give it a little bit more planning. It takes time to rehearse with people. I'm excited to see where they go. I'm really proud of what has developed so far."