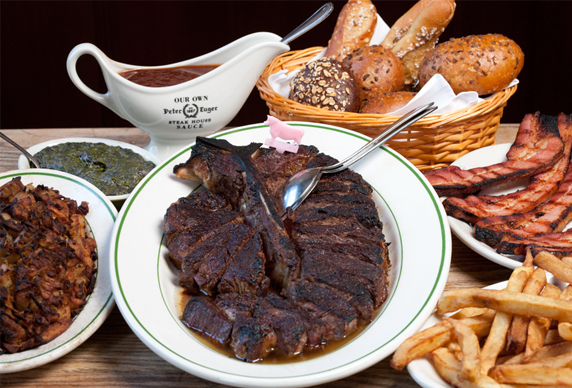 Last month we took a break from trendsetting new restaurants to look at whether Brooklyn's longstanding Grimaldi's pizzeria is still worth the hype. Next up on our list is another local legend that's also among the oldest and most-lauded eateries in NYC. Peter Luger Steakhouse has been serving up sizzling porterhouse steaks since way, waaaay before Williasmburg became a culinary hotspot. In fact, when the first iteration of Luger's opened back in 1887, the bridge that now towers in front of the restaurant wasn't even built yet. Fast forward a little over a century and Peter Luger is now a Michelin-starred steakhouse that has long attracted the expense account set to venture across said bridge for power lunches. It sells its branded steak sauce online and even has a spinoff location further out on Long Island. All of which raises the question: Can a place like this still be any good?
I visited Luger the first time recently, and found plenty of reasons to want to hate it–for example, the fact that we couldn't get a weekday dinner reservation before 9:45, and that even at that hour we arrived to a packed-packed-packed bar area where you have to push your way through to order an overpriced cocktail or a glass of vino from a meager list that's become notorious for having little to offer even the least discerning wine lover. There's also the fact that it's somehow still cash only, which seems a little ridiculous considering there's no way to get out of here spending under triple digits. So you know, bring along a few hundreds. Throw in the reality that the waitstaff live up to their reputation for being rather brusque, and considering the number of fantastic restaurants filling Southside Williamsburg these days, I was prepared for a let down.
Those concerns started to fade a little as we were led back to the main dining room, a wood-paneled space that looks like it hasn't been re-thought in at least a century, loaning it the kind of hallowed Old World ambiance that so many of those trendy New American places nearby seek to emulate.
I've been told in the past that there's no reason to look over the menu at Peter Luger: just order the steak for two, medium rare, and call it a day. That's astute advice, as the rest of the menu certainly underwhelms. The sliced tomato appetizer comes with a gravy boat full of that much-vaunted steak sauce, which delivers a nice tang but hardly seems worth writing home about. The extra-thick slab of bacon on the appetizer menu has attracted plenty of acclaim as well. It's tasty but in a city now chock full of juicy pork belly dishes, this somewhat dry slab doesn't do much to stand out. The shrimp cocktail is decent; the "special German fried potatoes" deliciously crispy little nuggets well worth ordering a side of. All of that is really very much beside the point though, because you only come here for one reason and one reason only.
The steak.
Oh. Man. The steak. Billing it as just "steak for two" (or three or four) on the menu is really very much of an undersell. (It also makes Luger appear pricier than need be, as the $99 steak for two can easily feed three.) The restaurant stocks only USDA Prime beef, custom-selected at the meat market in Manhattan and dry aged about 28 days on the premises, a process designed to concentrate the flavor as the aged steak shrinks down in size. Their marquee cut here is a porterhouse trimmed from a short loin, minimally seasoned with salt and pepper, then cooked under an 800-degree broiler. The finished steak is plated on top of a layer of clarified butter, then arrives at your table still smoking hot. A porterhouse, by the way, is a T-shaped cut that offers the diner two options: a segment of muscle-y strip steak on one side, and softer filet on the other, so that you get both the buttery tenderness of the filet and the more robust flavor of the strip all in one order. Both sides of the T-bone arrive pre-sliced and sizzling in that pool of butter. Medium rare here means nicely charred on the outside but still very pink and juicy inside. In my opinion not a bite could be any better. This is the kind of steak that makes you fall in love with steak; one I'll compare all future steaks to. I can't say decisively if they ace it on every occasion, but on this evening the meat and meat alone was well worth the price of admission.
Is Peter Luger a pricey and overcrowded restaurant that can feel like a bit of a tourist trap? Yes, definitely.
Do you need to eat a steak there before you die? Absolutely.
178 Broadway (at Driggs); 718-387-7400; peterluger.com