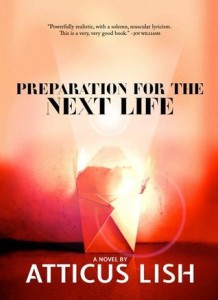 Preparation for the Next Life by Atticus Lish (Tyrant Books; published 11/11/14)
Atticus Lish's Preparation for the Next Life is written with not only a rare authenticity, but also a precision that I have not encountered in independent literature in a long time.
Although Lish's novel is without a doubt a bleak depiction of post-9/11 American life—its two protagonists, Zou Lei and Skinner, a Uighur emigrant and a depressed veteran of the Iraq War respectively, are the very picture of loneliness, each in their own way—it is a breath of fresh air. Their experiences are not pretty, but they are multidimensional; they are real.
Preparation for the Next Life hones in on the seclusion of emigration, of war, of Flushing, Queens. These are lives we knew somewhere in our psyche existed, but had never seen more than stock depictions of until now. Skinner isn't Lieutenant Dan or Chris Kyle; he is both informed by and transcends his three tours of Iraq. Zou Lei, Muslim and Chinese, introduces us to a world and an experience most of us have all but ignored. And then there's idea of "the next life." For Zou Lei, "the next life" is her life in America; her life with Skinner. For Skinner, it is his life as a veteran. However, "the next life," also has connotations of the afterlife–the life that cannot be lived here on earth.
Lish has an impressive literary pedigree, but I don't think that the success of Preparation for the Next Life is due to his legendary editor/writer father Gordon Lish, as much as it is to the fact that Lish has lived a storied and full life. A disaffected New York twenty-something writing out of his bedroom, Lish is not: Preparation for the Next Life is written with the kind of grit only someone who has experienced, and not just observed, life could write. There is no lush prose. It is not a touching love story. It is dark; it is at times depressing; but standing alongside authors like Hill William-writer Scott McClanahan, Lish's prose is at the heart of what it means to be an American and to be in America in 2015.