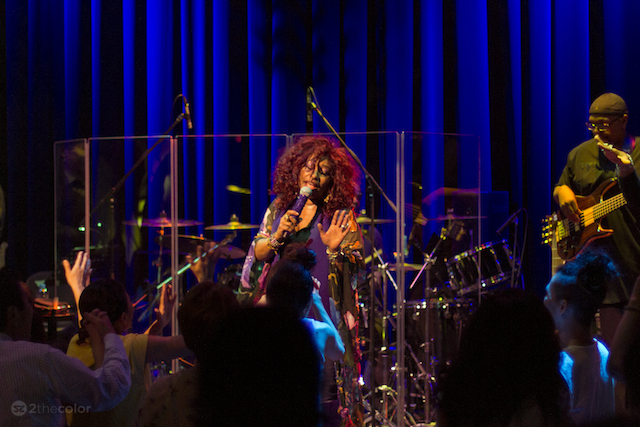 Things are starting to heat up musically in Brooklyn. This spring features a diverse array of shows that offer a little bit of everything, from icons like Stevie Wonder, Crosby Stills and Nash, and Chaka Khan to major alt-rock acts The Pixies, Bad Religion and Spoon to up-and-comers such as Tennis, GABI and Ex Hex. A few of them, including San Fermin and Sufjan Stevens, whose new album (his first in five years) we reviewed last month, are touring behind new records. All the above acts and more are performing at the ever-expanding field of Brooklyn venues, including the newly re-opened Kings Theatre in Flatbush, which has booked an interesting blend of established pop acts and indie rock artists over the next few months–typically the first big touring cycle of the year.
"There are so many great artists coming through Brooklyn this spring," says Michael Jaworski, a booker for The Bell House. The Gowanus venue has always been a prolific performance space, but this year, Jaworski says, "In particular, I am stoked for so much that's on the calendar including Ty Segall, a JD Samson DJ night, The Feelies, Damon & Naomi, The Duncan Trussell Family hour, and so much more. My sleeper pick is Beauty Pill, Grooms and The Flag on May 8. That show is going to rule."
We couldn't agree more. With so much fine music coming through Brooklyn over the next few months, finding 50 acts to comprise a spring music preview wasn't a problem–narrowing down the field was–so without further adieu, here are our picks for who's playing here through mid-June, and a Google Calendar to help keep the dates straight.
April 10
Williamsburg Salsa Orchestra
Brooklyn Night Bazaar
Free
7pm
April 11
Hank & Cupcakes
Brooklyn Night Bazaar
Free
7pm
April 12
Stevie Wonder
Barclays Center
8pm
$49.50–$165
April 16–18
The Juan MacLean
Cameo Gallery
8pm
$10
April 17
Pity Sex
Brooklyn Night Bazaar
7pm
Free
April 18
The Album Leaf
Brooklyn Night Bazaar
7pm
Free
Ava Luna
Silent Barn
8pm
$10
April 23
Delicate Steve
Brooklyn Bowl
8pm
$12
April 23 & 24
San Fermin
Music Hall of Williamsburg
9pm
$20
April 24
The Weight
Playing the music of The Band, featuring former members of The Band, Rick Danko Group and The Levon Helm Band
The Bell House
8:30pm
$40/$45
April 26
They Might Be Giants
Dial-A-Song Celebration and record release party
Music Hall of Williamsburg
8pm
$25
May 1 & 2
Sufjan Stevens
Kings Theatre
8pm
$41
May 7
Those Darlins
Rough Trade NYC
9pm
$15
May 8
Beauty Pill
With Grooms and The Flag
The Bell House
8pm
$12/$15
High Highs
Brooklyn Night Bazaar
Free
7pm
May 9
Har Mar Superstar
Brooklyn Night Bazaar
Free
7pm
O'Jays
Kings Theatre
9pm
$69-$125
May 10
Darcy James Argue's Secret Society
With the Najde Noordhuis Quintet
The Bell House
7:30pm
$16/$20
Mexrrissey: Mexico Loves Morrissey
Brooklyn Academy of Music
7:30pm
$35
May 11
Passion Pit
Kings Theatre
8pm
$39.50/$45
May 13
Tennis
Music Hall of Williamsburg
9pm
$20
May 15
JD Samson
The Bell House
10pm
$10
May 15 & 16
Crosby, Stills & Nash
Kings Theatre
8pm
$42-$152
May 16
The Feelies
The Bell House
8pm
$25
A Place to Bury Strangers
Brooklyn Night Bazaar
Free
7pm
May 17 & 18
FKA Twigs
Brooklyn Hangar
8pm
$45
May 20
TV on the Radio
Kings Theatre
8pm
$45
May 21
Kaki King
Rough Trade NYC
9pm
$20
Jamie Lidell
Brooklyn Bridge Park
7pm
Free
May 22
The Rentals
Music Hall of Williamsburg
9pm
$18/$20
Chastity Belt
Rough Trade NYC
11:30pm
$10
Dan Deacon
Warsaw
9pm
$20
May 26
The Who
Barclays Center
7:30pm
$62.50-$154.50
May 28
Gene Ween Does Billy Joel
Brooklyn Bowl
8pm
$15/$18
Pixies
Kings Theatre
8pm
$59.50-$79.50
May 29
Damon & Naomi
With Tanya Donelly and special guests
The Bell House
9pm
$20/$25
May 29 & 30
Master Mix: Red Hot + Arthur Russell!
Brooklyn Academy of Music
8pm
$35
May 30
Lloyd Cole
The Bell House
7pm
$25
May 31
Ed Sheeran
Barclays Center
7:30pm
$65-$85
June 3
Wire
Music Hall of Williamsburg
9pm
$25
Chaka Khan
Prospect Park
8pm
Free
June 5
Ian Hunter and The Rant Band
The Bell House
8:30 p.m.
$30/$35
June 6
Gladys Knight
8pm
$51-$121
June 9 & 10
Bad Religion
Music Hall of Williamsburg
8pm
$30
June 10 & 11
Femi Kuti & The Positive Force
Brooklyn Bowl
8pm
$30
June 12
Ex Hex
Music Hall of Williamsburg
9pm
$13/$15
June 14
Viet Cong
Music Hall of Williamsburg
9pm
$15
June 16
Spoon
8pm
$35/$45
June 17
Barry Manilow
Barclays Center
7:30pm
$79.75-$249.75
Damien Rice
Prospect Park
7:30pm
$48