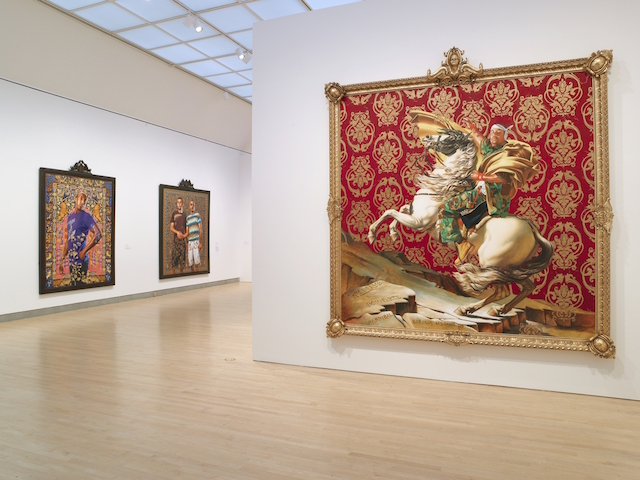 If you are planning a "staycation" in Brooklyn over Memorial Day weekend, it's a perfect time to catch up on all the overcrowded art shows. Most of the city will be out of town, and those left behind will have the opportunity to poke around the Bjork show at the MOMA without a timed ticket, waltz into the new meatpacking Whitney Museum, or–my pick!–take a last look at the Kehinde Wiley show at the Brooklyn Museum, which closes May 24th.
An artist that is known for raising questions about race and representation is not an obvious "kids pick," but in this case, the colorful canvases and sculptures are eye-catching enough to hold a child's attention. The Brooklyn Museum has staged a retrospective of Kehinde Wiley's fourteen-year career and many of the recognizable pieces focus on his "World Stage" series, where he replaced the subjects in European Old Masters portraiture with non-white men. Most of the subjects are dressed casually in sneakers or hoodies, which give what are normally stuffy oil paintings more of a hip hop feeling. Older kids might be enthused by Wiley's connection to the the FOX TV drama "Empire", which cements his importance in popular culture. Younger kids might not pick up on either the references to art history or the Lucious Lyons' dynasty, but there's still something here for them.
Kehinde Wiley grew up in South Central L.A., and when he was 11 years old, his mother signed him (and his twin brother) up for art classes at California State University. In the education materials at Brooklyn Museum, the artist talks about those formative years and how he went to all these galleries, but never saw anyone in the paintings that looked like him. Wiley says, "Painting is about the world that we live in. Black men live in the world. My choice is to include them. This is my way of saying yes to us." Seeing Wiley's modern-day portraits of African-American men and women juxtaposed against the museum's older collections, like the European paintings on the third floor, gives an opening to a discussion with kids about the importance of inclusion.
My 5-year-old son and I visited the exhibit and the first piece to catch my son's eye was "Saint Remi" (2014), a stained glass window which he compared to the illustrations for The Three Bears by Jan Brett, as they both have the same lavish borders. "Conspicuous Fraud" (2001) was another favorite, showing a man in a suit with impossibly long hair, which my son compared passionately to the story of Rapunzel. Although these interpretations were probably not what Wiley had in mind, it reminded me that European historical art is not the only place in which diversity is under-represented.
As we passed through the last room of the show, my son wondered aloud, "What is the best painting in the world?"  This kind of rhetorical question begs to be ruminated on with a picnic lunch, and with the museum's proximity to the weekly farmer's market and to Prospect Park, it's possible to do just that.
"Kehinde Wiley: A New Republic" runs through May 24th, 2015 at the Brooklyn Museum, 200 Eastern Parkway, Brooklyn, NY. Hours: Wed: 11am-6pm, Thurs: 11am-10pm, Fri-Sun: 11am-6pm, Mon-Tues: closed. Suggested donation: Adults $16, Students and Seniors: $10, Children free.