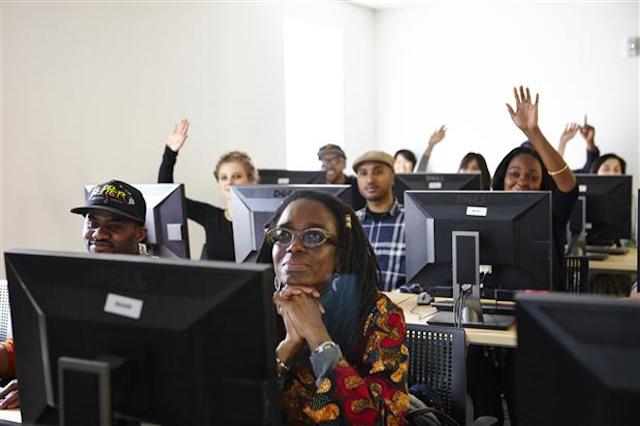 Sure, for kids, summer school may feel like an assault on a season of swimming and popsicles; however, as adults we're finding ourselves more and more open to the idea of learning a new skill while the weather is warm and our work flows are slower. Obviously going back to school, even just for the summer, requires a certain amount of finesse with a full-time schedule, which is why we've found a few ways to further your education without using those precious vacation days. Whether it's before or after work, on the weekends or through home schooling, there are flexible classes in everything from business to the culinary arts out there. Learn how to hang ten or how to code HTML. Here are five ways to further your education that won't get in the way of your work–or play–this summer.
Media Production
Since opening its own house on Fulton Ave. in Fort Greene, BRIC has steadily expanded its public education offerings, to the point that it now provides a comprehensive set of media production courses geared toward giving any amateur storyteller a working knowledge of what it takes to create everything from a TV show to a screenplay to a stop-motion animation. BRIC offers both certification and non-certification courses, as well as free classes year round. Highlights this summer include a $60 intensive certification course that promises to teach participants the basics of television studio production. Being held in a small-class (12 people max.), Saturday-school setting, the courses will take place in two blocks this summer (July 11–25 or Aug. 1–15) for four hours each (11am–3pm) at BRIC's Coney Island production studio, meaning you won't have to sacrifice a single beach day in your quest for further your education. Those who complete the course gain free access to BRIC's Coney Island studio to produce their own Brooklyn Free Speech show, which will air on BRIC's five-channel Brooklyn Public Network. Other summer certification programs include video editing and field video production, both of which are happening in several installments, either on weeknights or weekends. If you're more interested in just enhancing your resume by boosting your media skills, check out BRIC's non-certification and free courses, which cover topics like Photoshop, digital photography, audio editing, intro to social media and web video production.
---
Surfing
Summer is prime season for surf schools, so there are plenty of options if you want to learn to hang 10 locally. The sport has actually grown so much in popularity over the past few years that the city is making plans to create more surfers-only spots in the Rockaways right now. Both Locals Surf School and New York Surf School offer lessons at Rockaway Beach, as does Skudin Surf, which also operates a surf school out of Long Beach. Be advised, though, that weekend group lessons will fill up fast. For anyone whose full-time schedules and summer social calendars won't allow for much longboarding on Saturdays and Sundays, both Locals and Skudin offer affordable private lesson options that range between $350–$450 for five-packs, and be scheduled as early as 7am in case you'd prefer to catch some waves before heading to work. New York Surf School also offers several yoga/surf retreats throughout the summer.
---
Business
We've been heeding Holly Howard's small business advice for years now thanks to her advice column Ask Holly How. This summer, Howard is sharing some of her business savvy through a course called From Artisan to Entrepreneur, which is aimed at helping creative types acquire the skills necessary to build and grow their own businesses. Unlike a traditional business development course, Howard's is focused on teaching people that being creative and operating a successful business are not mutually exclusive. The 10-week program meets over the course of 12 weeks for 3–4 hours at a time, plus there are four, hour-long private consulting sessions included to ensure each student gets enough one-on-one time with Howard to discuss individual entrepreneurial needs. Howard will offer two summer sessions, one in North Brooklyn, on Mondays, starting June 8, at Egg restaurant, and the other in South Brooklyn at ShaRed Brooklyn Co-Working, on Wednesdays, starting June 10. Class sizes are limited to 15 people, and the course costs $2,000.
---
Cooking
New Yorkers are notorious for not using the kitchens to actually cook, but we feel like Purple Kale Kitchenworks has come up with a pretty ingenious, and affordable, way to rectify that situation through in-home private and small-group cooking classes. Chef Ronna Welsh started her South Slope culinary studio after spending 17-plus years as an executive and pastry chef, as as a consultant for local restaurants like Rose Water and Savoy. She now makes culinary house calls and will teach you some new techniques and how to improvise in the kitchen using fresh ingredients to make an array of meals, so you can expand your culinary talents to include more than just one signature dish. Welsh's house-calls cost $125 an hour for a minimum of four hours at a time. (She also offers a private class package of eight hours of instruction for $875.) What's great about her home schooling, other than that your kitchen is your classroom and the program is personalized to your particular interests, is that Welsh charges the same price for a private session that she does for small groups of up to four people, meaning if you have three friends interested in forming your own summer cooking school, you can all learn together for just a fraction of the cost (essentially paying $125 each per session instead of $500).
---
Coding
New York's tech industry continues to be one of the fastest growing job sectors in the city. Despite the demand for web developers and programmers, there is still a serious shortage of qualified coders. Whether you're looking to take the first steps toward a career change, or you just want to build your own website or learn a new language (albeit a digital one), taking a summer coding course might be the way to go. If you prefer to learn online, consider enrolling in Code Academy's web-based, interactive workshops, which can teach you everything from HTML and CSS to JavaScript to how to build a web-based app for free from the comfort of your own computer. If you're looking for a more intensive, class-based coding experience, consider checking out New York Code + Design Academy. The school offers both part- and full-time coding courses, as well as seasonal bootcamps.  Its summer evening-intensive courses start on July 20 and cover topics like iOS development, both back-end and front-end basics and intro to web-development.