As the former organizer of the summer film series, Red Hook Ficks, Amy Haimerl's name often popped up in our inbox with word of the latest lineup. Her emails quietly stopped a few years ago, and then a few weeks ago we got another one from Amy about her new memoir, Detroit Hustle, which details her move with her husband to the Motor City, and their rehab of a 1914 Georgian Revival home in its West Village neighborhood. (Curbed Detroit recently featured all the pretty "after" photos.)
As any normal New Yorker with an overactive imagination about what life must be like in Detroit, I devoured her book–and was reminded often of Brooklyn. Putting down roots in a city with such disparate economic classes is a familiar story here, too, as couples and families make a home for themselves in gentrifying neighborhoods of Brooklyn alongside longtimers who can't afford to do the same.
Obviously, things are much different in Detroit. The level of blight and poverty in the Motor City is unlike anything most New Yorkers have ever experienced. Nearly 40% live below the poverty line, and the median income is under $30,000 a year (compared to roughly $50,000 in NYC, which is closer to the national average). In one visit back to Red Hook, Haimerl and her husband are amazed at how much copper wiring, sheet metal, and shopping carts they see in plain sight, considering these things are so thoroughly scrapped from homes, neighborhoods and streetlamps in Detroit.
It is pretty unimaginable to think that half of Detroit's streetlights do not work because of scrapping and a lack of resources to replace them. But this state of affairs has also lent the city a phoenix-from-the-ashes appeal that we're constantly reading about. We've all seen the Style section pieces about Detroit becoming a haven for artists, ex-Brooklynites and small business owners. Haimerl reveals this side of Detroit not as an onlooker, but as someone who's become a part of its community. She also dispels a lot of its myths, starting with the fact that the dream of buying a home in Detroit on the cheap is just that–they're incredibly expensive to repair and good luck getting a mortgage.
Haimerl also spends a good deal of time delving into the thorny issues of gentrification, too, particularly as a woman who grew up poor and worked her way to the middle class. Not the "middle class" of Brooklyn that can afford a million dollar brownstone and another $500,000 in renovations. But the middle class of Detroit, where you are lucky to have a well-paying job.
The questions are ultimately the same, though, in both scenarios. How do you become a part of a community when some members view you as a gentrifier? How do you make peace with the fact that you have the means to invest in a home when many around you cannot?
One of the pleasures of the book is the way Haimerl weighs these questions in her honest, compassionate voice. We asked her a few more questions about Detroit Hustle, below. You can also hear her tomorrow night in Red Hook, in a conversation with journalist Laura Holson.
Photo: Craig LaCourt
You've become a mentor to a lot of people who are moving to, or considering a move to Detroit. What cities do most of these newcomers hail from, and what is the first bit of advice you offer?
I'm not sure if I'm a mentor – that sounds so knowledgeable! – but I do get quite a few calls and emails from people who are interested in Detroit. Many other people here do, too. I seem to mostly hear from people who live in Brooklyn, LA and San Francisco.
A friend of mine likes to say "Detroit is big enough to matter in the world, but small enough that you can matter in it." People often arrive thinking they are part of "saving" Detroit, of being its resurrection. So my first piece of advice is usually, if you are coming to "save" Detroit, you might want to rethink your intentions or at least your language. This isn't a blank site. This isn't the Wild West. This isn't a place of lawlessness. There are still people living here, so don't treat the city like it's just some experiment or idea for you. "Saving" doesn't sound so bad when you're sitting somewhere else looking in, but imagine how it feels to constantly be the one told you need saving. Yes, there is a lot of work to be done, but there is a community of people here engaged in that.
It's very similar to Red Hook in that sense. There we got the annual gaggle of Yalies or whatever Ivy League school's urban planning students coming to study us and tell us about our neighborhood and what we need. They'd spend a few weeks, interview the usual suspects and then put out a report about how we didn't have a subway and that the neighborhood was a blank slate for new artists and entrepreneurs to come and save, completely ignoring the existing community and businesses and what they wanted/needed. It got annoying after awhile because it felt infantilizing. What, you think we never realized we didn't have a train? Or maybe it's that the issues are complicated and what we need is for local leaders to take the area seriously even though it's just a tiny part of a much larger City Council district and thus the wealthier, more populated communities took first priority. Of course, now that more money is flowing into Red Hook, that is changing.
Now imagine that same scenario spread over 139 square miles and five decades of disinvestment. That's Detroit.
That said, there are a lot of opportunities in Detroit and amazing people who warmly welcome you with enthusiasm. But they want to know that you are coming because you love Detroit and want to live here and aren't expecting it to just be wherever you came from but cheaper. Detroit isn't the new Brooklyn; it's just Detroit.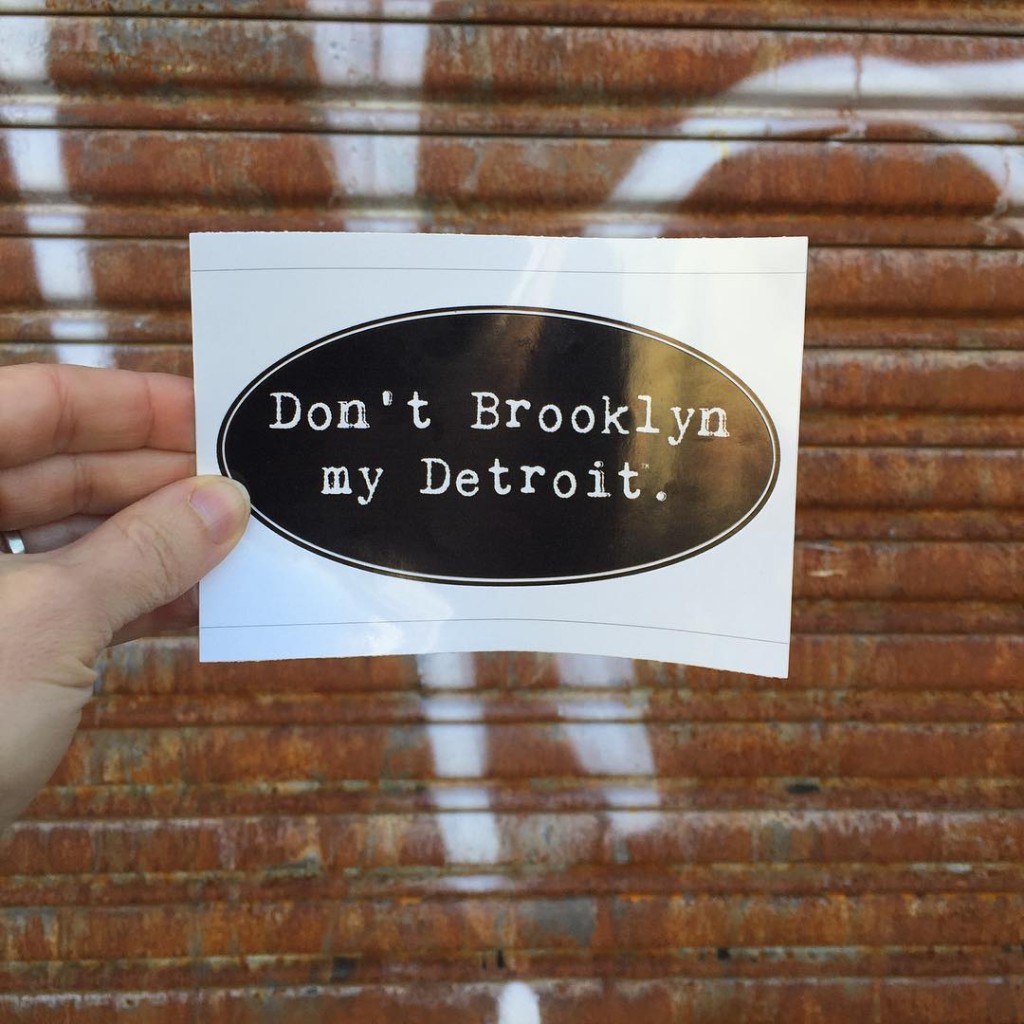 It was impossible for you to get a home improvement loan before you began your renovation because the banks weren't lending against homes they saw no value in. Is it becoming any easier to secure financing in your neighborhood, or any other parts of Detroit?
Not really, no. The problem is that homes often aren't valued at what they cost to improve them. Banks want to lend, but not when it costs more to fix the house than its worth – or even when buyers are willing to pay more for move-in ready homes than appraisers say they are worth. But the city cannot knock down its entire housing stock. And there is so much demand for houses here – anything move-in ready often sells for all-cash, above ask, deals done in a day. People want to be here.
But the city of Detroit, banks and foundations are all working together to find new programs to help address the program. It's not a matter of just getting the banks to lend since they are, rightfully, restricted by federal lending guidelines. Nobody wants to see the mortgage crisis again. But Detroit is a unique market; what's needed here isn't the right solution everywhere. So the city recently partnered with local banks and foundations to create a loan fund – all private dollars, no taxpayer dollars! – to create the Detroit Home Mortgage Program that will lend up to $75,000 to do repairs. But that program is just getting off the ground, so we will see how it works. And, in a lot of cases, the homes that people want to buy – the old, historic homes like ours – cost far more than $75,000 to repair. So there's still a gap. Lots of work to be done.
You deftly write about the nuances of gentrification in Detroit and in Golden, Co., where your family lives, and acknowledge that you "will likely always be seeking and learning to live with the fact that I am both gentrified and gentrifier." Now that the book is out, what has the feedback been like within Detroit and from readers around the country? Do you think it's furthered the conversation surrounding gentrification, or has it just amplified the animosity some feel toward gentrifiers?
That's a hard question to answer. People who have read my book or my writings have been much more supportive of me than those who have heard about me through other means. People here don't expect that a newcomer to the city is trying to address issues of race, class and privilege head on; they expect a newcomer's tale of saving Detroit. I appreciate that you say I deftly write about the nuances because I was trying very hard to do that and be as honest and vulnerable as I could. Those who get the full story of me and my family tend to see that.
Rob Lieber wrote a lovely piece about the house in the New York Times, but there's been a lot of hate and pushback, locally and nationally, based on that piece. He focused just on the financial aspect – we spent $400,000 fixing this house up – because he's the personal finance columnist. But he wasn't able to put me, my background growing up poor in a trailer, or my writings in the broader context. How could he? He had 1,200 words to tell my 80,000-word story. Still, when people just read about this new white couple coming to Detroit and spending what, rightfully, seems like a fortune in a city with 40% poverty… well, you can't blame people for their assumptions.
I'd like to think that Detroit Hustle can add something positive to the conversation about what our cities are facing, so I hope people will read it. This is an incredibly personal journey and experience, and I left it all, as writers say, on the page.
I was really proud of this piece I wrote for the Village Voice trying to explore some of what it takes to make a new life after leaving Detroit.
In the book, you're both excited about the businesses popping up in your neighborhood, and surprised by the pace of change. Has that trend continued? And is it happening in a way that benefits all of the community?
One of the things I love about the West Village is that the businesses, at least so far, are incredibly diverse. We have gay, lesbian, female, male, Syrian, white, black… To keep that going is about intentionality. Building ownership is almost always the key to long-term success because then you are not buffeted by lease rates. Cities like Salt Lake and others are looking at programs to create ownership opportunities, and I think that is critical. One thing we are doing here is a program called Motor City Match that helps small businesses – new or existing – improve their business skills (things like accounting, business plans, profit margins, etc.) so that can be successful. It also matches them with landlords who want to invest in their buildings and have long-term relationships. From a resident's perspective, I think we have to stay focused on supporting those businesses that have always been here and helping them get access to the lending, grants, and development opportunities so that they stay competitive. We have to make sure everyone is in the conversation.
The New Economy Initiative has been offering $10,000 grants to existing businesses so that they can grow and expand. Sometimes something as little as a working vehicle can make all the difference, and these grants can be used for that. But what I love about NEI is that it has been very intentional about getting the word out. It translates its materials into multiple languages; has outreach hours in neighborhoods across the city; goes door to door. This is the hard work of small business development, the type of stuff that nobody wants to fund because it's not sexy, but this is what works. If you create a program to help small business, you cannot just expect them to come to you. First, they have to hear about it. Then, while they are juggling business and family and obligations, they have to find the time, during your office hours to show up? No, you have to go to them and be intentional about that effort.
I love that about Detroit. It's very focused on the conversation and being intentional.
Amy Haimerl also shared her favorite spots in Detroit for tacos, donuts, music and art. Here's what to cram in when you visit.