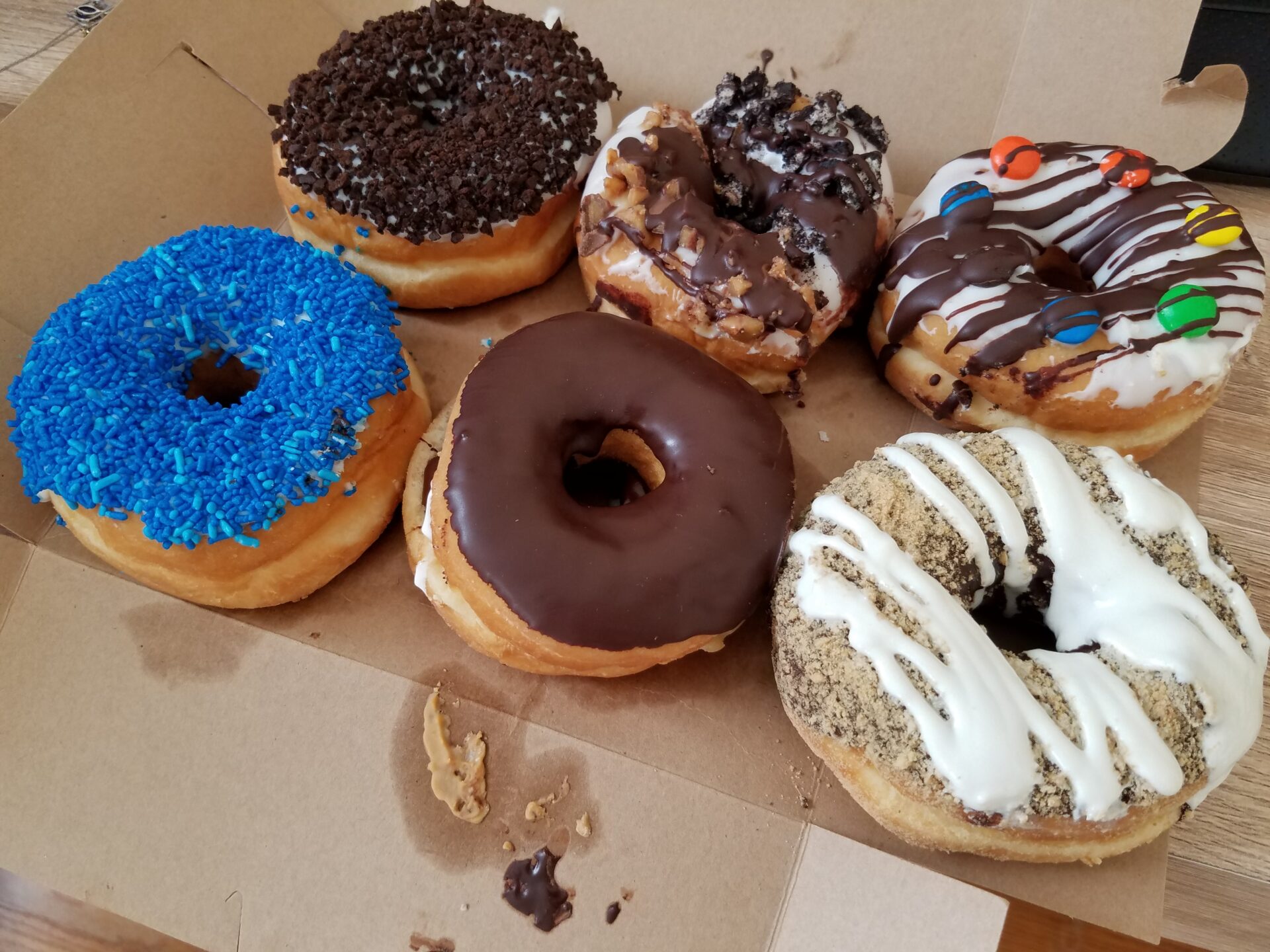 The Lobster Shift is a monthly column by Kenneth R. Rosen that explores the city's all-night eateries and their inhabitants.
June 3 was National Donut Day. So really, that makes June, National Donut Month in my estimation. Which is to say, don't tell me when to eat my cream puff.
I've written about what I believe is the best donut in Queens, and have yet to seek out new horizons in toroidal fried glory in the Bronx or Staten Island. But if you find yourself in Manhattan or Brooklyn (maybe we can get together!), the careworn joints Holey Cream and 7th Avenue Donuts will leave the lights on for you.
Both are open late, and both dish out irreproachably delicious donuts. They're definitely not vegan, or flavored with hibiscus, foie gras or truffle oil. But these are donuts in their natural habitat.
Holey Cream (796 9th Ave., Manhattan) is open until 12:30am for anyone needing an extreme caloric boost after leaving the office and entering a Manhattan midsummer night, thick with disregarded black bags of trash and the fluorescent misgivings of tourists capturing memories. Needing something to boost my dangerously low blood-sugar levels I went overboard, but dive in with me: I ordered an eight-pack donut sampler.
Eight massive, chewy, incredibly varied donuts came in two brown boxes stacked tall ($17.95). They were gargantuan, and illustrative of everything I'd been trying to avoid in recent months–excess and bloated, shameless self-indulgence. But this construction of dough and cream and candy and lava-like fillings (wait, IS THAT A MARSHMALLOW? TWO!?) could have kept rising. What follows is a short review for each donut:
Cookies and Cream Donut: Mmm, Oreos!
M&M Donut: Only four M&Ms, bro? Come on.
Nutella Donut: This is why there's a Nutella shortage.
S'mores Donut: Oh, baby, baby. Light my fire.
Dirty Devil Donut: Please sir, may I have another?
Peanut Butter Cup Donut: Build me up, build me up, Peanut Butter Cup baby. Worst of all, there weren't two.
Heath Bar Donut: Spun me back to the turn of the century.
Blue Bomb Donut: The oddball of the family.
You can even build your own, which isn't an extravagant idea in of itself, but a cute display of choice ('Merica!). Frankly, I just want to eat the damn thing–not build one. It should also be noted that you can get your donut stuffed with any number of flavors of ice cream or frozen yogurt here, for a donut ice cream sandwich.
I should mention that until this assignment I was on a three-salad-a-day diet.
When I visited 7th Avenue Donuts (324 7th Ave., Brooklyn), I realized that I'd been there before. Not to this restaurant, which, despite the name, is a full-service 24-hour-diner, but to Smiling Pizza cross the street. To think I'd spent my late nights in Park Slope holed up in a pizza haven and not across the street, pressed up against the counter for a two-egg sandwich with meat ($5.15), scratch-made pancakes ($6.90), or an MTA sandwich ($9.20, grilled chicken breast on a pita, with bacon, lettuce, tomato, ranch dressing, in case you were wondering how to render public transport in condiments and bread).
A baker's dozen costs ten bucks. No frills here. Get the chocolate-covered donut or the regular glazed edition. Buy a coffee. Dip. Then slip into a booth and watch solitary diners, the seedy and eccentric.
You can sit inside, buttonholed into befriending the lonesome late-night workers, the mopey cashier beyond the florescent cabinet, spending a more precious evening in the hands of some serious 24/7 New York dining of yore, relishing how a brick-and-mortar place of such refined pastry glory still stands in light of all the redevelopment and expansion of our city.
Or you can order online. They deliver at any hour.