October is here with all of its trappings, and hopefully in between all the apple picking, leaf peeping, pie tasting, pumpkin carving, and costume making, you've got time for some of the fun stuff happening around town this week. ComicCon is back at the Javits Center from Thursday through Sunday, if that's your thing, or you can watch the world's most skilled (and daring) urban cyclers vie for the North American Cycle Courier Championship crown this week, too. Finally, DUMBO's Archway is hosting a three-day, beer-soaked Oktoberfest extravaganza featuring brats, music, arts and crafts, costumes, and a temporary outdoor German beer hall.
But that's just the beginning of what's in store for this Ideal Week, folks–read on for tips on where to eat, drink, and be merry in our fabulous borough over the next seven days.

Thursday, October 6
As of today, Green-Wood Cemetery's Chapel is home to unSeen Green, a site specific art installation involving hundreds of crisscrossing hot pink paracords by Brooklyn-based artist Aaron Asis. The visually stunning work will be on display for two weeks, and it's free to check it out from 8am-6pm daily. However, on two special evenings, the first of which is this Thursday, the Chapel will be hosting percussion performances of Impermanent, an atmospheric work by award-winning composer and sound artist Tristan Perich, underneath the paracord lattice. Impermanent: a Musical Experience for UnSeen Green begins at 7:30 sharp, seating is first come, first served, and tickets are $20 for nonmembers.
---
Friday, October 7
Here's a new and offbeat way to kick off the weekend by combining your love of dessert with your workout: take the Sweetcycle, a stationary bike capable of powering gelato churn, for a spin. On Friday night from 6:30-8:30pm, join pastry chef Kate Zuckerman for a discussion about the science behind ice cream and gelato making and a chance to create your own quart of gelato to take home, in seasonally-appropriate flavors like anise hyssop-maple and honey-rosemary-walnut. Weather permitting, the class will take place on the Brooklyn Grange's gorgeous rooftop, and the $50 fee includes all materials and instruction.
---
Saturday, October 8
Need to add a little pizazz to your boring old bloody mary and benedict game? House of YES has answered the call this weekend with the Glitter in Your Bacon Bottomless Brunch party, running from 11am-6pm on Saturday. The event promises a menu filled with delicious dishes featuring bacon and edible glitter, as well as tasty cocktails and dance music DJ sets to get you in a festive and fabulous mood. For a more laid back Saturday, anyone feeling crafty should head to Old Stone House in Park Slope for the fifth annual King's County Fiber Festival, a marketplace and exhibit featuring the work of natural fiber artists, crocheters, dyers, knitters, quilters, and the like from 10am-6pm.
---
Sunday, Oct 9
On Sunday, join True Magazine and pickle master and self-proclaimed picklosopher Nicky Horman, Jr., at North Brooklyn Farms for Pickle Fest, a celebration of the best garnish there is. From 3-6pm, enjoy snacks and drinks from Brooklyn Brewery as Horman provides entertaining stories and instruction on how to brine your own jar of pickles using produce from the farm. Your $30 ticket includes jars, labels, local certified organic veggies from Fishkill Farms, spices, drinks, food and everything else you'll need to produce a jar of custom-made pickles that you can take home and use to impress your friends.
---
Monday, October 10
It's getting dark pretty early and there's finally a little chill in the air, which means we're in the zero-guilt zone when it comes to increased consumption of warm, comfort food and TV/movie watching. On Monday night, you have some pretty stellar (and cheap) options in this regard, as Park Slope's resident Austrian homecooking joint Cafe Steinhof (which incidentally just celebrated its 15th anniversary) is running its famed $7 goulash special all night long and Bushwick's Syndicated is screening the classic DiPalma-directed film adaptation of Stephen King's classic prom thriller, Carrie, as part of its horror-themed October schedule. You can catch one of three screenings at 6, 8:15, or 10:30pm, and tickets are only $3.
---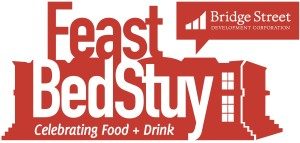 Tuesday, October 11
If you didn't get a chance to join us at our Bed-Stuy Immersion a few weeks back, or you did and loved the nabe so much that you can't wait to return, Tuesday night's Feast BedStuy should be part of your plan this week. From 6:30pm on, a slew of great small businesses along the seven-block corridor of Tompkins Ave. between Halsey and Quincy will be offering great deals on food, drinks, and shopping at venues like Bed-Vyne, Brooklyn Kettle, Peaches HotHouse, and Tumbleweed General Store & Gallery.
---
Wednesday, October 12
Anyone who has ever inserted his or herself into the crazy world of online dating will tell you that you won't last more than five minutes if you can't find humor in at least some of the inevitable absurdity involved. Comedian/actress/musician Lane Moore, who you may recognize from Girls, can help you do just that with her popular recurring comedy show, Tinder Live!, which returns to the Bell House on Wednesday at 8:30pm with all of the real-time swiping and messaging you can handle. The lineup for this particular show is especially great, imho, and includes Josh Gondelman, Dave Hill, Mychal Denzel Smith, and Chloe Angyal. Tickets are $15.
---