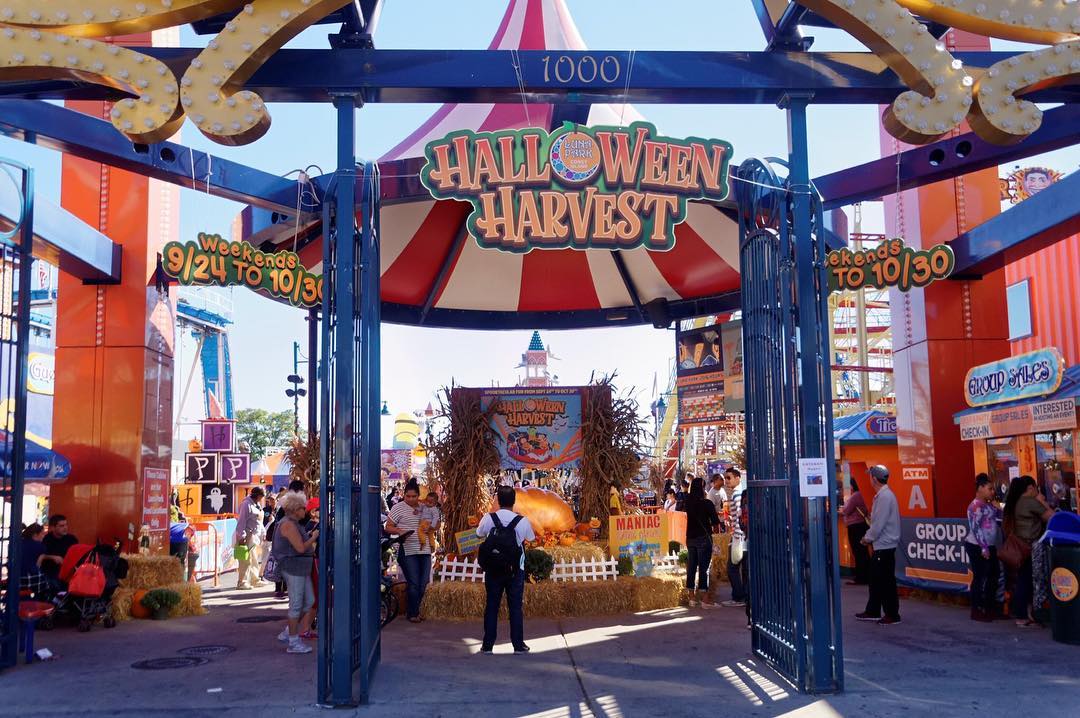 [sponsored_by name="Luna Park" url="http://lunaparknyc.com/events/halloween-harvest/" logo="http://www.brownstoner.com/wp-content/uploads/2016/09/luna-park-coney-island-logo-2.png" byline="Get ready for spooktacular fun with Halloween Harvest at Luna Park in Coney Island! Join us every weekend from Sept 24 – Oct 30 for a family-friendly event." attribution_name="BlankSlate" attribution_url="http://www.blankslate.com/"]
Really, who doesn't want to see a giant pumpkin? That's just a small sample of the seasonal fun and games at Luna Park's annual Halloween Harvest Festival, running every weekend from 12 p.m. until 6 p.m. now through October 30.
Stop by Jack's Pumpkin Shack to see this year's giant gourd. For a chance to win prizes worth over $1,000, guess Jack's weight. But do so before October 23, when Jack's weight is revealed and Marc and the Maniac Carvers return for their fourth year to give the impressive pumpkin a Halloween makeover.
https://www.instagram.com/p/BKjQa_RACrK/
Kids can make their own Creepy Crawly Crafts between 3 p.m. and 5 p.m., with help from Variety the Children's Charity.
Meet Dorothy, the Scarecrow, and the Tin Man and search for the Cowardly Lion. Kids can also get their faces painted, get "tattooed," and adopt a balloon pet.
That's not all. Kiddie crooners can choose from over 20,000 songs at Kooky Spooky Karaoke, and listen to some spooky readings by children's authors at the Monster Mash.
https://www.instagram.com/p/BKLv2ruAPy-/
More than 100 dogs will participate in a parade and costume contest on Sunday, October 9. Judges will evaluate winners based on audience choice, cutest, mister/miss congeniality, most original, and best in show.
https://www.instagram.com/p/BKyz7xSgnNs/
Pony rides make their Halloween Harvest Festival debut this year between 2 p.m. and 5 p.m. on October 15, 16, 29, and 30, at the end of West 10th Street, near the Luna 360 ride. There's also a petting zoo.
All of Luna Park's regular attractions will be open, including the historic Coney Island Cyclone roller coaster. You'll find a variety of games and over 25 rides ranging from mild to extreme thrills.
Luna Park is located off the Coney Island boardwalk, and entry is free. Nearby transportation includes the D, F, or N or Q trains. Check out the full schedule of Halloween Harvest Festival events here.