Although it is tempting to just make donations to the ACLU on behalf of all your friends and family this year, sometimes you really need a physical gift. This year, let Brooklyn Based take the planning out of the equation, so you can spend more time signing up for boycotts and protesting to save our planet. From ultra-serious Brooklyn dads to work spouses, and all the other special snowflakes in  your life, your holiday shopping is covered with our 2016 gift guide.
What to get the woman in your life who rocks her Future Is Female t-shirt, is still checked in to Standing Rock, and consistently gives her rent money to Planned Parenthood.
Slow Factory's NASA Scarf ($140)
Celebrate the future by honoring the past with Slow Factory's NASA Scarves. Each one features a high-resolution digital image of NASA's first female scientists. Katherine Coleman Goble Johnson, pictured above, "made fundamental contributions to the U.S. aeronautics and space program with the early application of digital electronic computers." Beyond being a braniac and feminist go-to item, these scarves are also printed on high quality Italian silk from a supply chain that is 100% clean and fair trade. Complement this gift with a copy of the wonderful book Women in Science: 50 Fearless Pioneers Who Changed The World by Rachel Ignotofsky ($16.99).
---
Fearless Beauty Shampoo by Fatboy Hair ($30)
For the girl who likes to march on Washington armed with her own glamor there is good news.  Fatboy Hair, a luxury hair product line, has teamed up with the charity Fearless Beauty, an organization that provides free training in haircutting for impoverished women in India, so that participants can build a sustainable income for themselves. Their shampoo and conditioner will bring out the best in every head of hair and 100% of the proceeds from every bottle goes toward an incredible cause.
---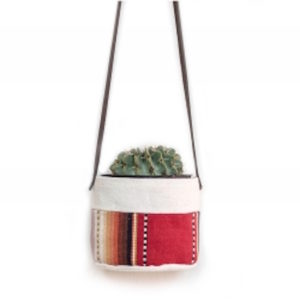 Sequoia Hanging Planter ($36)
Support the New York Botanical Garden while preserving the natural world. This canvas basket is hung with leather and secured with antique brass rivets. Bring an outdoor herb garden inside and get a few of these to line the kitchen ceiling, providing aromatics and cooking herbs for a loved one all season long. It also comes in a blue tone, if that is a better fit.  NYBG Shop, 2900 Southern Blvd. Bronx, NY
---
Although Amanda Chantal Bacon is an easy target with her moon powders, "hot sex milk," and cultured foods, she is definitely tapping into something that wellness enthusiasts are seeking. For those interested in kundalini yoga and crystal baths, this book may pique some interest. With difficult, expensive and time consuming recipes including hard to find ingredients like fresh tumeric, mushroom proteins and maca, this might be just the challenge your health nut BFF is looking for. It still makes a fascinating coffee table read.
---
If you watched the SNL Wishing Well Skit and recognized a sensitive boy in your life, then  here are a few other gifts that should be on his list. These gift ideas work just as well for sensitive girls. and for all kids consider a gift subscription to Highlights Magazine. Readers of the dentist's office favorite wrote to ask the magazine to represent all kinds of families, and now conservatives who think that families with two moms or two dads are "families" are boycotting. 
For those dreamy kids whose heads are always in the clouds, let their imaginations soar with one of these Sailing Ship Kites (which also comes in white). On a windy day, bundle up and make a winter memory with the gift of flight. Each kite is handmade in collaboration with Balinese artisans from locally sourced bamboo and nylon. On a calm day, this kite would make a beautiful mobile in the bedroom. And in a blustery storm your sensitive son or daughter can spend time on a distant hilltop sending secrets into the wind.  
---
Stitch The Stars Calendar Kit $25
If your child spends evenings contemplating the insignificance of life while gazing at the stars, then this zodiac calendar kit is just what she needs. Each month is screen printed with the corresponding constellation from the zodiac, and kids can use the enclosed glow-in-the-dark embroidery needle and threads to connect the dots. There are no sewing skills necessary, but it is recommended for kids 8+. Let your child artfully track the time until she reaches adulthood.
---
FurReal Friends Pax, My Poopin' Pup ($40)
Your sensitive son wants a pet to share secrets with, but your lease doesn't allow for the St. Bernard he yearns for. Give him the pet experience with Pax, a FurReal Friend, a dog that actually poops. Like all FurReal pets, this one will make fun sounds and respond to touch with movement. But Pax can also be given tiny treats, and then walked outside where it will take an actual (but cute!) poop. Your child will never feel so completely understood and loved as when he cares for a robotic dog.
---
Pirasta Coloring Sheets $19.95
If your child is more inclined to draw spirals of despair than cartoon characters, these coloring sheets are in order. Large panels illustrated by Allison Kerek map out the globe, from traditional dress to historical landmarks. Whether your child is coloring elephants in India or monkeys in Seychelles, they can think up ideas to bring about world peace. All sheets can be assembled to connect as one large map of the world.
---
Don't worry, the perfect present is out there for your favorite Brooklyn "papa" who spends his weekends at the local coffee shop, leisurely reading his print subscription of The New Yorker with the kids in tow. 
This gift is ironic because, of course, the toxic Gowanus Canal would kill him if he dove in, and also because your brainy boyfriend would never dream of doing any kind of sport. This navy cotton tee, printed with gold ink, designed by Roxy's Tea Parlour, is the quintessential Brooklyn insider joke. Your boyfriend may even crack a wry smile when he opens it. By the way, this also comes in kids sizes and onesies for the rest of his family. Gowanus Souvenier Shop, 567 Union St, Brooklyn
---
Shelfie Puzzle $26
If it's hard to get your brother to put down his worn edition of David Sedaris' Holidays on Ice this time of year, try enticing him with this bookish activity that might make him more social. Featuring the spines of vintage cookbooks, this puzzle by Bob's Your Uncle, has 550 pieces and will look great decorating the family coffee table. If he's more wordy than visual, then upgrade his board game collection with this Premiere Scrabble ($155) inspired by a vintage edition. It will pair perfectly with his after dinner brandy. Wanderlustre, 419 Court St., Brooklyn
---
Brackish Hemingway Bow Tie $195
Your introverted husband may feel more comfortable coming out of his shell in this Hemingway Bow Tie. After he finishes his writing word count for the day, you can rope him into actually donning a blazer and attending a New Year's Party with you. This tie combines classic holiday colors with festive feathers. The ties are handcrafted in South Carolina with intricate details. Each is handmade and every feather hand selected, just like every word in your husband's next Great American Novel.
---
S'well Teak Wood Water Bottle in Dark Forest $35
Your pal had a hard 2016: his writer's retreat in Big Sur was canceled, his favorite book store, Book Court, is closing at the end of the year, and Trump is the president-elect. Give him something to refresh and revive himself, like this stainless steel water bottle that is designed to keep liquids cold for 24 hours or hot for 12 hours. Each purchase from the Woods Collection supports American Forests' restoration efforts, and provides a good excuse to go for a walk on a snowy evening to contemplate.
---
Don't forget your work husband/ wife and the "toxic handler" in the cubicle next door. If you want to continue venting and kvetching to them in the kitchen and after-work happy hours, show how much you appreciate them and all that they do.
Let them know how magical you think they are with this fanciful mug to lift their spirits all day long, while you drain them with your constant complaining and nagging. Every time they see you coming at the coffee station, they'll think of this hand sculpted, gilded, stoneware cup that is made in Pennsylvania, rather than how much they hate their job.
---
Brooklyn Candle Studio Christmas Candle ($24)
This deliciously scented blend of pine, spruce and cedar will conjure up the Tiny Tim inside of anyone. Hand poured, these candles are meant to be "a throwback to vintage apothecary wares of the 19th century." Yet, they are made in Brooklyn and unlike candles of yesteryear, these will burn for up to 64 hours. Just about the same number of hours a week your boss expects you to work this holiday season.
---
Holiday Hipster Ornament ($15.95)
The Holiday Hipster Ornament is just the thing to melt any co-worker's miserable demeanor. A Secret Santa gift, a year round desk decoration, or an office holiday tree trimming item, these soft little guys will spread good cheer. Made from felt, they can be hung from their jute loop. There are eight to choose from, so you can get a different one for everyone in your department. NYBG Shop, 2900 Southern Blvd. Bronx, NY
---
Sometimes you have to let your co-worker who constantly brings in donuts know that you appreciate their sweet tooth. A baroque style sugar bowl is an interesting, yet impersonal and practical gift, that will satisfy anyone. Giving one of these Italian crafted items to the boss might just get you a raise. No promises. Wanderlustre, 419 Court St., Brooklyn
---