Yesterday during one of the obsessive Twitter rabbitholes I often find myself in nowadays, I saw a tweet that said something like, "I think what I'm going to miss the most about the Obama administration is sleeping at night," and it really struck a chord. Since the inauguration, I feel I've been stuck in a never ending loop of bad news, fearful speculation, and mounting anxiety, and based on the people I know and whom I've met at protests and rallies, I'm not alone. It's exhausting. And it's definitely not possible to continue at this pace or stress level for much longer. Don't get it twisted, I still plan to #resist as much as I can and I hope you will too, but we're looking at a long road of horrible things we'll have to deal with ahead, and if we get totally derailed every time someone responds nastily to a story we publish about Muslim women in Brooklyn being afraid for their safety, we'll lose the ultimate fight.
So, I'm declaring this a Trump-free Ideal Week, just like good old days, when the rule of law and basic civil liberties were things we could take for granted and it felt okay to just make normal, fun plans with friends. The activities I've rounded up below will take you through the time during the next seven days when you're NOT marching or calling senators or feverishly debating whether we've handed the keys to a diabolical cabal of evil geniuses who shrewdly created the conditions that would set the stage for a coup, or just a bunch of bumbling idiots who have no idea what they are doing and think a "speech" like this is acceptable. You need to take breaks–we all do. But before I delve into a week of Donald-free dalliances, I do want to do a quick plug for a screening of a new nonpartisan documentary film about two former refugees who are now living in Syracuse, N.Y. The film will be shown along with a variety of other shorts starting at 7pm on Tuesday night at Long Island City's The Local NYC in collaboration with Indieworks. The current state of our country demands that we keep hearing the stories and opinions of people who don't share our day-to-day experience, and this seems like a great way to get some of that exposure.
Have a great week, and keep fighting the good fight!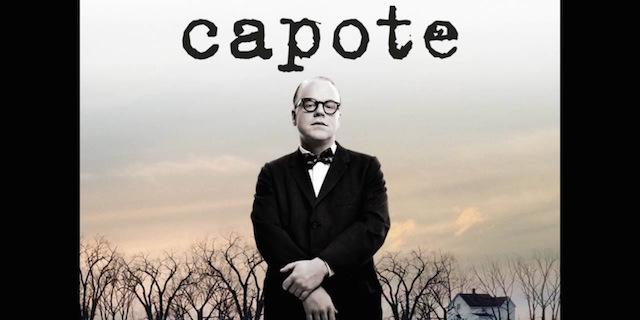 Thursday, February 2
On Thursday, you can catch Philip Seymour Hoffman's Oscar-winning portrayal of Truman Capote when he was writing In Cold Blood at a special screening of Capote taking place at The Brooklyn Historical Society at 7pm. The movie is free if you register, and before or afterwards you can check out BHS's ongoing exhibition, Truman Capote's Brooklyn: The Lost Photographs of David Attie. Alternatively, you can wander through the galleries of DUMBO from 6-9pm for the First Thursday Art Walk. Highlights of this month's installment include the opening of Infrastructure: Land, Mind, Country, curated by Sharon Butler and Rachel Farber, at the AICAD/New York Studio Residency Program; a performance by Jarrod Beck at Smack Mellon; the opening of Tokyo International Photography Competition 2016: Origin at United Photo Industries; and a special kagami biraki–a Japanese cask breaking ceremony—at Usagi NY to celebrate the opening of Jeffrey Brosk: Imperfect Landscapes.
---
Friday, February 3
On Friday night, rock out to hits by The Boss when Bruce in the USA, the world's No. 1 tribute band to Springsteen and the E Street Band, hits Brooklyn Bowl for a two-night run. Tickets are $15 if you purchase in advance and doors open at 6pm. Or head over to Bushwick's Pine Box Rock Shop for Not Quite Midnight, a quarterly live talk show featuring comedy duos like Mookie Thompson and Mike Denny, Gary Richardson and Tommy McNamara, Drew Anderson and Julia Shiplett, and more. The show starts at 8pm and concludes with a DJ dance party.
---
Saturday, February 4
Ever fancied yourself an urban beekeeper? Apiary aficionado Chris Harp of Honeybee Lives can teach you everything you need to know about how to plan and care for a new, organic hive for spring in a special weekend-long class happening at The Commons on Saturday and Sunday. Tickets are $200 but that includes two full days of instruction from 10am-6pm. Meanwhile, on Saturday night, Brooklyn Bazaar and Amber Schaefer are hosting No Enemies to the Left: A Comedy and Music Filled Benefit for the ACLU, with musical guests Wet, Free the Mind, and a TBA act, as well as comedians like Jo Firestone and Jena Friedman and a silent auction. OK, so maybe this one isn't TOTALLY Trump-free, but the ACLU is important even if a would-be autocrat weren't trying to undermine all the fundamental rights it is tasked with protecting, so it's evergreen! Tickets are $25 and the show starts at 7pm.
---
Sunday, February 5
It's Superbowl Sunday, and whether you're a diehard Patriots or Falcons fan or you're just in it for the commercials and the nacho-eating mandate, there are tons of places to park yourself and watch the game with friends. You can head to The Bell House (free, $4 pints of Sixpoint); Humboldt + Jackson, which is serving up all-you-can-eat wings for $20; Syndicated ($10 for a seat in the dining room, and $15 for a seat in the theater); Threes Brewing, which is offering a special game-day menu; The House of YES, which is horsing a Totally Immersive Superbowl Throwdown for $15 a ticket; and Brooklyn Bowl, which is hosting a no-cover screening with full concert sound. Or, you know, there's always your couch too 🙂 
---
On Monday, head to Greenlight Bookstore's Prospect Lefferts Gardens location, because New York Times film critic A.O. Scott will be there discussing how criticism of all art forms can help give meaning and direction to our lives. Scott will join New Yorker writer Vinson Cunningham to discuss his book Better Living Through Criticism: How to Think About Art, Pleasure, Beauty, and Truth, now available in paperback, starting at 7:30 pm.
---
Tuesday, February 7
On Tuesday, C'mon Everybody is hosting a free show at 7pm called Take Two Storytelling, co-hosted by Elana Lancaster and Harvey Katz. The premise behind the show is that each raconteur tells one true story with two endings (one what actually happened, and one that has a different, imagined outcome), so it's basically a live version of Choose Your Own Adventure. This month's storytellers are Asher Novek, Emily Ray Reese, Cyndi Freeman, and Marie Faustin.
---
Wednesday, February 8
Sycamore Bar is hosting Drop the Mike, its monthly all-female standup show (featuring one token male) this Wednesday night at 8pm. Host Kendra Cunningham (in the video above) will welcome a slate that includes Carolyn Castiglia (Comedy Central), Wanjiko Eke (Cinder Block Comedy Festival), Tess Tabak (Broadway Comedy Club), Derek Humphrey (New South Comedy Festival), and Maria Wojciechowski (SEESO). The show is free, which means you'll have some extra money to drop on dinner at one of Cortelyou's hotspots like Mimi's Hummus or The Farm on Adderley.
---