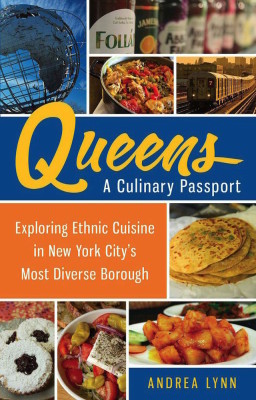 If you yearn to be an Angelina Jolie globetrotting mom like I do, but can't deal with immunization shots or expired passports, it's time to book your family's round trip ticket to Queens using Andrea Lynn's incredible guidebook/cookbook, Queens: A Culinary Passport: Exploring Ethnic Cuisine in New York City's Most Diverse Borough. In it, she profiles all of the different foodie neighborhoods in this multiethnic borough through well-researched chapters that explore its diverse restaurants, food trucks and other undiscovered hidden gems.
My husband, our two friends and our 5-year-old son had the best Sunday ever following her walking tour of the Himalayan neighborhood haunts of Jackson Heights. Along the way we learned how to make roti (which figures as prominently in Nepalese and Tibetan cuisine as it does in Caribbean food), tasted exotic foods, and explored very hard-to-find restaurants.
We started our tour at Dhaulagiri Kitchen, which we would have missed otherwise since the sign outside actually says Tawa Food, but the staff quickly made us feel at home in their kitchen and introduced us to their homemade roti. Next, we found our way up a flight of stairs and pulled aside a curtain, to arrive at Phayul, where we ate shredded raw potatoes and sausage. Continuing onward (albeit after a couple of wrong turns), we walked through a cell phone store to a dumpling speakeasy called Tibet Mobile, where we tried pillowy "momos." Speeding through Casa Rivera, a Mexican deli, I picked up a huge bag of animal crackers for my son and stocked up on frozen arepas. Finally, we walked a few more blocks to La Neuva Bakery, an enormous Uruguayan bakery where our bloated stomachs made room for bites of dulce de leche arrollado, and cafe con leche and juice for my son. While many patrons were content watching soccer on the televisions, we were mesmerized by the guitar player sweetly serenading the restaurant from a corner. Like any overseas trip, we were inspired, invigorated and satiated by our travels, but unlike any other vacation, we were only a twenty minute ride back to Brooklyn.
Recently I spoke to author Andrea Lynn about our excursion, and she gave me further tips on the neighborhood (including where to see live frogs), advice about ordering at restaurants, and even a Jackson Heights-inspired recipe to make with kids at home.
BB: We had such a fun afternoon doing the Jackson Heights walking tour from your book. It was like a scavenger hunt in another world, where we got to peek behind curtains literally and find a secret back entrance through a cell phone store! How did you research and find all of these magical places?
Andrea Lynn: It was a combination of many factors—research, exploring, taking tours, and asking other Queens food people in the know. Honestly, one of my biggest challenges with the book was limiting it all—I felt like I found so many unique, wonderful spots that I could have written an encyclopedia on Queens.
BB: Why do you think Queens is such an unexplored borough (in comparison to Brooklyn)?
AL: Let's be honest—Queens can be hard to navigate. And I say this as someone who lives in Queens. The streets are numbered but it's not in a way you'd think—in some areas, there's a 40th Street, 40th Drive, 40th Road, all before you hit 41st. I think you need Hopstop and/ or maps to understand it.
BB: How would you describe the cuisine of Jackson Heights?
AL: Jeff Orlick says it best in my book—while Jackson Heights used to be the epicenter of Indian cuisine in NYC, it's now shifted to more Himalayan and Tibetan restaurants, which is fascinating to me. There aren't that many places in the United States (I think just Boston and Denver that I know) where you can get this type of cuisine.
BB: At Dhualagiri Kitchen, we were surprised that the only table is actually in the kitchen. The staff there was so warm and inviting, and we really felt like we were being invited into their home as we got to watch them make all the roti up so close. They gave us a whole lesson of making the roti, and of what to order, etc. How do you recommend best approaching the wait staff for menu ordering advice, especially if you don't speak the language?
AL: I missed out on the roti lesson!! I need to go back. So I try to have my phone loaded with apps that can help me in a pinch. Foursquare (or I think it's Swarm now?) and Yelp are good—if I was in a situation where there was a language barrier, and I couldn't get recommendations, I would see what the common recommendations were from others who had been on the apps.
BB: My son was extremely excited by the momos at Tibet Mobile. In your book you interview Jeff Orlick, who organizes a momo crawl, which we saw maps for all over the neighborhood. My son believes that momos are the most undiscovered kid-friendly food ever. Can you talk about what a momo is, and why these have flown so far under the radar?
AL: A momo is a Tibetan steamed dumpling that is filled with meat and/ or veggies. They're a little unflashy, as is most things with that cuisine, which is why I think they get overlooked. Although I do think they're just now starting to get a little attention—I know I've seen a momo cart in Astoria in the last year or two which I thought was a pretty big deal. I think there are just so many types of dumplings that the momo (which is less known) gets overshadowed by it all. But I bet that won't be for long! I think Himalayan and Tibetan food as a whole is all still a little under the radar and just starting to get attention.
BB: There were five of us (including my 5-year-old son) and we split plates at each of the stops, so that we would be able to try everything. We ate so much great food. For people who don't have as expansive stomachs, what would be your "must-try" dish recommendation in Jackson Heights?
AL: It's so hard for me to choose! I know when I am in Jackson Heights, my mouth waters when thinking of the kebab at Kababish. You know you've hit a winner of a restaurant when there's a long line of taxi drivers getting food from there. I adore the gola kabab, which is almost more of a pâté-like consistency. It's not a kid-friendly dish. It's super spicy. A friend taught me a trick about stopping at Patel Brothers beforehand to get the mango nectar to eat with the meal. The sheer sweetness of the nectar helps cut the heat a bit.
BB: For those who want to explore Jackson Heights with kids, what non-food recommendation would you have for them to extend their day?
AL: I'm going super-unorthodox here, but I love exploring the ethnic grocery stores in every part of Queens. (Did I just cheat since this is food?) There's one called US Supermarket in Elmhurst (which is very close to Jackson Heights) that is such fun, at least to me. They sell live frogs for goodness sake. But I think so many of these stores have such a crazy selection of produce that is fun to bring home and try out with kids. Other Queens options: the Science Hall in Flushing which is amazing, the Museum of Moving Image in Long Island City or the Cliffs (for rock climbing) also in Long Island City.
On the next page, Lynn shares a kid-friendly recipe for Shabhaley, Tibetan-style empanadas, from Little Tibet restaurant.