The Katsichtis family in front of their side-by-side restaurants. Photo: Megan McGibney
Sheepshead Bay's Emmons Avenue sits on the edge of a marina, where visitors board party boats and take off on fishing trips. It is also dotted with restaurants, most of which have outdoor seating to catch breezes from the bay.
You'll find everything here, from modern Japanese fare to the Brooklyn classic Roll N Roaster, famous for roast beef and french fries. There are two restaurants in this stretch that share an uncommon bond–Yiasou, a Greek seafood spot and and its neighbor, Next Door, an Italian eatery that serves a wide range of pizzas, share a kitchen and are run by a father-and-sons team.
"I have many generations in Greece of owning restaurants," said Peter Katsichtis in a heavy Greek accent, sitting with his family in the back of Yiasou.
His eldest son, George, nodded. "My dad's whole side is in restaurants."
From 1977 to 2007, Peter operated the American diner, Gardenia, in Manhattan on Madison Avenue. The diner attracted a lot of celebrities such as Joe DiMaggio, Wayne Gretzky and Sarah Jessica Parker. It is also where he met Anna, a regular customer who often ordered French fries.
"He saw me," Anna said, smiling, "and asked 'how can I help you?'"
Anna went on to become the mother of Peter's two sons. Michael is the head chef for both Yiasou and Next Door.
In 2005, after nearly thirty years of running Gardenia, Peter opened Yiasou in order to be closer to where his family lived in Mill Basin. He decided on a Greek-style restaurant in tribute to his homeland.
"I'm Greek, I love Greece!" said Peter, who originates from Sparta.
The word yiasou has many meanings, but is usually a greeting in Greek. The restaurant specializes in grilled, Mediterranean-style fish, and their most popular dishes are  salad–cucumbers, tomatoes, olives and feta dressed with oregano and olive and vinegar, and grilled octopus.
"Every table orders," Peter said. "At least."
Peter closed Gardenia in 2007 to concentrate on his first Brooklyn restaurant. When Hurricane Sandy hit in 2012, the restaurant had to be gutted and all the kitchen equipment replaced.
Yiasou was not the only business on waterfront Emmons Avenue damaged in the storm. Mambo Sushi was hit badly, and never reopened. That was when George took the opportunity to open his own restaurant and Peter could not have been more eager to welcome his son as a neighbor.
"Of course I pushed them to open their own," he said proudly.
"You did not push," his son corrected. "You encouraged."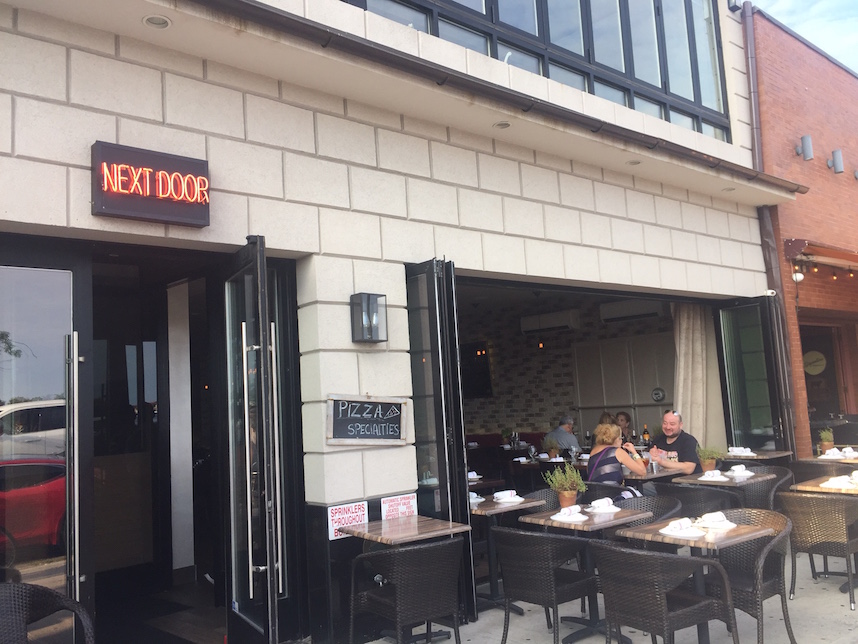 Next Door opened in May of 2015 and quickly became known for pizza, including the popular funghi e tartufo, which comes loaded with melty Italian cheeses, shitake mushrooms and finished with truffle oil. George said that paccheri arrabbiata, a pasta with spicy tomato sauce, and tuna tartar, were also customer favorites.
While Peter runs Yiasou and George runs Next Door, the two restaurants are closely linked, which one kitchen for both places. There is also an open space in the back of each restaurant by their adjacent bars, which allows customers and staff to walk freely between the two establishments.
They also may share dishes with their customers.
"If they want an item or two from Yiasou," said George. "We don't mind."
Right now they are planning on turning the shared rooftop into a terrace with dining in time for next summer, though it has yet to be decided what that menu will look like.
George has an idea to open another restaurant, but that is not yet in the works. But he does not expect his younger brother to be head chef there as well.
"You wanted a restaurant when you were a baby!" Anna smiled at Michael.
Michael raised his eyebrows. "Times have changed. You don't have much time off. No summer vacation, you work on holidays."
If and when they have children of their own, George and Michael would like to see them follow their dreams, in the restaurant industry or elsewhere.
"Let them choose," George said. "Everybody's different. If they have a passion for it, why not?"
Still, he suspects that family passion for restaurants will continue on.
"We know everything," he said. "Our father taught us everything. It's not like we wanted to [open a restaurant], it's in our blood."