We're one year into the sexist-in-chief's term, and in the midst of a moment in which prominent men keep dropping like flies (or dropping their flies?) for coercive hotel room "meetings" and other devastating abuses of power. If there was ever a holiday season made for feminist gifts, this is it.
From T-shirts to art prints, to books and even barware, there are multiple presents you can gift this season that celebrate women and prompt the kinds of discussions that will push feminism up the global agenda. (Or at least make the concept as everyday as your basic cotton Tee.)
One of these will make a perfect gift for your friend, partner, mother, sister, daughter, husband or son. The fact that nearly all of these are Brooklyn-made or designed is just an added perk.
Feminist Tees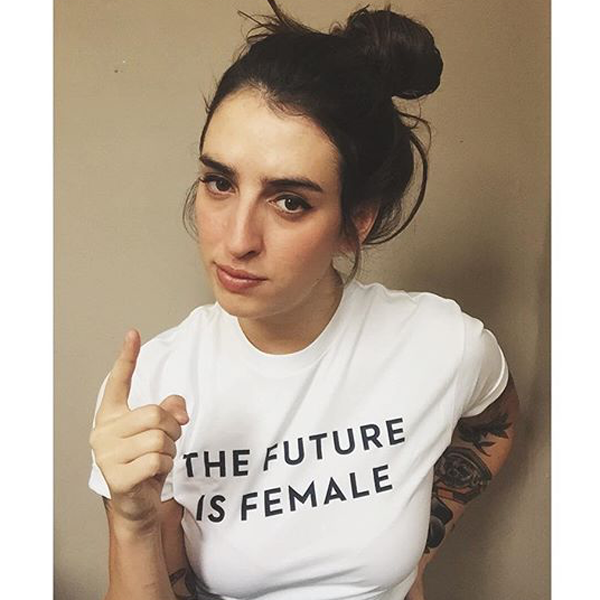 Of course a T-shirt is no antidote for the sheer pain of watching the most unqualified, misogynistic being alive completely annihilate the presidency as we know it, or learning that a beloved public figure is a groper, too. But they do make it easy to broadcast your outrage. Also, they're stylish.
One of the most popular feminist slogans you can wear—The Future is Female—is actually a remake of a shirt sold by the city's first women's bookstore, Labyris, in 1975. It became an instant hit when the L.A. boutique Otherwild reissued its own version in 2015. Now you can buy it online and at its Lower East Side outpost too. $30, and a portion of the proceeds go to Planned Parenthood, otherwild.com
Precisely because I have a son (and also a daughter), Brooklyn designer Diana Kane's "Feminist Gold" Tee strikes me as the perfect shirt for the entire family. It doesn't tell your boy that the future doesn't involve him; instead it inspires a conversation about the need to respect equal rights for men and women and gets everyone talking about feminism at an early age (way earlier than I ever did). Plus don't you love the gold lettering? $28 to $40, dianakane.com
Randy's Reproductive System Sweater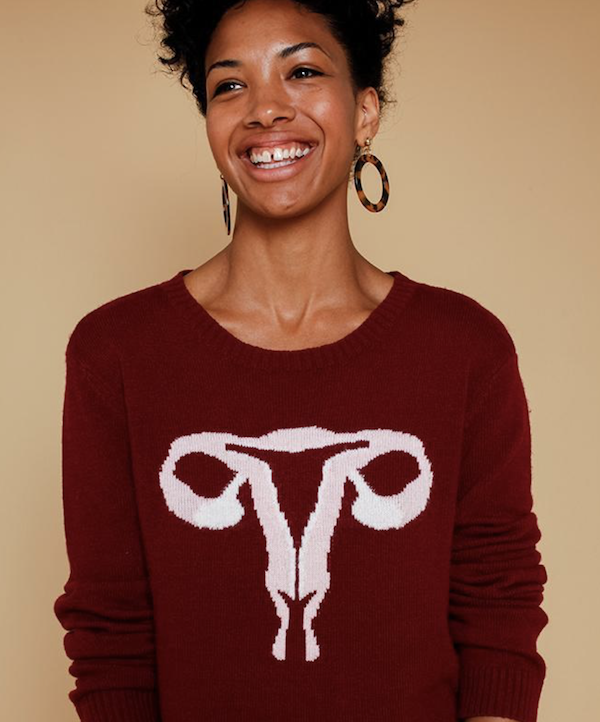 I admit, when I first saw Randy's Reproductive System Sweater pop up on my Instagram feed, I was a little perplexed. A knitted uterus, huh? That's cool. But not really my style. Though I also didn't get excited about the pussy hat, so maybe I'm just a prude? That said, this re-issued uterine pattern from designer Rachel Antonoff—originally produced in 2015, not as a political statement per se, but out of a love for the female anatomy—comes in a sweater, sweatshirt and tee, and has at least one of your friend's name written all over it. The sweater is steep, but a portion of the proceeds goes to Planned Parenthood. $198, rachelantonoff.com
I Marched Print
It was pretty special to march in NYC alongside my daughter last year, and I imagine if you brought your child, or know someone who did, this would be a great memento and a cool print to hang in their room. As of publishing, there were only two left from the edition of 50. May you be one of the lucky ones. $88, unframed, loveandvictory.com
Persist Resist Glasses
Did your mother join Twitter this year so she could tweet insults at Trump, and does she also enjoy a stiff drink? Then this set of tumblers, also designed by Meg Moorhouse of Love + Victory, is for her. She can choose to either share a drink with your father, or just take turns swigging from either glass. It is going to be a grueling three years, after all. $44, loveandvictory.com
Rad Women Worldwide and Rad American Women A-Z
These biographical compilations of history-making women, written by Kate Schatz and boldly illustrated by Miriam Klein Stahl, are perfect gifts for kids, and make for much better bedtime reading than, say, "Fancy Nancy." For some interesting backstory, this episode of the podcast, Politically Re-Active, features an interview with Schatz and Stahl about the tricky selection process for the first book. For the holiday season you can buy postcards and mini posters of images from the book, too. $12 and up on Amazon or your local bookstore 
The Little Book of Little Activists
YA author and erstwhile Brooklyn Based contributor Leila Sales edited this sweet book featuring photos of children at the 2016 Women's March and quotes from kids about what feminism means to them and the importance of standing up for your beliefs. It includes a forward from another Brooklynite, Women's March co-founder Bob Bland. $7-$11 at Amazon and local booksellers
A Subscription to BUST
You remember BUST, right? And not just because of their annual Craftaculars (one of which is happening this weekend, with talks by prominent feminists and female-fronted music acts)? Any independent, non-billionaire/VC-funded media company that still exists today is working some serious magic. The fact that BUST is still publishing news and cultural stories through a feminist lens after nearly 25 years is worth supporting for 25 more. Get it for yourself, buy it for your teenage cousin, or just stuff the latest issue (Greta Gerwig is on the cover!) in someone's stocking. $20, bust.com