Spring is in the air, even if it isn't in the weather report. It's time to kick off the salt-stained winter boots and step into some spring sneakers. When the weather is fine, New Yorkers want to walk all over town, so comfort is a must. But given the number of well-designed sneakers out there, there's no need to choose ease of wear over high fashion. We tried out a selection of city kicks that go beyond your trusty Nikes and Stan Smiths, to discover the best new pair to spring for this season.
This Brooklyn-based company is taking the classic sneakers that we all know and love and reinterpreting them in a fashion forward way. I've never gotten more compliments from such a wide swath of people than the day I wore my Greats in millennial pink for the first time. The designers, Ryan Babenzien and Jon Buscemi, launched the company in 2013 and their models have been literally selling out ever since. The sneakers aren't cheap; these Blush Mono classic sneakers sell for about $170, but the quality is apparent as soon as you try them on. Each shoe is handmade in Italy using top materials like full grain leather and lined with supple leather. To give you a sense of what this means: they feel like slippers. The back crushes down when you are easing them on. These sneakers will never give you blisters and will probably look even better as the leather ages. The men's and women's styles come in slip on, high tops and a wide variety of colorways ranging from plum velvet to a silver platinum. I want them all to wear with everything from cropped denim to sundresses. These are probably my favorite new sneakers on the market. Sorry, Nike Air Max, these have taken your place as my go-to everyday comfort sneaker.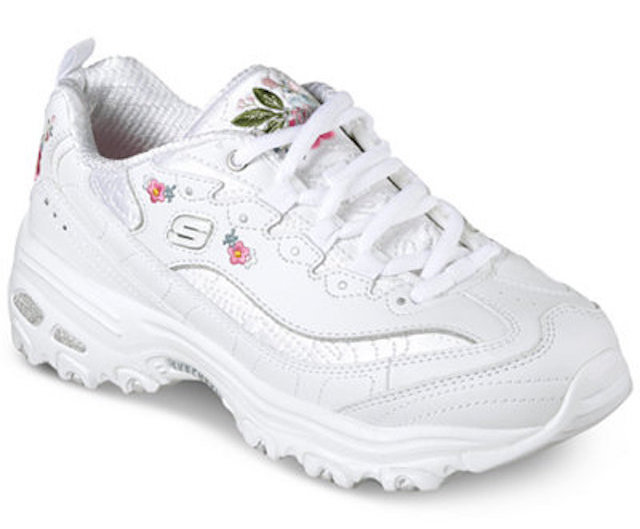 In my heart, it's always the '90s and so I'm always down for some nostalgic artifact revival. I'm down with bringing back fleece vests, high waisted pants and chokers. But I have to admit I wavered at the return of Skechers. It makes sense though, as the "ugly sneaker" trend led by Balenciaga's $800 "Triple S" is chunky and over embellished. The Skechers "D'Lites" sure is a clunker, with the thick sole of the dad sneaker. (Don't worry guys, there is the men's version as well.) Each pair is outfitted with a special Air Cooled Memory Foam inside, that makes each step feel like walking on a cloud. The day I tried mine for the first time, I had a hard time styling my outfit so that it would be apparent that these were cool again and not remnants left in my closet. I thought they would look kawaii with the right dress, but not on me. I tried them with wide pants, sweatpants, and tattered jeans, but finally settled on a cropped pair that could really highlight the shoe. I felt comfort, but also bravery, for stepping out on such a forefront trend. My eye was out for other Skechers aficionados and only found a grandmother in Chinatown rocking Skechers "Shape Ups" (which for the record don't work) but no D'Lites. That night I met a friend for dinner, and at some point I brought up my sneakers and how on trend they were. She laughed a sigh of relief and actually said she was wondering what was up with my footwear. After that, I fluctuated between self-consciousness and self-aggrandizing behavior, but didn't get nearly the admiration I expected (or really any at all.) I wasn't validated until days later when my tween niece saw them lying in my hallway and screamed with glee. "I need these shoes!" she demanded, fingering the embroidered roses. It's hard to be an innovator but if you can pull it off, you'll do it in comfort with the D'Lites.
Imagine a sneaker that can pass as a ballet flat, and completely molds to your foot. The British company, Lissom, has engineered an incredibly lightweight shoe that looks remarkably similar to a swim shoe. Jennifer Markham, the founder of the company wanted a shoe that would go from yoga class to work: the perfect athleisure footwear. Plus, they are washable. To me, this looks like the best travel shoe, where it can be squished down for luggage, worn with whatever and feels like you're in bare feet. It's a "minimal shoe," which means it actually allows the muscles to move and grow stronger. After suffering from plantar fasciitis during my pregnancy, and decades of tense arches from wearing high heels, I understand the importance of foot health in a way I didn't years ago. Also, the engineering of the shoe is meant to build ankle and knee strength, which I need since mine are always creaking and cracking. It's strongly suggested that new Lissoms be broken in slowly while they mold completely to your feet. At first try, they fit around my foot like a glove and my toes were able to wiggle through the stretchy material. They felt comfortable! So I left the house, without breaking them in, and hours later I was hobbling around with dime size blisters on my heels. The reviews on their Facebook page are phenomenal, with people talking about how life changing the shoe comfort is after they are able to break them in. I will persevere. I put on some "no-see" socks and am wearing the shoes a few hours at a time, hoping for ease of comfort. No pain, no gain!
Plae "Prospect," $90
Plae, which is based in San Francisco, started out as a sneaker company for kids, and I once bought mine each a pair, because they were cool and had decent arch support. Then I realized how quickly kids grow out of shoes and started spending as little as possible on their footwear. But when Plae announced they would be making unisex, adult sneaks, I figured I was worth it. I tried out their "Prospect" in blush last year, one of four grown-up styles, and they're still one of my favorite things to slip on without socks. They're soft, with suede and mesh outside, and a plush lining that has never given me a blister. The arch support is minimal but adjustable (they send inserts with every pair to customize it to your liking), and certainly more comfortable for hours of walking in than say, Toms or Keds. It's not workout quality, of course, but they perform pretty well for a pretty shoe.—Nicole Davis