Thanksgiving week has arrived, where the only expectations on the table are that you will hole up with family and friends, break every dietary restriction you've set for yourself and be a couch potato without feeling the least bit of guilt (after the turkey trot, of course!). To make the most of this holiday-sanctioned time to park yourself in front of the TV, we've gathered our best recommendations for this year's post-feast viewing. Together with our previous Thanksgiving binge-watch lists, you'll never leave the sofa. Because the only thing better than multiple pies for dessert is an extended binge session. Happy watching!
The Irishman, 
Netflix
On Wednesday, November 27th, The Irishman will be streaming on Netflix, where you can watch the 3.5-hour movie in the comfort of your own home. I saw the film at the Belasco Theatre earlier this month during its special run, so I can't guarantee that it is going to be mindblowing on your small screen without the crisp picture and the ear-bleeding sound system. It's a return to form for Martin Scorcese, who excels with character actors and complicated male relationships. This movie isn't going to pass the Bechdel test, but as a gangster drama that will make you laugh and cringe, with impeccable dialogue and a picture-perfect screenplay, it is well worth your time. Robert De Niro, Joe Pesci, Al Pacino, and Harvey Keitel give unforgettable performances, joining a large ensemble of top actors sprinkled on the screen like parmesan on pasta. The film is enjoyable as a standalone, as well as an epilogue to the Goodfellas/Casino mafia masterpieces. Even if you were just a glimmer in De Niro's bizarrely blue contact-lensed eye when Goodfellas was made, this standout film stands alone as an instant classic. It's also the perfect family movie for a holiday binge: strained relationships, murdering father figures and secrets you'll take to your grave.—Meredith Craig de Pietro  
Living With Yourself, Netflix
Who has wondered what life would be like if you were living at your optimal performance level? If you weren't burnt out and beaten down by your career, how much happier could you be? These are the questions Living With Yourself, streaming on Netflix, wrestles with. For the record, I'm happy to watch anything starring Paul Rudd, because I'm obsessed with the fact that he doesn't age. (Don't believe me? Take this test on Vulture and see how well you do.) In this storyline, Miles (Paul Rudd) upgrades himself at a sketchy spa, which accidentally keeps both versions of him. It's funny, touchy and enjoyable to watch this manchild learn to love himself and his clone. Plus, Rudd gives The Parent Trap star, Hayley Mills a run for her money for having fun playing twin parts. Fears about having a baby, ennui about corporate success and difficulties in marriage are all decisions that bring a person to their knees in middle age. This show presents a different option from regrets; choosing radical acceptance of your self and all the other ways it could have gone. It's a unique perspective—and a very binge-able one. You'll plow through the eight episodes of this in no time, and Paul Rudd won't have aged a day.—M.C.D.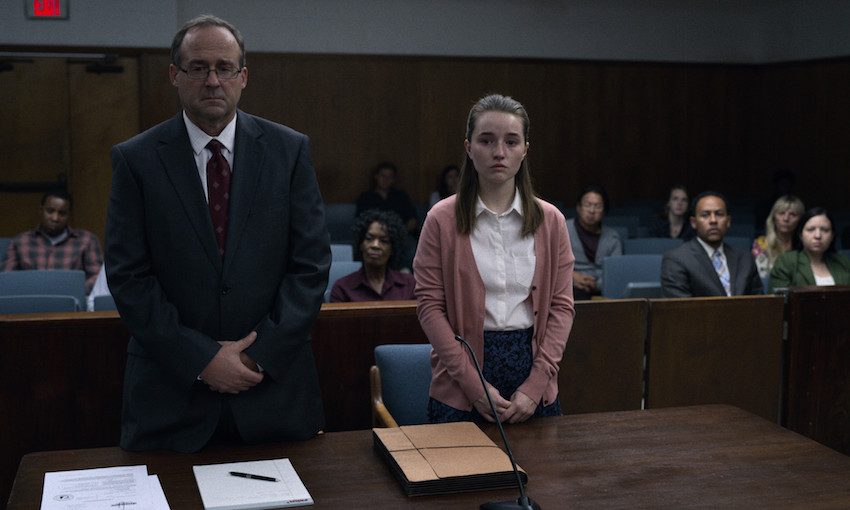 Unbelievable, Netflix
There's no denying the fact that Unbelievable is hard to watch. It's a ripped-from-the-headlines account of a series of brutal sexual assaults and, in the aftermath, shows what happens when the women are believed or not. So yeah, it's not easy and I made good use of a box of tissues while watching. Despite the difficult subject matter, it's an important, necessary story that is really well-told thanks to deft direction and an incredible cast. Kaitlyn Dever, who starred in this summer's Booksmart, plays Marie Adler, who reports and then recants a rape, while Toni Collette and Merritt Wever star as detectives determined to uncover the truth. This show is so powerful and addictive that I may have canceled dinner with a friend in order to stay home and watch the rest of the series. (Sorry!)—Melissa Locker
Succession, HBO
I have a really hard time watching TV shows where I hate all the main characters. I even skipped half a season of Breaking Bad because everyone on it was being so awful. For some reason, though, while the characters on Succession are all hate-able or at least deeply aggravating (get out of there, Cousin Greg!), the show is perfection. The show follows the Roy family, the wildly wealthy owners of a media conglomerate, who all have a love-hate relationship with each other. The siblings and their seemingly all-powerful father vie for control of the business, elbowing each other out of the way for both power and some true affection. They are dirty and dastardly, but also absolutely fun to watch. If your own family starts to irritate you over the holidays, just escape into the world of Succession and once you see how dysfunctional that family is, you'll undoubtedly start feeling a lot better about your own.—M.L.
Pose, FX
I fell in love with this show's first season with its gritty backdrop of New York in the '80s. I had watched Paris is Burning as a teenager and been struck by the lives of the glamorous folks striking a pose on the city's dance floors. While I wasn't old enough to witness the balls first hand, Pose offers a glimpse of what it might have been like and it is truly something to behold. Season two finds my favorite divas back on the dance floor with Madonna's take on ballroom culture, the hit "Vogue" dominating the charts—and, yes, there's a good chance that song will be stuck in your head for weeks to come. This season, Blanca, Angel, Elektra, Ricky and Damon aren't just facing stiff competition from each other, they are experiencing even more of what it means to be a trans woman or gay man of color in a world that isn't always accepting of them. The realities of AIDS and discrimination and hate crimes all rear their ugly heads this season. While the residents of House Evangelista are a tough bunch, and Pray Tell (the absolutely incredible Billy Porter) is determinedly hardy, it's a lot for even the most fabulous person to handle. Yet even in the face of death and despair and declining T cells, the women and men of Pose face each challenge with dignity and poise and a fierceness that I only wish I possessed. There are a lot of arguments on the internet about whether the so-called Golden Age of Television is coming or going, but who has time to get into online debates when there are episodes of Pose to binge?—M.L.
Veronica Mars, Hulu
They say you can't go home again, but you can watch your favorite teenage TV detective as she does just that. I spent years watching Veronica Mars (Kristen Bell) fight crime in Neptune and rooting for her to choose Logan over Piz (I mean, was there any competition??) so it was exciting to see her back in her town, back dating Logan (Jason Dohring), and once again working alongside her father as a private investigator. However, this wasn't exactly the show I binge-watched in college. Well, it is, but Veronica's older and wiser and uses a lot more bad language thanks to the move to Hulu. In the mini-series reboot, the fourth season finds Neptune being rocked by series of brutal bombings and Veronica and her dad, Keith (Enrico Colantoni) are trying to crack the case alongside a familiar cast of characters. But there's an undercurrent of darkness, sex, swearing, and violence, that wasn't in the show I remember watching. Despite that increased edginess, it's still the same show with the same witty banter, engaging mysteries, pithy bon mots, and easy chemistry between the stars. While the end result is divisive (I have mixed feelings about it), you won't know which side of the debate you land on unless you watch. And it's the perfect length for a long holiday binge watch.—M.L.
The Great Hack, Netflix
You may not need any more reasons to hate on Mark Zuckerberg and his propaganda machine. But The Great Hack is really worth another two hours of your time on the subject of Facebook, election interference and your privacy. The documentary delves into the Cambridge Analytica scandal, a story I barely paid attention to in the perfect storm of Trump's win. Ahead of 2020, though, it's the perfect time to revisit how social media influenced the electorate. The film traces how Cambridge Analytica's misdeeds were first exposed, and how its founder helped spread that "Lock her up!" meme, as well as influence other elections and the Brexit vote, too. The real villain, though, is Facebook, and its failure to protect its users' privacy and data. You'll be tempted to disable your account after watching it, if you haven't already.—Nicole Davis