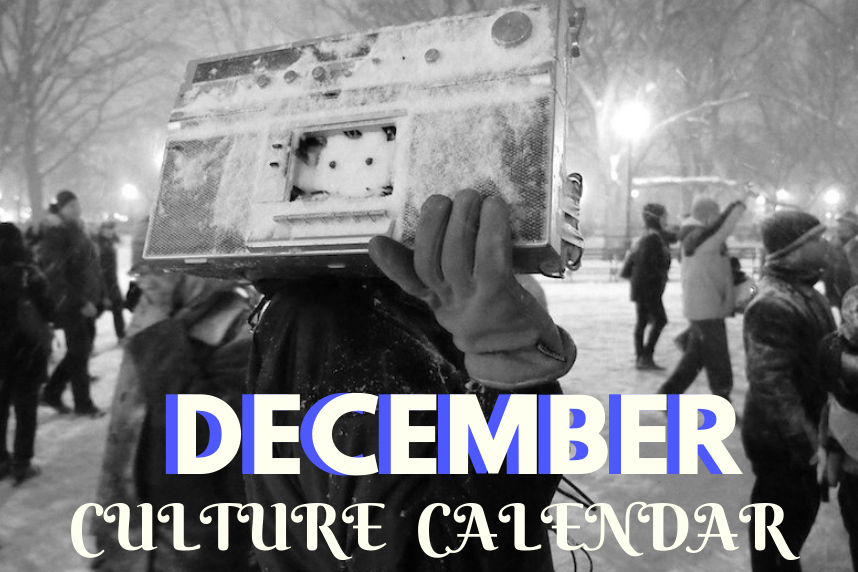 It feels a little cruel to put out a list of cultural happenings in December, given how crazed everyone is this time of year. I picture you all taking a break from scouring the Internet for Cyber Monday deals, trying to fit holiday drinks with old coworkers into a calendar already packed with holiday parties, untangling lights, wrapping presents, baking cookies, sending out holiday cards, finding the right outfit for your office party, and balancing all the normal end-of-year stuff at work and school to check your email, seeing this, and sounding a collective, exhausted groan, "Whyyyyy?? No more! There are only so many hours in the month."
I get it, believe me! But consider this: the list is NOT required, but something to remember if and when you need a break from the holiday markets, midtown in general, a disastrous planning error that somehow finds you smack in the middle of Santacon, and the constant feeling that you need to be productive, social, and impossibly "on" at all times from now until the New Year. Maybe one of these things will be just the lifeline you need to pull you out of a funk, and remind you that there is art and beauty and creativity in this world and you have the great fortune to live in a city that is positively teeming with those things. As is true every year, there's The Nutcracker, Handel's Messiah, the Dyker Lights, the Holiday Train Show, The Rockettes, the tree at Rockefeller Center, and all the traditional stuff, but we've also found you a bunch of options that may not already be on your radar. And remember, if all you want for Christmas is a night in drinking wine and eating a sleeve of Tate's while watching Coming to America for the 700th time (thing I totally made up off the top of my head and did not do last night), that's cool too! No judgment—you guys do you, and have a happy December!
1. Daniel Kitson at St. Ann's starting Dec. 4
DUMBO's St. Ann's Warehouse is in the middle of celebrating its 40th season of programming, and we get to reap the benefits of the supercharged associated events calendar. This month, British comedian and monologist Daniel Kitson returns with a new one-man show, Keep, that catalogues the possessions in his home and explores his connections to them, the past, and the future. Kitson, is a hilarious, eccentric, and unforgettable performer with a well-deserved cult following, and Keep runs December 4-19 after a successful US premiere in Washington. 
2. Gloria Steinem book signing, Dec. 5
Looking for a truly special holiday present for a feminist in your life? Plan to drop by Books Are Magic on December 5, where noted journalist, activist, and icon Gloria Steinem will be signing copies of her newest title, The Truth Will Set You Free, But First It Will Piss You Off!, from 6:30-8pm. The books is being billed as the definitive collection of Steinem's take on everything from relationships to the patriarchy to activism, with some wisdom from people like Michelle Obama and bell hooks thrown in for good measure. 
3. Janelle James Comedy Festival, Dec. 5-7
The blow to the Brooklyn comedy scene occasioned by Eugene Mirman's decision to leave New York and bring an end to his self-titled annual festival was considerably lessened when he passed the torch to the fabulous Janelle James. Now in its second year, The Janelle James Comedy Festival is at The Bell House for three nights starting December 5, with a great lineup of comedians including Ilana Glazer, Ayo Edebiri, Jaboukie Young-White and, of course, James herself. Buy a ticket to one night or an all-festival pass for just $55– it's a great way to blow off some steam during the holiday rush. 
4. She & Him Christmas Party, Dec. 6
On first impression, indie rock and Christmas music seem like an unlikely combination, like oil and water. But for She & Him—the duo of singer/actress Zooey Deschanel and guitarist/producer M. Ward—those two genres have become a considerable part of their repertoire. In addition to their own original music, She & Him have released two successful holiday albums in their 11 years together—A Very She & Him Christmas (2011) and Christmas Party (2016), both of them featuring standards ("Winter Wonderland," "Let It Snow," "The Christmas Song") and under-the-radar traditional tunes (Brian Wilson's "Christmas Day," "A Marshmallow World"). The sound of both albums features interpretations of holiday tunes rendered in the distinct She & Him sound of lo-fi, twangy folk rock augmented by Deschanel's jazzy/country-esque vocals. On Friday, the two will bring their 'Christmas Party' to Brooklyn's Kings Theatre; given the members' busy individual careers and schedules, it's not often She & Him together, which makes it a perfect occasion to attend and get an early start on the holiday music season.—David Chiu 
5. Cranksgiving, Dec. 7 
Grab your bike or Citibike key and spend a few hours on December 7 remembering what the holiday season is really about by joining the fourth annual Cranksgiving in Bed-Stuy. The event is part bike race/part food drive/part scavenger hunt, and it requires participants to ride around the borough buying holiday-themed food to donate to local charities while competing for prizes like best Instagram post, best costume, and most generous rider. 
6. The L Word, Generation Q premiere, Dec. 8
In the decade since the groundbreaking Showtime series The L Word aired its last episode in 2009, gay marriage was legalized, Caitlyn Jenner underwent a very public transition, and gender neutral bathrooms went mainstream. On December 8, the show is coming back in a new sequel which picks up the thread with the returning characters played by Jennifer Beals, Kate Moennig, and Leisha Hailey, but also introduces a new cast of younger, more diverse and fluid characters whose love and sex lives in L.A. will be fodder for the new season. The L Word: Generation Q debuts at 10pm on December 8. 
7. Uncut Gems, Dec. 13
I've been reading that Uncut Gems is one of the best movies of the year for the better part of the year, so I'm glad it's finally being released on December 13 so that I can see it and judge for myself. The forthcoming A24 crime thriller starring Adam Sandler in a serious role as a shady New York City jeweler certainly looks promising, and Eric Bogosian, LaKeith Standfield, Idina Menzel, and Judd Hirsch in supporting roles just provides more inventive to see this one in the theaters in you can find a free couple of hours some weeknight or weekend day. 
8. Latke Festival, Dec. 16
Hanukkah falls very late this year– from December 22-30– but you don't have to wait until then to enjoy some delicious potato pancakes. The 11th annual Latke Festival hits The Brooklyn Museum on the evening of December 16, and that means that chefs from some of the area's best restaurants will be slinging shredded, fried potatoes to benefit The Sylvia Project, a nonprofit focused on teaching kids in underserved communities how to cook. Simply buy a ticket and you get to eat as many latkes as you can stuff in your face, plus other food and drinks, a DJ set, and the chance to vote for Best Latke. 
9. Unsilent Night, Dec. 15
It's been 27 years since composer Phil Kline first gathered a bunch of friends with boomboxes in Washington Square Park to participate in a public artwork he'd dreamed up. Since then, Unsilent Night has become a beloved annual tradition that has expanded to over a hundred cities on four continents. Hundreds of people will gather on the evening of December 15 and then march to Tompkins Square Park, each playing a distinct, pre-chosen part of a multi-track piece Kline wrote on boomboxes and Bluetooth speakers, creating a unique sound sculpture that puts a fun and different twist on the traditional holiday caroling experience. 
10. National Lampoon Radio Hour, Dec. 19
In the early 70s, a crew of then-unknown comedians like Jim Belushi, Chevy Chase, Bill Murray, Gilda Radner, Christopher Guest, and Harold Ramis were part of a short-lived weekly radio comedy show produced by The National Lampoon that has, for obvious reasons, achieved legend status. On December 19, Forever Dog is bringing The National Lampoon Radio Hour back, in podcast form and with a whole new cast of alt-comedians that includes Cole Escola, Jo Firestone, Maeve Higgins, and Rachel Pegram, and guest stars like Amy Poehler, Rachel Dratch, and Chris Gethard. If you need something to listen to while you're wrapping presents or baking Christmas cookies, I can't think of a better option. 
11. Dollylujah! at The Bell House, Dec. 20
A few friends whose taste I really admire have been urging me to listen to Dolly Parton's America, the WNYC podcast about the iconic country singer and her unique position at the crossroads of our nation's culture wars, for weeks now, and it's something I plan to do in the immediate term. Hopefully, I will be deep into it by the time Brooklyn's own Dolly Parton cover band, Doll Parts, takes to the Bell House stage on December 20 for Dollylujah! Billed as a "holiday celebration for our Lord and savior Dolly Parton," the night will presumably involve lots of sing-alongs and tons of fun.